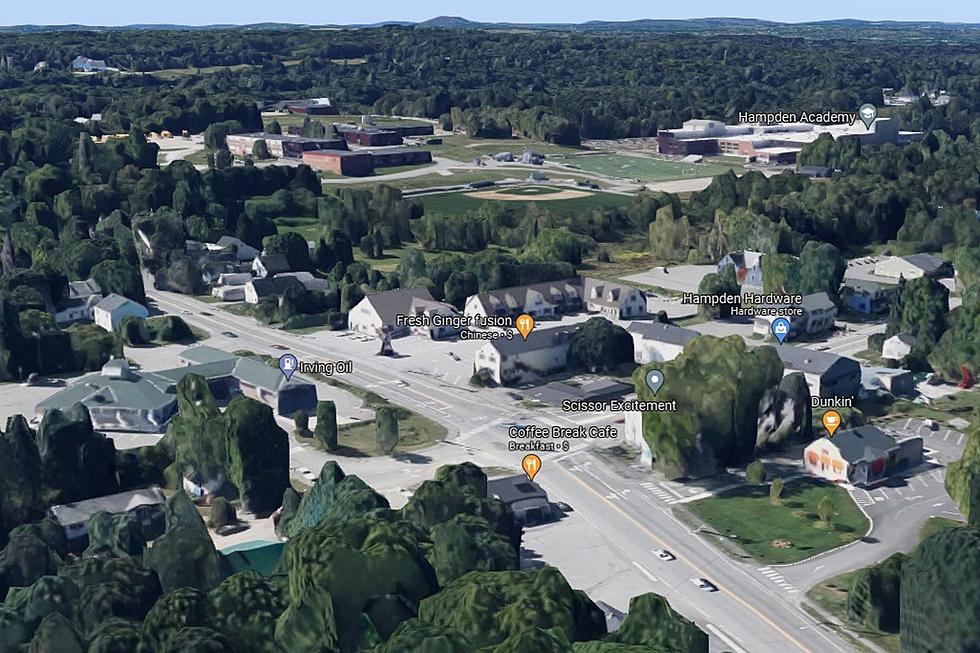 First Annual Artist Crawl In Hampden Coming Next Week
Google
The first of its kind is set to happen in Hampden this December.
The first annual Hampden Artist Crawl has been organized for you to visit local artists on one special day, Saturday, December 11 from 11 AM - 4 PM. You'll get to tour the town and see the art and studios of the little town.
Here's a map of the locations that the crawl will take place:

These seven locations will have you touring area artists. Here's who you will be visiting come Saturday, December 11 from 11 AM - 4 PM.
Kay Carter describes her work as 'an intuitive reaction to the cycles of the Earth' and uses her spirituality and interaction with nature as the focus of her work. She has shown her work at the Bangor Public Library and at the Wilson Center in Orono. She is deeply entwined in the art of the area and serves as a member of the Bangor Art Society, Plein Air Painters of Maine and the Union of Maine Visual Artists. Get a look at Kay's art on her website portfolio.
Sue Roberts has led a life of learning and working in the arts. Here art is nature-inspired and utilizes different media includes pastels, oils and photography. She has shown her work in Bangor, Maine, Naples, Florida, Bonita Springs, Florida. Take a look at Sue's works on her website portfolio.
Obrianna Cornelius is a fine artist whose focus is on watercolor landscapes. She is inspired by natural color and lighting and specifically those features of Maine. She has taught classes, paints portraits of people and pets and works with a variety of mediums with watercolor being her main medium. She has shown art and lectured across Maine as well as has served as the vice president of the Bangor Art Society. Take a look at Obrianna's artwork on her website portfolio.
Peg Hanson focuses on the medium of acrylics with the inspiration of color and nature. Here is a piece of work Peg had up on The Bangor Art Society's website for an auction called 'Rugosa Rose'.
James is a Maine artist heavily inspired by natural landscapes. He works mainly with watercolors and has shown his art worldwide in Japan, Ireland, Romania and here in the United States. Check out Jim's portfolio here.
Ed's work is heavily influenced by folk art, which you can see in his work. His work is community and nature-focused. You can see his Maine roots in his work that features logging, I95 and many other iconic and uniquely Maine visuals.  See Ed's portfolio of work here.
Toni Philbrick is a fiber artist based out of Hampden with her own location called The Keeping Room. This long-time establishment celebrated 40 years last year. Toni specializes in handmade hooked fiber arts.
Find more information about the Art Crawl on the town of Hampden, Maine events page.
25 Maine-based Coffee Roasters To Get Your Coffee From Locally
Make good mornings great with Maine coffee. Roasters are creating great coffee across the state of Maine, from up north in the mountains to islands off of the mainland. Check out the variety of blends, sources, and brands available for incredible coffee right here in the Pine Tree State.
$1.1 Million Island Home Is Historic And Breathtaking
At $600 per square foot, this incredible Maine home on the little island of Isle Au Haut is a still with its ocean views, beautiful wood interior, finely crafted wood details and outdoor space. Check out this island treasure available for sale off of the mainland.
LOOK: See what Christmas was like the year you were born
More From WBZN Old Town Maine