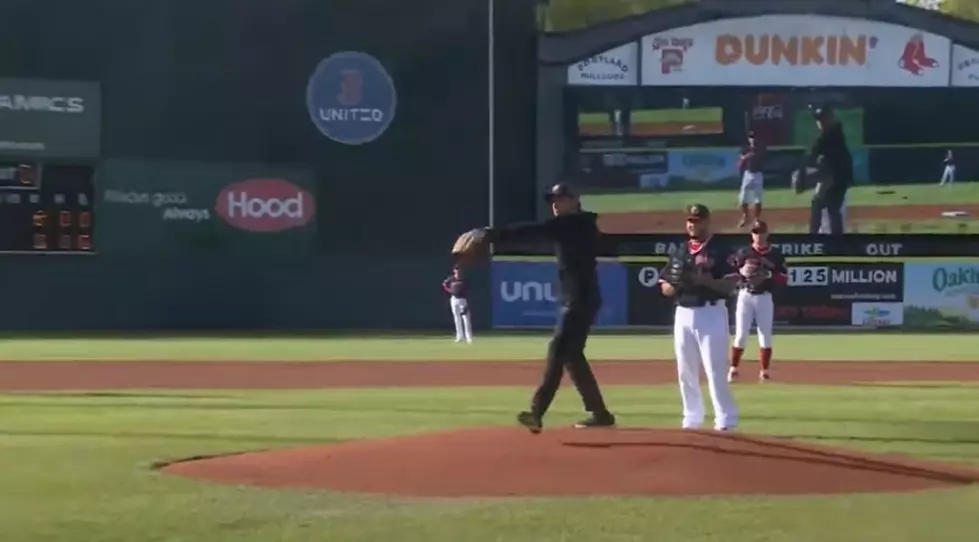 Watch McDreamy Throw A Sweet First Pitch At The Sea Dogs Game
WMTW YouTube
Maybe Patrick Dempsey could have had a second career!
If you happened to be at Hadlock Field for the Portland Sea Dogs game, you might have noticed a familiar face throwing out the ceremonial first pitch
Maine native and former Grey's Anatomy, star, Patrick Dempsey threw a pretty decent offering right over the plate before the game. That's not the only reason he was there however.
The Sea Dogs continued their series of bobbleheads with one featuring Dempsey's likeness. The giveaway was presented by the Dempsey Center and Man Up to Cancer..
The first 1,000 fans who entered the park now, have a nifty Dempsey bobblehead, which features Dempsey riding a bicycle in the Dempsey Challenge.
Dempsey was born in Lewiston, and grew up in the nearby towns of Turner and Buckfield. He of course is best known for his role as neurosurgeon Derek "McDreamy" Shepherd in Grey's Anatomy, and he has also been in quite a few hit films over the years, including "Outbreak", "Scream 3", "Sweet Home Alabama", "Made of Honor", "Valentine's Day", "Transformers: Dark of the Moon", and "Bridget Jones's Baby" And one of the best of the 80's teen flicks, "Can't Buy Me Love", where he was the loveable dork, Ronald Miller.
He is also known to Maine residents for his charitable contributions. In 1997, Dempsey's mother, Amanda, was diagnosed with cancer, and when she passed in 2014, he helped start the Patrick Dempsey Center at Central Maine Medical Center in Lewiston. In 2009, when Dempsey introduced the first Dempsey Challenge, that features cyclists, runners and walkers. It has become an annual October event in the Lewiston area, raising millions of dollars over the years.
Movie & TV Celebs From Maine
More From WBZN Old Town Maine