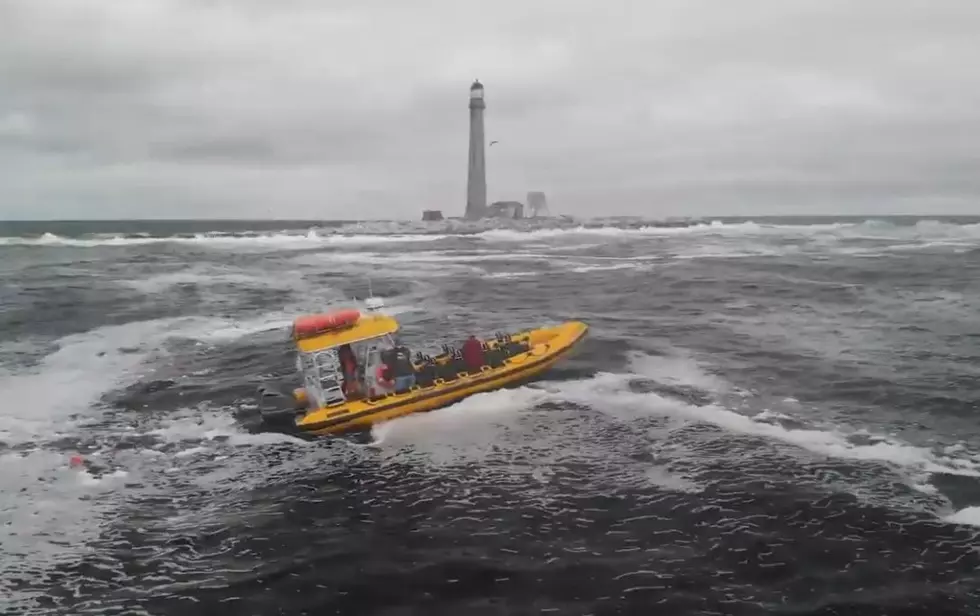 WATCH: Drone Footage Of Maine's Boon Island Lighthouse
Jeremy T. Grant via You Tube
A rock of Maine's strength.
6.2 miles off the coast of York Beach in southern Maine stands the Boon Island Lighthouse, a granite structure standing 133 feet high that has guided mariners safely into Maine's harbors since the mid 19th century.
The tiny rock covered island is not open to the public, and is accessible only by air or boat.  Our buddy Jeremy T. Grant, otherwise known online as The Timber Cross, used both routes to bring you this video.
This video is just as good.
The beginning of the video is amazingly cool as Jeremy compares the powerful ocean waves to life, and how if you let it, it can swallow you whole.  He then goes on about how we look for symbols, and things to hold us strong in the storms of life.
Following the watching of this video, the Boon Island lighthouse is now one of those symbols in our eyes. It reminds us that over the past almost 200 years the appearance of this structure over the horizon and far across the sea has been a hope of life to many that have sailed the Gulf of Maine waters.  It continues to do so now.
The light atop the Boon Island lighthouse flashes every 5 seconds and can be seen 19 nautical miles across the water.  It's horn sounds once every 10 seconds.
There are numerous tales of isolation, starvation and madness of former keepers of the light over the years.  The light has been automated since 1980.
But in this time of COVID-19, racial differences, and political strife, Jeremy's take and words about the Boon Island lighthouse should resonate - "We need to stand tall.  Shine the light. Be for others that hope that is needed now, more than anything else."
Enter your number to get our free mobile app
Pictures Of An Amazing Google Earth Flyover Of Downeast Maine
More From WBZN Old Town Maine