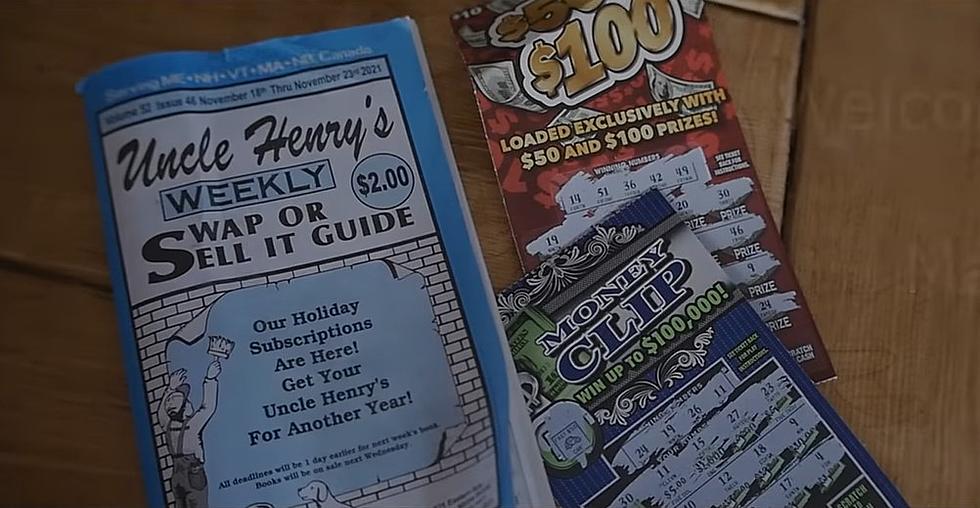 The Goobers From 'Welcome To Maine' Take On Uncle Henry's
Welcome To Maine Facebook
"I'll take three scratch off tickets, one Tri State Megabucks easy pick, and the new Uncle Henry's please!"
.
It is pretty much impossible to walk into any Maine convenience store and NOT see an Uncle Henry's sitting right by the counter, or on the newspaper rack. Their swap or sell it guide has been publishing weekly for well over 40 years. It is a staple of not only the state of Maine, but most of New England as well.
Uncle Henry's gives people the to opportunity to look for items they are interested in buying, and also will let you place a free ad, if you are looking to sell something. They are so popular, that they became the inspiration for the hit show " Down East Dickering" that aired on the History Channel.
These 100% Mainah boys, Troy and Mark, have a Facebook page and YouTube channel, called "Welcome To Maine" that pokes fun at all the things that make the state of Maine so unique to the rest of the country. They have covered it all, from red snapper hot dogs, fiddleheads, whoopie pies, ticks, Italian sandwiches, Stephen King's house, Paul Bunyan, and watching New England Patriots games, just to name a few.
They have been a big hit, and were recently featured in a Bangor Daily News profile.
In reality, it turns out that Tory and Mark are actually comedians, James Theberge and Ian Stuart. You can see them perform on The Maine Comedy All-Stars shows, and at various places across the state.
30 Bangor Area Mom-and-Pop Convenience Stores
Convenience stores are a lifeline for a community. Here in the Bangor area, we have our share of little mom-and-pop, one-of-a-kind stores that hold necessities for your everyday life that can build a community with its presence and offerings. Here are 30 of these convenience stores in and around the Bangor area.
More From WBZN Old Town Maine