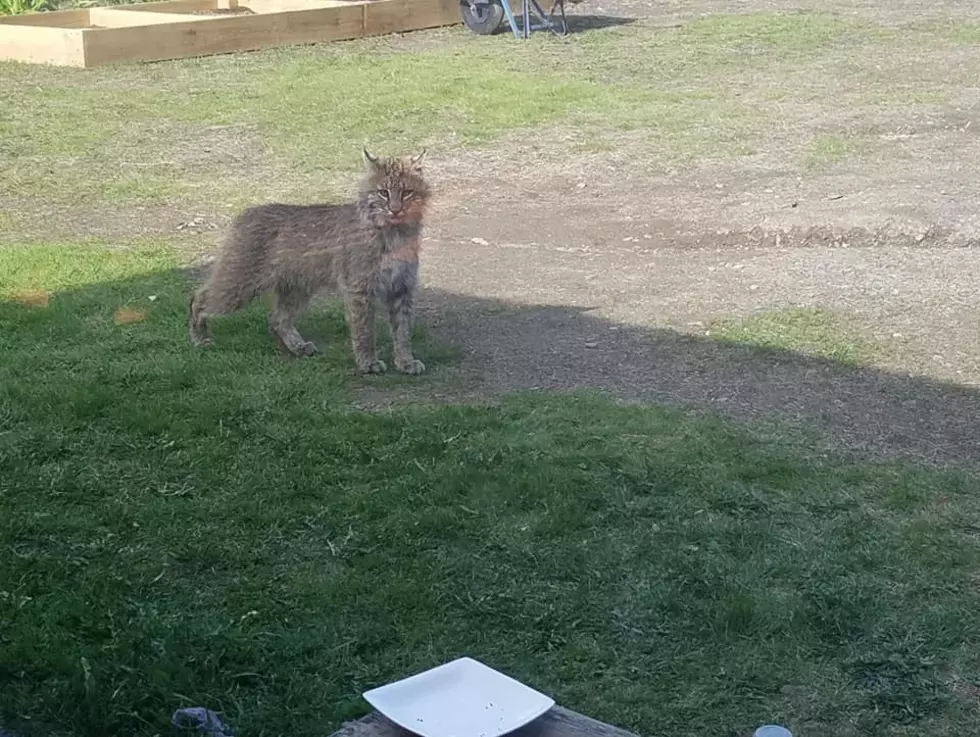 Remember When An Orono Family Snapped Pics Of Big Cats Visiting Their Yard?
Lori Lommler Beazley via Facebook
A couple of years ago, right around this time of year, a family in Orono got quite the surprise when a very big wild cat came strolling through their backyard. Since then, I've been reading story after story of similar situations. Certainly, a good reminder to keep your eyes open; You never know what you might see here in Maine.
---
It was a sunny Wednesday afternoon, and Lori Lommler Beazley's daughter, Greta, was playing out in the yard when the little lady had an up-close-and-personal encounter with a couple of not-so-average big kitties.
"My 7-year-old daughter was out in the garden and she said that two of them walked by her (sounds like they were maybe 15 feet away from her). She bolted into the house saying 'Mama! Did you see how close those animals came to me?' I asked what kind of animals and she ran to the window and I saw one of them sauntering into the woods next to our house," Lori explained.
Lori ran to the front door, which is usually kept open on nice days, and made sure it was closed, while one of her daughters ran to secure the family cat.
"I must have said, 'Oh my goodness! I can't believe how close it is!' at least 72 times. I couldn't help but think back to the earlier part of the day when the door was standing open. I'm convinced that this thing would have come in to gobble our cat. I was playing out the scenario of myself coming in from the yard to find a bobcat in my child's bedroom, where the cat surely would have tried to hide!"
Lori sprang into action, catching a few shots of the cats on her phone.
"About 30 seconds later, one of them came back out of the woods, walked up into our back deck, looked in the glass door where the 2 kids, myself, and the cat were standing."
Lori said while her one daughter stood by and seemed to soak it all in, her other daughter took a particular interest in how the family cat was reacting.
"Greta said that she puffed up a lot, which created a nice opportunity for a 'sciencey' discussion about animals' defense mechanisms."
"Then it calmly looked around a bit, walked around to the front of the house and had a look around (about 5 feet from our front deck)."
Lori's husband, Willis, arrived home and the cats seemed to make their way out of sight, as her daughter made sure to barricade the house cat in a room it couldn't escape from ... just in case.
"Then it calmly made its way to the back of our property and, I assume it went into the woods back there."
Lori's sister happens to be a Maine guide and said, from the photos, the big kitties appear to be bobcats. After posting the shots on Facebook, Lori did reach out to a local biologist for confirmation. She's still waiting to hear back.
Before leaving the yard, one of the big cats stopped and looked right at them, almost posing for this incredible picture.
"It didn't seem aggressive or deranged. Just comfortable and calm. I have a feeling that it smelled the rabbits that we often see under our back deck. (Also maybe our cat)."
Lori spent the rest of the afternoon researching ways to deter big kitty visits, like the one that took place this week. Jokingly, she said the girls would be heading outside armed with loud boomboxes, as Bobcats aren't fans of loud noises. And if that doesn't work...
"...we will be purchasing enough wolf urine to douse the perimeter of our 3-acre property with a heavy dose!"
Pretty sure she's kidding about that part, too. As exhilarating as that must have been, what a cool experience to have captured with pictures. And what a cool memory to have made with her kids.
Just goes to show that nature's always a lot closer than you think, so keep your eyes peeled, and you might just see something amazing!
KEEP READING: 10 Most Dangerous Critters in Maine
More From WBZN Old Town Maine