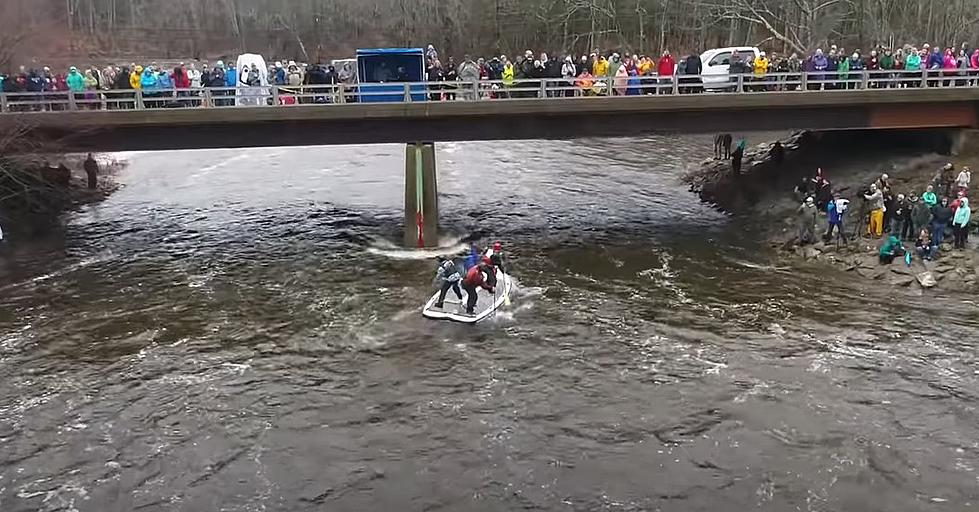 The Kenduskeag Stream Canoe Race Is Set For April 16th
Jeremy T. Grant YouTube
Register now…and get set to get wet!
Bangor Parks & Recreation are your hosts for this 16.5-mile race, that starts at 6 Mile Falls in Kenduskeag and wraps up on the Penobscot River in Downtown Bangor.
Where & When
One of the most fun and iconic events of the year is back. The Kenduskeag Stream Canoe Race, which is held annually on the third weekend of April, returns for another year on Saturday, April 16th. It is the biggest paddling event in all of New England and one of the largest in the country.
How You Can Register
You can't do it by phone, but you can download the 2022 Registration Form
You can also register and pay online through Bangor Parks & Rec. The deadline to enter is April 14th.
The Cost
Cost of registering depends on when you register:
$45 per paddler if registered by April 7th
$60 per paddler if registering April 8th through April 14th
$75 per paddler if registering on race day eve or race day
The Basics
The rules for the Kenduskeag Canoe Race can be broken down like this:
No alcohol is allowed, and if found, you are disqualified
No animals are allowed
No more than three boats can be registered from one household.
You must be at least 12 years of age, with an adult present.
You must be at least 16 years of age if no adult is present, but if you are under 18, you need parental consent .
Over-the-shoulder life jackets must be worn at all times.
At the end of this day of fun, awards will be presented between 2:30 pm - 3 pm. And, shuttle buses are available at the finish line to bring you back to Kenduskeag.
For more info, check out their website and Twitter page
10 of the Deepest Lakes and Ponds in Maine
With 6,000 lakes and ponds, Maine has A LOT of freshwater shoreline. Some are densely populated in the summer months, while others are as remote as the wilderness that surrounds them. They're home to Maine's thriving gamefish populations, which calls-in anglers from all over the country. Ever wondered which of these lakes are the deepest in the state? We checked-over depth charts and topographic maps to find the 10 deepest lakes in Maine, as according to their maximum depth.
2022 Maine Fair Schedule
2022 is looking bright for upcoming events in Maine's great outdoors, including our annual fairs. Here's a list of this year's Maine fair schedule, the dates of each fair event, and what to look forward to with each one.
Maine's Most Expensive DOT Projects Planned For Each County In 2022
Maine's 3-Year Work Plan
for January 2022 shows various projects in store for Maine's roads for 2022 into 2024. A lot of attention is going to Maine's bridges but other projects are expected to. Here are the most expensive projects planned for all counties across Maine for 2022.
25 Unimpressed Online Reviews of Bangor's Paul Bunyan Statue
Bangor's iconic Paul Bunyan statue has been standing 31 feet tall since 1959 on Main Street in the Queen City. It is a landmark destination for those visiting Bangor that some visitors aren't too impressed with, apparently. Here are some honestly unimpressed online reviews from TripAdvisor.com of Bangor's beloved Paul Bunyan statue.
LOOK: Biggest underdog victories in March Madness
Every spring, legions of sports fans turn their attention to college basketball when
March Madness
takes the national spotlight. Using aggregated Associated Press data, BestOdds has come up with 10 of the biggest—and most unlikely—underdog wins in March Madness history.
More From WBZN Old Town Maine