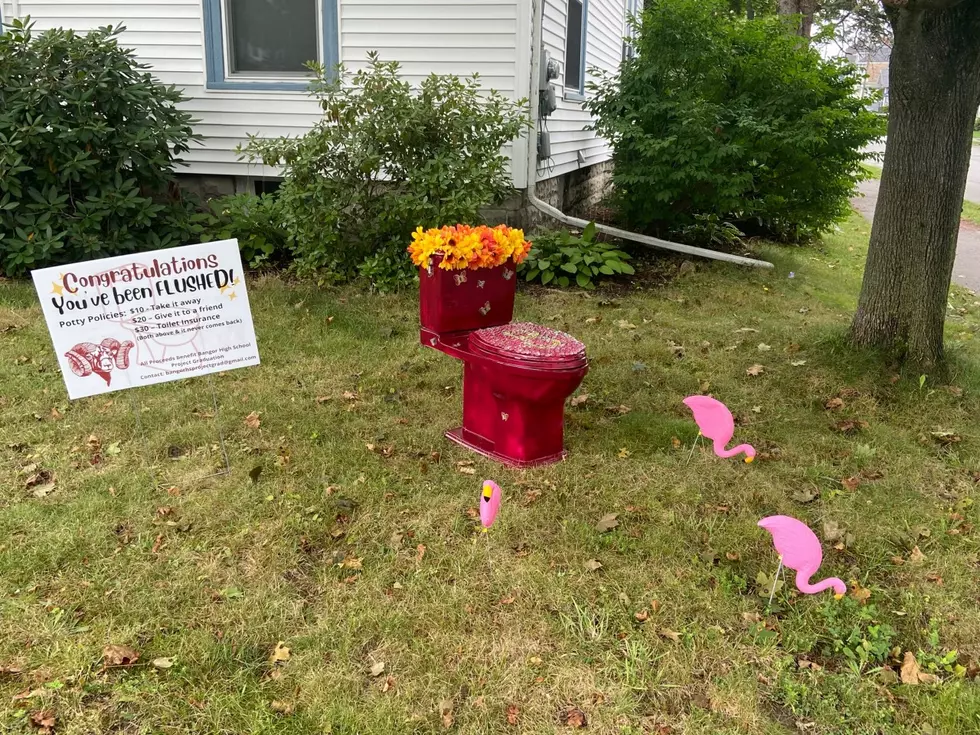 Forget Flamingos: Project Graduation Raises Money With Flushes
Chris Popper
Instead of the traditional car wash or bake sale, Bangor High School's Class of 2022 is taking a bit of an unorthodox approach to raising money for its Project Graduation festivities.
Even in more recent years where organizations would "flock" lawns with a flamboyance of fake flamingos in an effort to raise funds, Bangor High has taken this tradition of putting something potentially obvious and eye-catching on your lawn, to an entirely new level...They've literally sent it down the crapper.
Instead (or in this case, in addition to) a flock of flamingos, you run the risk of getting flushed!
If you wake up and find yourself with a new Bangor High Red Toilet sitting in your front yard, you are not without options...but they will cost you.
According to the Bangor High School Project Graduation "Potty Policies" these solutions run from $10 to $30.
For a donation of $10, the folks who "flushed" you, will come and remove the loo from your lawn.
For $20, you can flush a friend and send that tank to a pal.
And for $30, you can do a combo of both...they'll take it from your lawn, bring it to wherever you wish, and never bring it back; a bit of "toilet insurance" if you will.
Of course, you are more than welcome to give more than that, as the money is being raised for a great cause.
All the money they collect from bringing the bog around Bangor will go directly to Bangor High's Project Graduation.
If you'd like to get more information, you can email them at bangorhsprojectgrad@gmail.com
25 of Maine's Best Public High Schools Ranked
Is your nearby high school on the list? Here are 25 of Maine's best high schools
based on
niche.com
's analytics of reviews and data collected from the U.S. Department of Education. Ratings of the schools were based on various data such as graduation rates, test scores, and more. Check to see if your local schools are on the list.
More From WBZN Old Town Maine