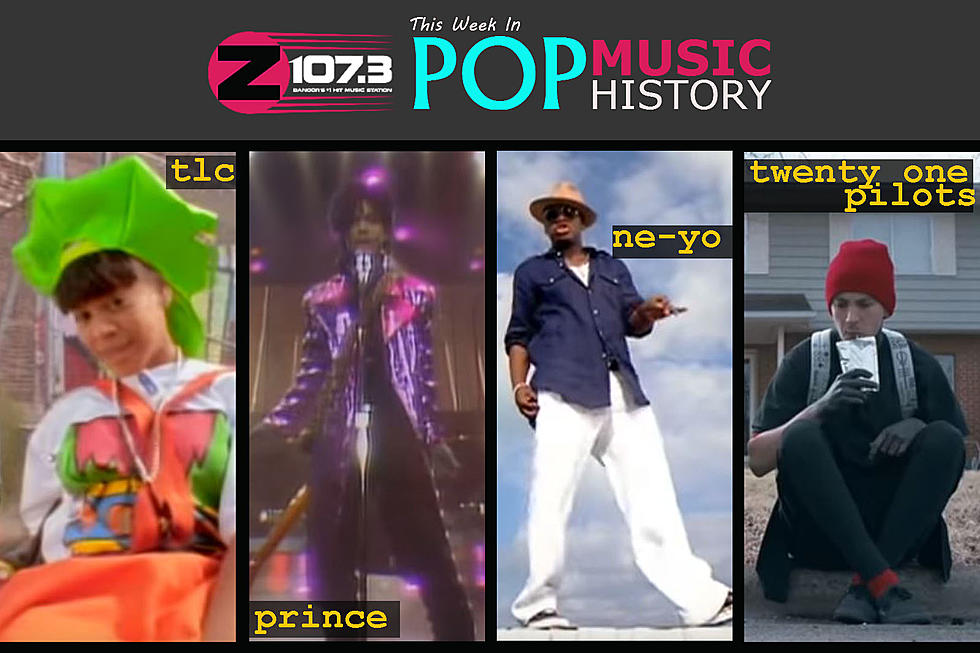 Z107.3's This Week in Pop Music History: TLC, Ariana, Prince and More
TLC: Video still from TLCVEVO via YouTube; Prince: Video still from Prince via YouTube; Ne-Yo: Video still from Ne-Yo via YouTube; twenty one pilots: Video still from Fueled By Ramen via YouTube.
Being the Bangor station that provides you with mostly today's hottest music but also provides you with a healthy dose of yester-year's tunes with Back In the Cafe, we are providing you with a little music history of the 1990's, 2000's and this decade.
Get to know a little about the artists that have shaped your musical vocabulary by taking in what has led to the music landscape of today. Behold... Z107.3's This Week In Pop Music History!
February 23rd - February 29th: See how TLC, Ne-Yo, twenty one pilots, Madonna, Alanis Morissette and the Gorillaz marked this week in history for pop music from the past 30 years.
R&B girl group TLC release their debut album Ooooooohhh... On the TLC Tip and their first single 'Ain't 2 Proud 2 Beg' hits the charts.
Madge is #1 on the Billboard Hot 100 with 'Take A Bow' and stays there for seven weeks.
1996 - Alanis Morrissette
Canadian singer-songwriter Alanis Morissette becomes the youngest artist to win the Grammy for Album of the Year with Jagged Little Pill.  Taylor Swift takes the title in 2010 when Swift becomes the youngest for the Grammy category.
Unpronounceable symbol, Prince, sues  nine websites to prevent illegal downloads.  In 2007, he sues more websites to remove images of him.
The animated band performs their first show in the USA in Boston at the Avalon Ballroom.
Ne-Yo's first album, In My Own Words, reaches #1 in America.
Alt rock band is on the Billboard Hot 100 with 'Stressed Out', where it peaks at #2 on the chart.
Ariana becomes the first solo artist to hold all three of the top spots on the Billboard 100 chart for "7 Rings" at #1, "Break Up With Your Girlfriend, I'm Bored" at #2 and "Thank U, Next" at #3.
More From WBZN Old Town Maine