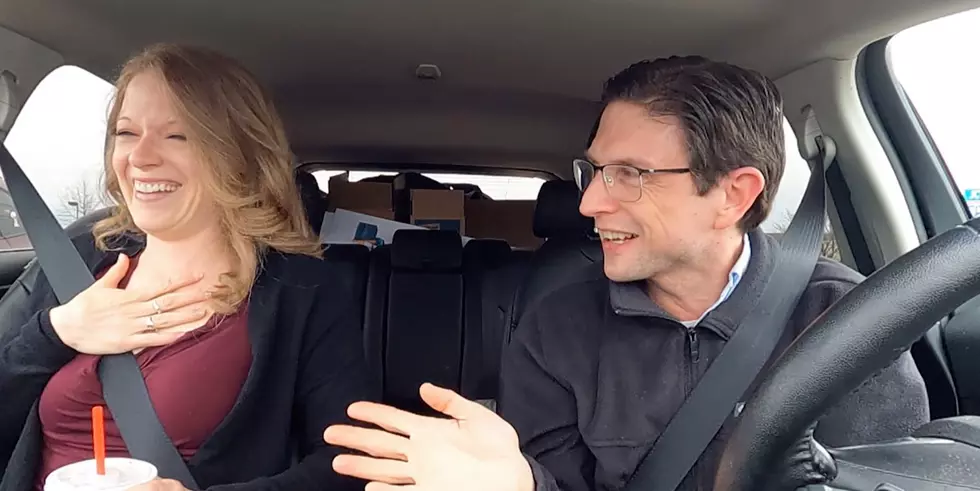 The Nite Show Hits The Road This Weekend
Via The Nite Show Facebook
Bangor's only late night talk show takes a road trip for fun this Saturday night!
First things first, congratulations to Team Nite Show for earning another New England Regional Emmy Nomination! This makes the ninth nomination for the show over the past 10 years!
Normally this time of year, The Nite Show with Danny Cashman would do a show from a different theater in Maine, that's still not possible right now due to this seemingly never ending pandemic, so instead they are hitting the open road... in Dan's car.
-
This Saturday night, Dan & Christie chat with comedian Rob Bartlett from his own car in New York. Old friend of The Z Morning Show, Riff Johnson performs an original tune from his car in Eastern Maine. They also drive around finding "healthy" options at drive thrus, doing donuts, and having a good ol' fashioned belching contest. Keep your ears peeled for a audio cameo from a certain host of Z-107.3's "Back In The Day Cafe"
And, big news, next week, Dr. Nirav Shah returns to The Nite Show, making his first in-person visit to the show!
Recently, one of the OG members of the writing team for SNL, the great, Al Franken made his first appearance on The Nite Show. Franken stayed with the NBC late night institution for years, later becoming best known for his self-help character Stuart Smalley. Franken is also a former US Senator and currently the host of "The Al Franken Podcast." He chats about SNL, comedy, and his connections to Maine.
Check out The Nite Show with Danny Cashman, this Saturday night, Saturday, May 1, after the FOX 23 Portland, at 11 p.m., on WWPI NBC 16, Presque Isle, 11:30 p.m., on WABI TV5, Bangor, and at 1 a.m., on WGME CBS 13, Portland!
You know you're from Bangor when ...
More From WBZN Old Town Maine