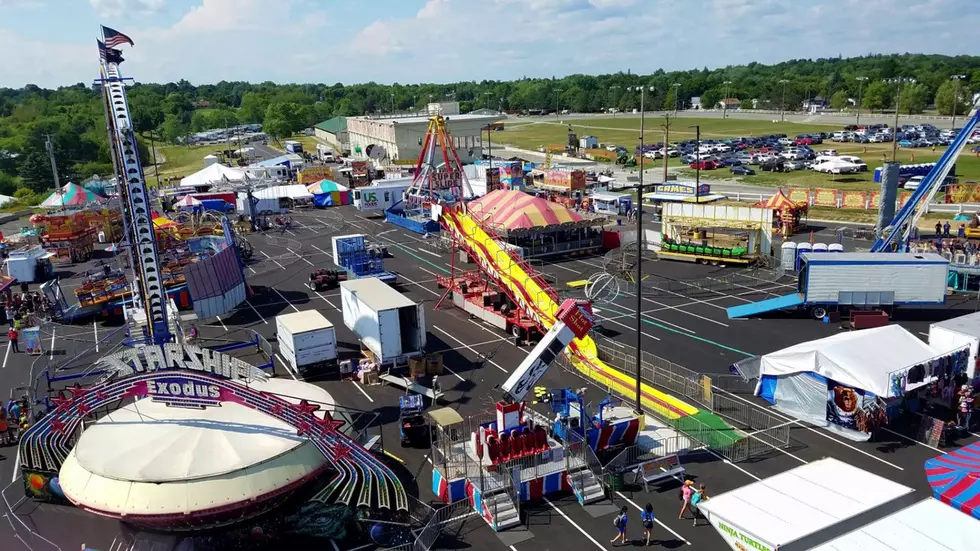 The Maine State Fair Schedule Is Out! Get Ready For Summer
Paradoxician You Tube
The summer of 2023 is going to be a blast!
Who wants a doughboy? After the harsh reality of this winter is long gone, we will have so many things to look forward to once again. And it just wouldn't be summer and fall in the State of Maine without the fair!
Hard not to dream of hot summer days and nights, especially when we are in the depths of freezing cold, and snow!
The folks at Mainefairs.org have released the scheduled dates for the 2023 State Fair season, including the iconic Bangor State Fair, which cranks things up from August 3-August 6.
The thought of going on rides, playing games, and enjoying French fries with vinegar on a hot summer day is too good to pass up, especially on a day like today, where we are expecting ridiculous wind chills of up to 60mph. Yikes.
For all things fair-related, you can check out the Maine fairs website.
The 2023 Maine Fair Schedule
Monmouth Fair
2023 June 21-24
Houlton Agricultural Fair
2023 July 1-4
Ossipee Valley Fair
2023 July 6-9
Waterford World's Fair
2023 July 14-16
Pittston Fair
2023 July 20-23
Union Fair
2023 July 26-30
Bangor State Fair
2023 August 3-6
Northern Maine Fair
2023 August 3-6
Topsham Fair
2023 August 9-13
Skowhegan State Fair
2023 August 10-19
Acton Fair
2023 August 26-29
Piscataquis Valley Fair
2023 August 24-27
Washington County Fair
2023 August 26-27
Windsor Fair
2023 August 27-September 4
Blue Hill Fair
2023 August 31-September 4
Harmony Free Fair
2023 September 1-4
Springfield Fair
2023 September 1-4
Clinton Lions Agricultural Fair
2023 September 7-10
Litchfield Fair
2023 September 8-10
Oxford Fair
2023 September 13-16
New Portland Lions Fair
2023 September 15-17
Farmington Fair
2023 September 17-23
Common Ground Country Fair
2023 September 21-24
Cumberland Fair
2023 September 24-30
Fryeburg Fair
2023 October 1-8
25 Food Festivals of Maine
Take a tour of Maine -- while taking in what makes Maine -- in the year-round festivals offered all over the state. From great Maine seafood and fish to delicious sweet treats to those odd and unusual Maine pride products, here are 25 festivals that Mainers put on to celebrate the great things of Maine with the community.
More From WBZN Old Town Maine