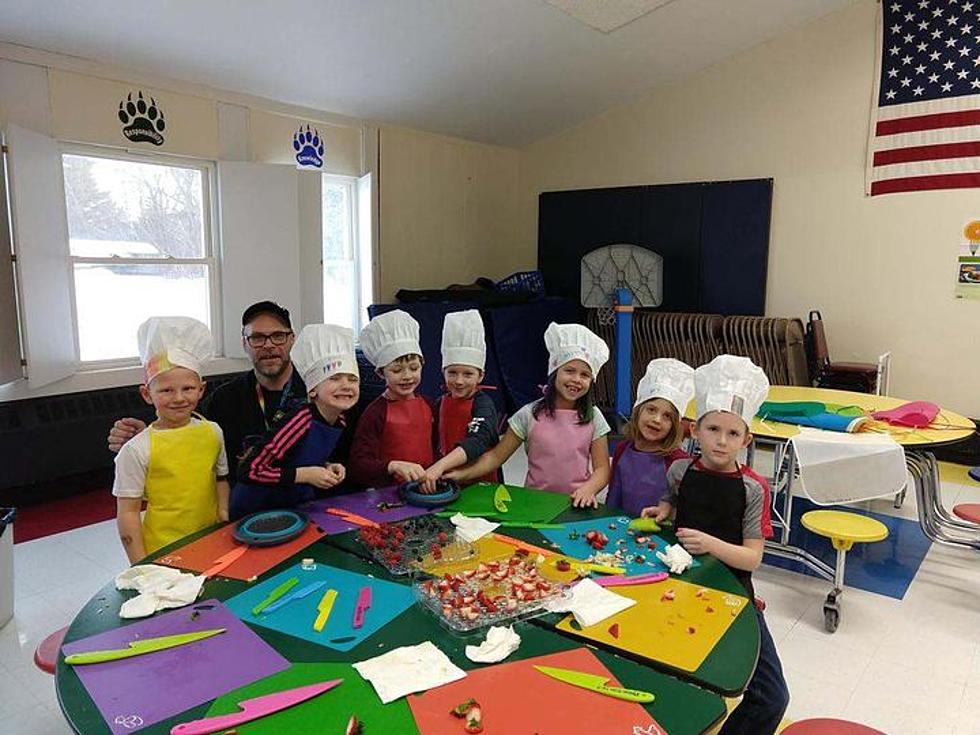 Old Town Native Using Chef Skills To Teach Kids About Food Through Cooking Clubs
Cooking Club, photo credit: Dr. Jon Doty
Since our early days working together as part of the original crew at Spotlight Cinemas in Old Town, it was evident the Josh Heikkinen had a special interest in food; specifically how it was made. And he would take that interest on the road when he got older.
"The largest benefit of working seasonally, [was] being able to travel and be paid for it. Through this work I've met/lived with many different cultures/ethnicities, many stations of life from Jamaicans who grew up in plywood shantys to the elite of the world like Rockefellers and world leaders. Even though the environment around them is different, when you speak with them and get to know them, they are all just people at the end of the day....and all people like food. "
Although pursuing his passion on the road was interesting, Heikkinen said he always had dreams of coming home to Old Town, to work with kids, passing along the skills he had cultivated throughout his culinary career.
"Most could tell you, my vision in coming home was to provide the education and understanding I learned/experienced over at least 15 years of travelling the country [as a] private chef/catering/and restaurant work. Being a poor kid from a broken home that grew up in Old Town as well, the answer was easy:  Show how things are actually made. Great food is science/math/culture/history wrapped into one. Introduce them to actual Chefs (that aren't just characters on TV.) Most importantly, [let kids know] if you want, you can be one too.
So Heikkinen got to work creating his "Cooking Club". The first step: put the call out to all of his Chef friends for help. From old colleagues to kids he had mentored who are now working as Chef's around the state, he set up a list of "guest instructors" who would not only give students valuable lessons on how to prepare food, but also stories about breaking free from that small-town Maine mentality, and setting their sights a bit higher. 
"Dr. Jon Doty, head of academics at RSU34, approached me about starting cooking clubs at our Elementary schools. To use my skills and experience to increase kids perception on food and nutrition. We started with 1st graders at the Viola Rand School in Bradley for 4 weeks. This was a great experience and success. Using cut-proof knives to slice fruits to dehydrate, making our own granola bars to share with our peers in class, and learning/seeing how butter comes from cream.  We then started with Alton Elementary School, and after one class, Covid hit putting an immediate halt to our combined vision.
With most kids finishing out 2020 from home, Heikkinen said the program's popularity grew when students returned to in-person learning.
"After a very long, weird and difficult year our summer school programs in the RSU were much larger due to children needing to catch up after a difficult education year. All schools in the RSU had students needing a catch up, so the need for more educators during the summer were needed. I messaged that I was willing to help anyway I could, but also had a busy summer managing/providing meals not only to the increased school population but the YMCA and Kids Peace. Vanessa Wibby, who is heading up the Summer program at Leonard Middle School where I am officially the food service manager, made it possible for me to provide an option to students at the end of the day, when it is considered a free period."
Heikkinen says the response from the kids and the community has been positive.
"It's been a great summer, and we are all looking forward to the brand new LMS cafeteria and the return of the RSU34 cooking clubs in all of our schools this coming school year."
For more information on Heikkinen's Cooking Clubs, you can check out his Facebook Page here.
Popular Eastern Maine Take-Outs
10 of the Best Waterfront Restaurants in Maine You Need to Experience
We asked our listeners what their favorite waterfront restaurants in Maine are and boy did they deliver! Did your favorite make the list? Keep your eyes out for part 2!
10 Restaurants Maine Needs to Have
10 Places With Heated Huts to Enjoy Outdoor Dining in Maine
More From WBZN Old Town Maine