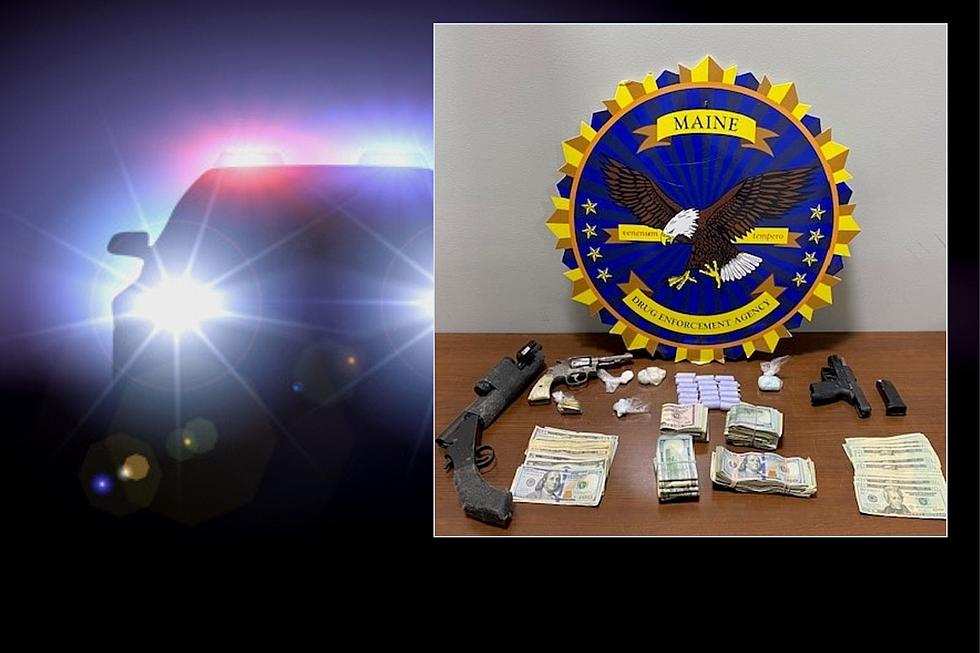 1/2 Pound of Fentanyl Seized in Lee Drug Bust Worth $37K
Maine Dept of Public Safety
Maine Drug Enforcement Agents have arrested two men and seized a significant amount of fentanyl from a home in Lee.
What Led Police to the Lee Residence?
The search was conducted at approximately 8:00 Wednesday night, March 22nd, by members of the MDEA, Maine State Police Tactical Team, and the Penobscot County Sheriff's Office. They were conducting that search at the home of Tom Lee Severance, 27, at 3040 Lee Road in Lee. This warrant was the result of a months-long investigation by the MDEA's North Central Task Force related to the sale of fentanyl which officials say was brought to the home by out-of-state traffickers and then distributed throughout Penobscot County. Maine Department of Public Safety spokesperson Shannon Moss says this investigation included several undercover purchases of drugs from the Lee Road home.
Who Was Arrested?
Two people were arrested and charged with Class A Aggravated Trafficking offenses:
Pedro Manuel Sanchez Lugo, 36, of the Dominican Republic
Tom L. Severance, 27, from Lee, Maine
Lugo is being held without bail, while bail for Severance was set at $35,000 cash.
Did Police Find More Than the Fentanyl in the House?
Seized from the home was approximately 1/2 pound (250 grams) of fentanyl with a street value of $37,000. In addition, police recovered about $20,000 in suspected drug proceeds, as well as a sawed-off shotgun, and a 9mm semi-automatic, and a .38 special revolver.
If you suffer with substance use disorder, please call 211 or text your zip code to 898-211 for a list of resources available in your area. Anyone with information about this investigation or the illegal sale of drugs in their community is encouraged to contact the Maine Drug Enforcement Office closest to them. You can also share information by texting MDEA to TIP411 (847411), or by calling the MDEA tip-line at 1-800-452-6457.
Parents Should Familiarize Themselves with These Illegal Drugs
Knowledge is power, especially when it comes to recognizing and understanding when your child becomes involved with illegal drugs.
15 Ways to Avoid Falling Victim to Crimes of Opportunity
Protecting your valuables is often a matter of being aware of potential risks. These tips could help save you from what police call crimes of opportunity.
More From WBZN Old Town Maine