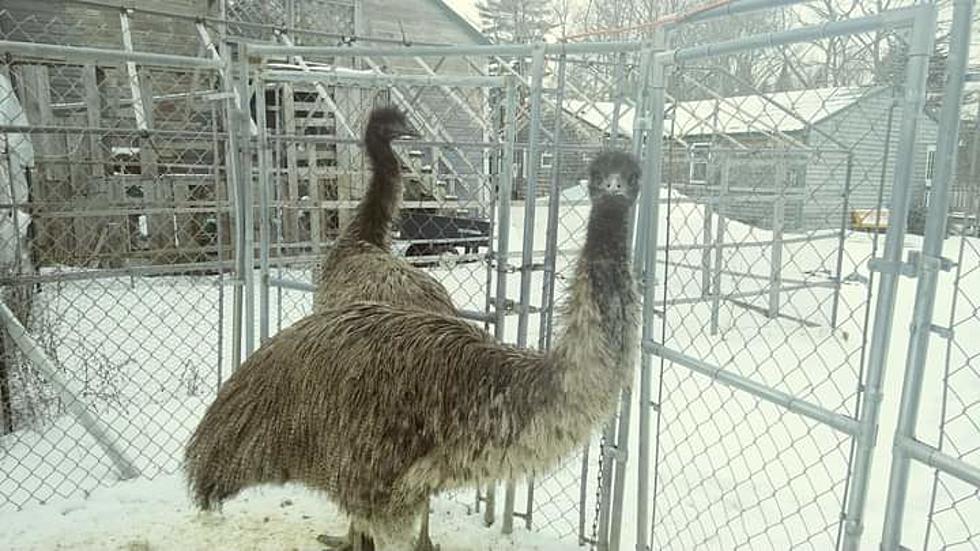 Did You Know Eddington Has Emus? Meet Clarence And Oscar
Clarence And Oscar 1, Jennifer Robertson
Jennifer Robertson has a number of animals that live on her property.
"I have chickens, ducks, geese, goats, rabbits, dogs..."
But the animals she gets the most attention for, are two big birds...and when I say big, I mean big.
Robertson has a pair of Emus, right at her house on the Eddington/Brewer town line.
By definition, according to Wikipedia,  Emus are "soft-feathered, brown, flightless birds with long necks and legs, and can reach up to 1.9 metres (6.2 ft) in height."
While native to Australia, there are a few that now call Maine home.
"My kids 4h group Shoes N Shears bought an incubator for a hatching project. When the incubator arrived we brought it to a meeting. On the box, it said it could hatch emu eggs. Took us about 6 months to find an emu farm within distance and then we had to wait til they were laying."
While not necessarily as common as say chickens or ducks, Robertson says there are a few Emu farms in Maine, most of them in Southern Maine.
 "I ran the incubator as I had experience doing chicken eggs. After they hatched and I spent time with them as babies they came to stay with me."
"There are a couple other people around this area that have them, but as far as I know I have the only breeding pair."
Robertson says she originally thought she had two males, so she named them Oscar and Clarence. After a couple of years, she realized one of them was actually a female.
"It takes 2 years for an emu to mature and no new name stuck. So, Oscar it is."
Where does she keep birds that big?
"They had a small duck house and a garden shed. We turned the garden shed into a chicken coop and the duck house we rebuilt and moved it."
"I have them in a 6-foot fence. Emu can jump as high as they are tall...
I use just a 3-sided house for them so they can come and go as they want...Emu don't typically free-range like a chicken well since they do not have a natural homing instinct like a chicken. So they don't return to the same spot every night. They have a house they can go in when they want but they also love to play in the snow."
"They eat ratite pellets. They love kale and dandelions as well."
Robertson says the entire family enjoys having all the animals around and has enjoyed the process of getting to learn all about them.
"I have always loved animals...Some of it from growing up. Some from doing research
on my own. A little of trial and error."
As for the Emus, she says they are a lot of fun. They're very smart birds with distinct personalities.
"We tried to take them to the Bangor fair as adults but they decided they wanted to stay home...They did wander off when they were about half-grown they learned how to open the gate. Neighbors called me to tell me they think my birds were out...We now have a second lock on the gate that requires fingers to open."
The birds are now 6 years old. Roberston says they can live to be 35!
"They have been helping keep predators away. They have a dance they do that the
birds of prey want no part of."
Robertson, who works across the street at Robertson's Glass, says her big birds do tend to attract some attention.
"We get people that stop and park in behind the garage to watch them...I am ok with people parking and watching as long as they don't bother them too much."
The pair is expected to have their first Spring batch of baby Emus in the next coming weeks. Robertson says she will likely sell the eggs, as there has been a rising interest in them.
13 Animals You Can Actually Own in Maine That Might Surprise You
When it comes to house pets, are you a dog, cat, or ostrich person? Yes, ostrich. You may be surprised what pets you are legally allowed to own depending on what state you live in. Here is a list of 13 pets you can surprisingly own in the state of Maine.
More From WBZN Old Town Maine