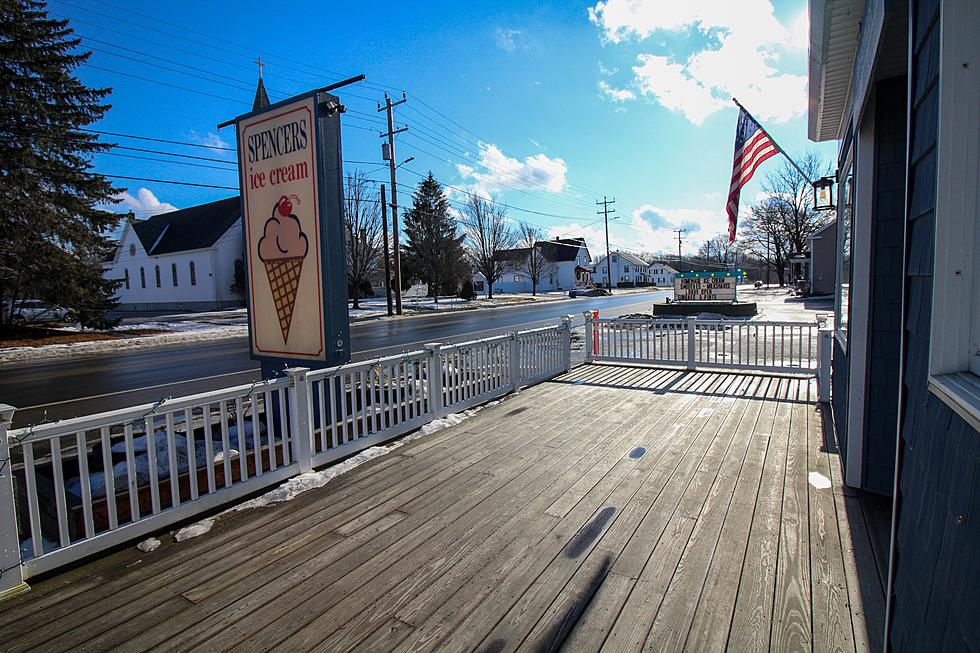 Business News: Iconic, Improved Spencer's Ice Cream Location For Sale in Bradley
Chez Renee Team Realty of Maine via Facebook
Admittedly, I had to do a double-take when I first saw the post on a local real estate listing: Spencer's Ice Cream in Bradley is for sale.
Growing up as a kid living first in Milford, and then Orono, Spencer's Ice Cream was legendary. I remember many a summer day spent eating their homemade ice cream as a cool treat.
In adulthood, it's been such a pleasure to share that history and Spencer's Ice Cream with my own kids.
The history of Spencer's has been ingrained in the Bradley community since the early 1930s, when it opened first as a general store, and then a meat market.
Since then, I've seen it shift to a convenience store and pizza joint, until recently, when they seemed to transition over to straight-up ice cream sales.
What I always thought was kind of cool about the place, aside from their ice cream (pun intended) is that it's been family-owned and operated for as long back as I can remember.
Most recently, Jack Watkins bought the place (back when he was a Senior at Brewer High) and has been running it with his family.
The decision to sell the business was not an easy one for Watkin's to make, as Jack's mom Staci Lynn said, it was time for the family to regroup after some recent losses.
"... as many are aware, the ice cream trail has been bittersweet for Jack. The family biz that Jack built saw the sudden unexpected passing of several family members - 3 funerals in a week are a lot to process, followed by another just a short time later. As a young person priorities will change & not often is something meant forever. Spencer's Ice Cream is as strong as it ever was & thanks to the community, definitely stronger than ever. Of course, the unexpected circumstances of 2021 may have accelerated his decision- but it's time. As Spencer's has been completely refreshed inside & out- (wholesale and events and fundraisers, added too) the only thing this 1933 icon needs is someone willing & able to take the ice cream baton & continue on. Just like Jack did in 2018."
This quaint little ice cream shop, that from the sound of the listing has had some pretty extensive work done to improve it, could be yours for a cool $1.3 million.
Some of the major overhauls mentioned in the listing include new freezers and a fleet of delivery vehicles, along with some apartments on site. All of these have led to other money-making opportunities.
"The store going year-round with a summer peak. Events and fundraisers peak in the fall and return in the spring. This stabilizes the ice cream business and its cash flow. The apartments and its recent change from long to short term rental have significantly boosted that cash flow."
So, what do you say? Are you the next owner of this iconic ice cream business?
25 Unique Stores for Maine Foodies
From The County to Southern Maine to the Eastern most points, you will find a great variety of unique foods from Maine small businesses. Here are 25 such small businesses bringing their own flavor to the Maine foodie scene.
Mainer's Wishing For Fun Summer Days Again
It's Maine, it's freezing, and because of that, a lot of us have been posting memories from a warmer time. Here are some Mainers showing off their funniest moments from summer!
More From WBZN Old Town Maine