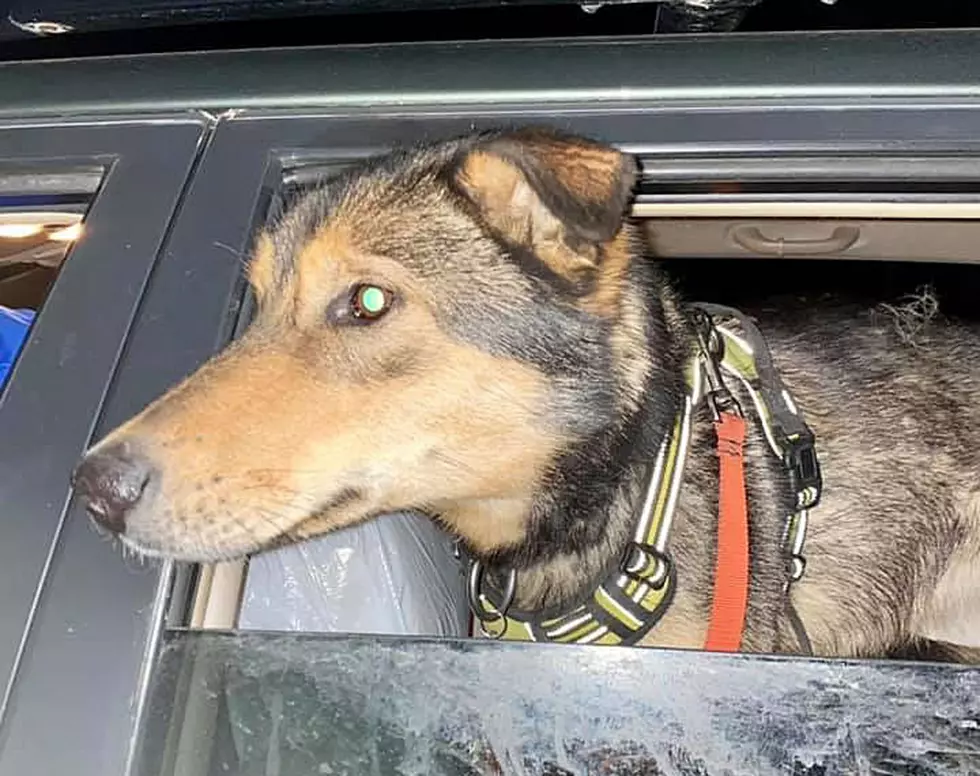 Alaskan Sled Dog, On Loose In Bangor, Has Been Captured
Courtesy: Johanna Athas
In what's got to be one of the happiest endings, to a story that's had most of Bangor on alert for the past month: Beaver, the Alaskan Sled Dog has been found, safe and sound!
As we reported in an article earlier this month, Beaver was a retired Iditarod Sled Dog, being transported to Maine to be adopted by a family from Searsport. Unfortunately, Beaver got spooked as she exited the plane, and took off! She was wearing her harness, leash and collar, thankfully, so when folks started to spot her running around, she was pretty easy to identify. That was on February 27, and she's been on the run since then.
In true sled dog fashion, Beaver managed to outrace all who tried to catch up with her! So despite the massive effort to spot, track and capture Beaver, that was being organized by local animal lovers and Bangor's Animal Control Officer, she managed to elude everyone for weeks!
That is until she finally recognized some familiar faces.
You see, in a move that makes this story even more awesome, Denise Lawson, one of the volunteers who had originally helped find Beaver a home in Maine, knew that the only way to stop this poor pup from running, was to bring in familiar reinforcements. So she drove from Virginia to Maine, with members of Beaver's pack, and set up shop to help with the search. And just like something out of a story book, it worked!
Bangor resident Johanna Athas, who has been on the lookout for Beaver since it was reported that she was missing, explains how it all went down:
"We live on the lower part of Silver Road and Beaver has come into our driveway multiple times, so I texted Denise Lawson and told her we kept seeing her late at night, so she and Gordon came over to meet with us yesterday afternoon and came up with a plan to sit outside our house by the golf course with a small grill to leave a scent trail and they had a few other huskies from her pack with them who she knew and just like clockwork, right before midnight, Beaver showed up and started eating from a bowl of food they had set out, so Denise texted me and told me not to open our door since she was standing right at our door and Gordon was able to slowly approach her and grab her!"
Athas says Lawson, who apparently is also a children's book author, plans to write a story all about this amazing experience! Can't wait to read that!
As for Miss Beaver, Athas says she didn't look any worse for the wear; "She is returning to Virginia for now and then I think back to Alaska to be with her pack and recover from this traumatic event!"
A happy ending to what has been an amazing story about an incredible dog and a community of caring folks hoping to help her! Hooray!
6 Foods From Your Cookout That Could Harm Your Dog
How Pets Can Improve Your Life in a Pandemic
More From WBZN Old Town Maine