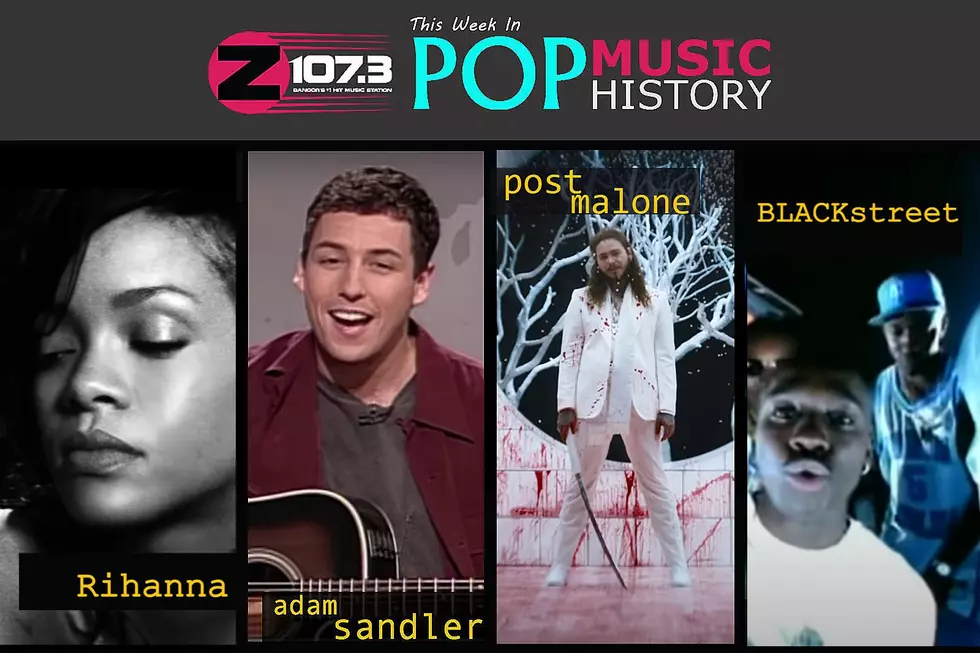 Being the Bangor station that provides you with mostly today's hottest music but also provides you with a healthy dose of yester-year's tunes with Back In the Cafe, we are providing you with a little music history of the 1990's, 2000's and this decade.Get to know a little about the artists that have shaped your musical vocabulary by taking in what has led to the music landscape of today.Behold... Z107.3's This Week In Pop Music History!
November 29th - December 5th: See how Rihanna, Post Malone, Beyoncé, Adam Sandler, BLACKstreet, and Usher marked this week in history for pop music from the past 30 years.
Saturday Night Live is lit up as Adam Sandler performs the notorious "Chanukah Song" on the Weekend Update segment.  The song lists all kinds of celebrities that you didn't know were/are Jewish.  History has proven this is a seasonal favorite.
'No Diggity' is #1 on the Billboard Hot 100 ending the Macarena's 14-week long run at #1.  The song features rap superstar Dr. Dre.
The musical partnership of Usher and Alicia Keys proves to be a good one when their song "My Boo" is #1 on the Billboard Hot 100.
Beyonce stars in the musical biopic 'Cadillac Records' which premieres this week in 2008.  Beyonce stars as legendary singer Etta James.
The Carribean queen is #1 on the BIllboard Hot 100 with 'Diamond'.  The song is written by songwriter and performer Sia.
The Texas mumble rapper is #1 on the Billboard Hot 100.  'Rockstar', featuring 21 Savage, is #1 for 10 weeks.
CHECK THEM OUT: 100 years of Christmas toys, gifts and fads
More From WBZN Old Town Maine