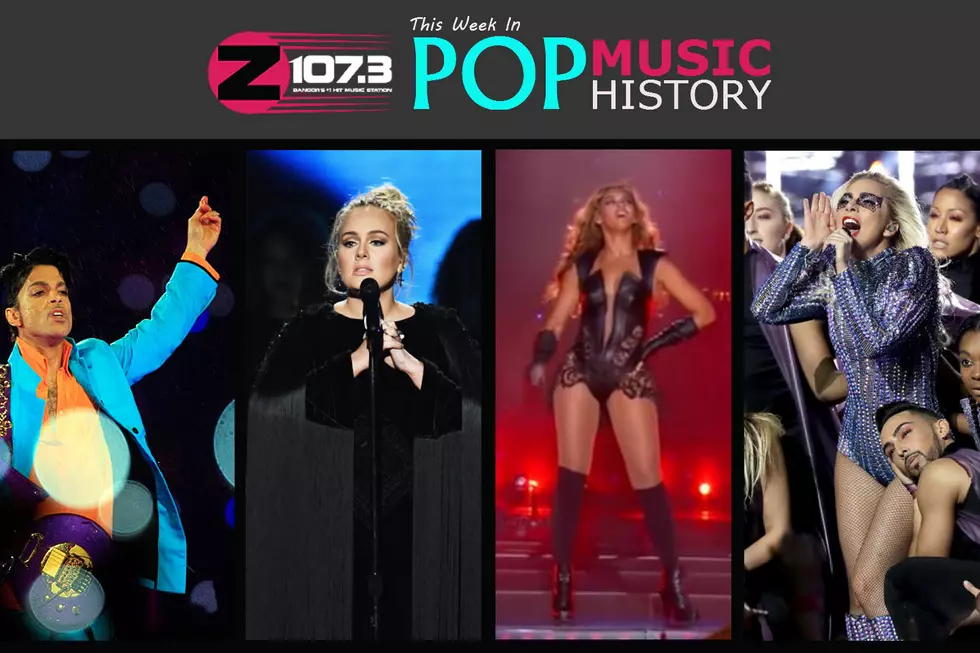 Z107.3's This Week in Pop Music History: Gaga, Beyonce, Prince and Adele [VIDEOS]
CREDITS - Prince: Photo by Jamie Squire/Getty Images; Adele: Photo by Kevin Winter/Getty Images for NARAS; Beyonce: Video still from TheVideoSelection Via YouTube; Gaga: Photo by Ronald Martinez/Getty Images
Being the Bangor station that provides you with mostly today's hottest music but also provides you with a healthy dose of yester-year's tunes with Back In the Cafe, we are providing you with a little music history of the 1990's, 2000's and this decade.
Get to know a little about the artists that have shaped your musical vocabulary by taking in what has led to the music landscape of today. Behold... Z107.3's This Week In Pop Music History!
February 2 - February 8: See how Prince, Adele, Beyonce and Lady Gaga marked this week in history for pop music from the past 30 years.
The Super Bowl half time show in Miami where the Bears play the Colts was performed by pop icon, Prince.
The British artist has three #1 songs from her album 21, "Set Fire to the Rain", "Rolling In the Deep" and "Someone Like You".  She is the first British artist to achieve this on the Billboard Hot 100.
Queen B kicks ass at the Super Bowl halftime show in New Orleans, which includes a performance with Destiny's Child.
Another great Super Bowl performance to include on the list as Mother Monster plays the half time show where the Pats play the Falcons in Houston.
More From WBZN Old Town Maine