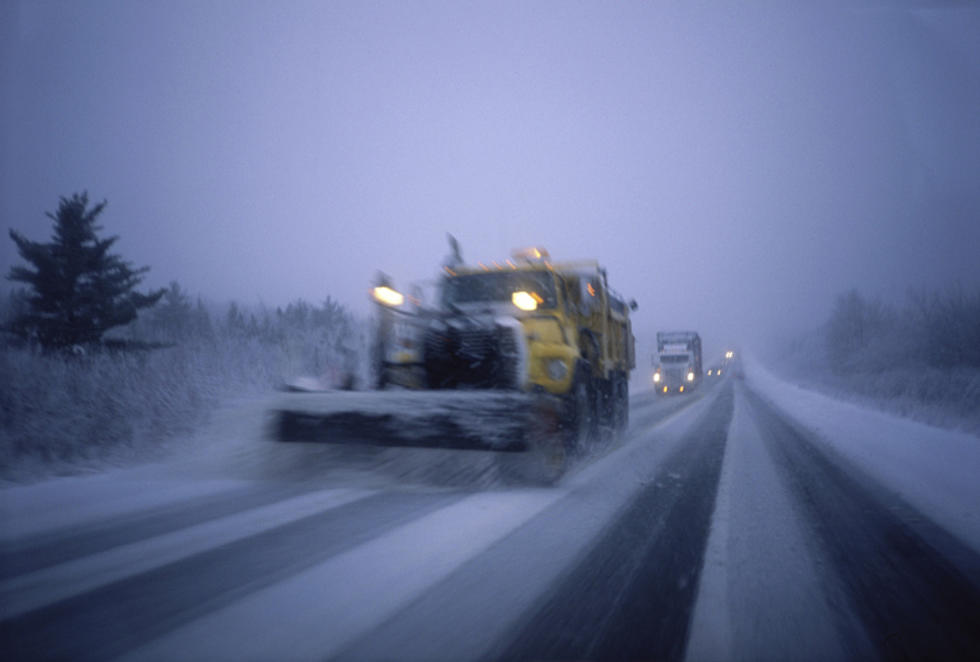 What To Know When They're Out Moving Snow; How To Share The Road With Snow Plows
Purestock
Darren Robinson, a former highway worker on MDI and spent years plowing roads for the town. Before working for MDI, he spent years plowing in pick-ups. And for most of his adult life, he's also been a firefighter in Surry.
It's safe to say he's seen it all on our Maine roads when it comes to keeping them clean, safe, and snow-free.
He says, from a plow driver's perspective, there are a few simple things we can do to keep ourselves and our plow personnel safe this winter.
"The biggest problem is that people like to tailgate, and we try to discourage that. If you're tailgating us, we can't see you. And if we have to stop or make a quick judgment call and you're right on top of us, or behind us, and I slam my breaks on, you're gonna be right in the back of me."
Robinson says plows go slow for a couple of reasons. Safety is a big one: yours and theirs.
"The roads that I do are major roads, and you can't go fast. You don't want to go fast because you've got a 100,000-pound truck loaded with salt and a plow...even with our trucks and the material we have on them, there have been times when I've almost slid off the road."
But there's another important reason that they have to take their time going down each road.
"There's a reason we do go slow because we need to put the salt down. If you go too fast, the salt will hit the road and just bounce off the road. Basically, why we go so slow is so that it will drop in little piles on the centerline so the curve of the road brings the salt, as it melts, will go down to the white lines and spread the whole width of the road."
Robinson says that your best bet is to go slow and give the plows at least 500 feet of space.
"If you crowd us, we get nervous and can't do our job, and then it makes a mess for everybody else."
And when you come upon a pick-up truck plowing driveways or parking lots, the same idea applies; while drivers do have the right of way, it would be great if they could exercise a little courtesy and recognize the plows are out there trying to make roads and driveways safer for folks.
"Even in just driveways and parking lots, I've seen people not respect the loader operators. They're trying to do their jobs to clean the parking lots so that you can go shopping and do whatever you have to do on a normal day, but if you hold us up, we're not going to be able to get it cleaned for you."
For those of us who are visual learners, the Maine DOT put this handy little infographic up on their Facebook page this week, to help illustrate why it's important to be aware of where you are when the plows are out.
"Don't crowd the plow! The next time you share the road with a plow truck, remember where these blind spots are."
As it shows, pretty plainly in this picture, the best place for you to be when the plows are out on the roads is a good distance behind them, off to the side a bit. If you're directly behind them or to the side of them, they won't be able to see you, especially in situations where the visibility conditions are less than ideal.
Robinson says that people need to be mindful of the road and keep an eye out for those working to keep it clear, whether in a plow, an emergency situation on the side of the road, or even just when they come upon a work crew.
"Let us do our job so that everybody can go home to their families."
So let's all do our part and stay patient, keep slow and stay back, so that those who are clearing the roads this winter can do their job and keep the roads safe.
Absolute Top 10 Necessities To Survive A Maine Winter
As the tundra begins to freeze over and as Mainers begin their seasonal refuge to the bunker, there are a few necessities needed in order to successfully make it to the other side, where the palm trees reside.
So, take heed and pay attention to our advice, because these are the exact necessities that will ensure your survivability, mental good health, and that you'll eventually see another summer season up to camp.
More From WBZN Old Town Maine