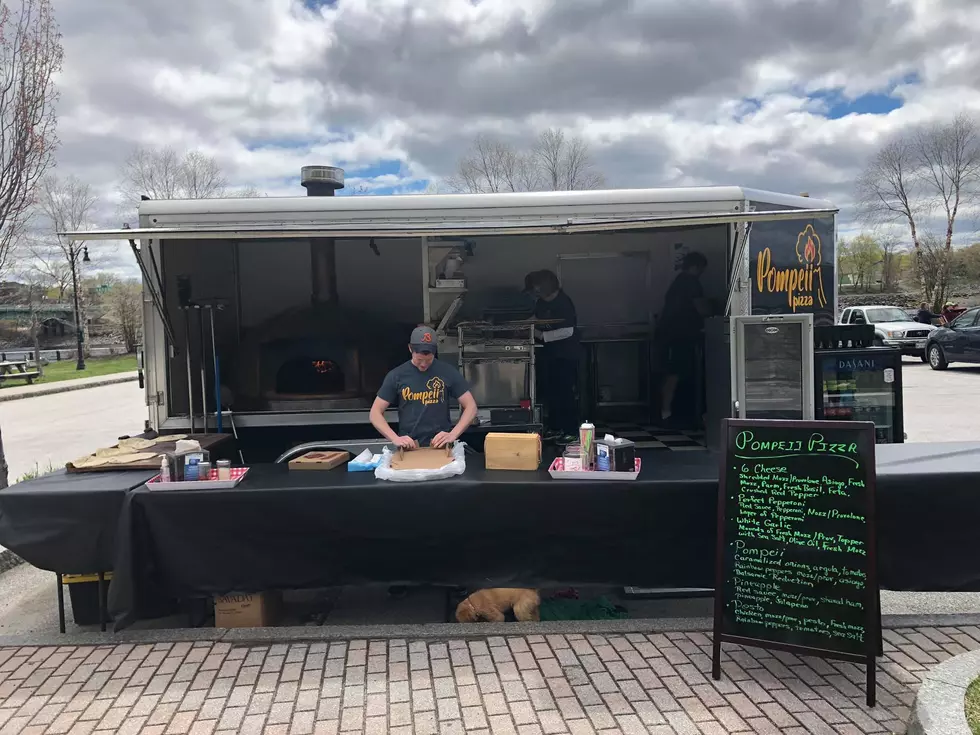 The Pompeii Pizza Truck Is Now Open On The Bangor Waterfront
Permission Via Pompeii Pizza FB
Want a delicious piping hot slice of pie while enjoying the day on the waterfront? Now you can have it!
Food truck season is back, and I for one, am psyched ! I have a fairly huge obsession with food trucks. When there are multiple trucks in one space at the same time, my eyes bug out of my head with delight. And now that warm weather is back, so is food truck season.
The amazing truck from Pompeii Pizza is back and ready for the season. They will be running a limited menu for the time being, but here are the hours you can enjoy their fantastic treats in the next few days, as we head into the holiday weekend.
Thursday- Bangor Waterfront 11am-7pm
Friday-Bangor Waterfront 11am-7pm
Saturday-Bangor Waterfront 11am-7pm
Hot summer days means delicious food on the Bangor Waterfront. Throughout the summer months, there will be 5 trucks ready to serve up some lunch, right near the Penobscot River.
Here is the lineup:
Nora's Grill- They specialize in comfort classics with the main attractions being hot dogs, burgers, and hand-cut french fries accompanied by weekly specials.
Little Red Snack Shack-They serve ribbon fries, with many different toppings, plus, chicken tenders, wraps, sandwiches, and lots of tasty deserts.
The Red Barn Roadshow-Delicious Fried Maine seafood, onion rings, chicken & more!
Pompeii Pizza-A mainstay on the Bangor Waterfront, they are back again for another year, serving up tasty pizza pies.
Wild Cow Creamery-Nothing better than ice cream on a hot summer day. You can't beat these sweet treats!
And, if you really love food trucks, our BEATS & EATS food truck festival is back.
Don't miss it, Saturday, June 25, 2022 on the Bangor Waterfront. Get ready to chow down at the party of the summer on the Bangor Waterfront! Food trucks & street food vendors from all over Maine will be dishing up a big selection of crazy good street food. Get your foodie friends and friends who like to party and head to the Bangor Waterfront to try out some new, mouth-watering dishes or indulge in your usual faves, complete with ice cold adult beverages, games and awesome live music.
Get your tickets here
25 Food Festivals of Maine
Take a tour of Maine -- while taking in what makes Maine -- in the year-round festivals offered all over the state. From great Maine seafood and fish to delicious sweet treats to those odd and unusual Maine pride products, here are 25 festivals that Mainers put on to celebrate the great things of Maine with the community.
More From WBZN Old Town Maine