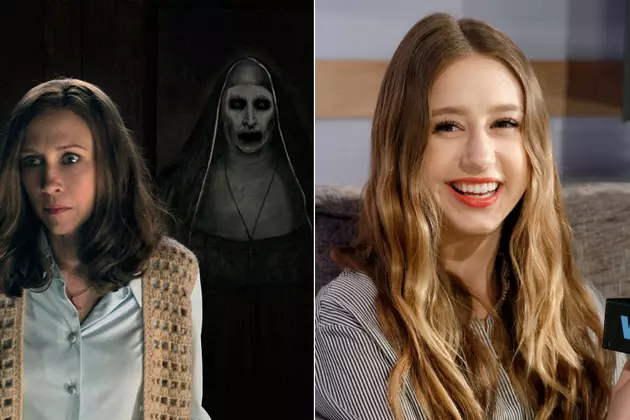 'The Nun' Targets Taissa Farmiga for 'The Conjuring' Spinoff
Warner Bros. / Rick Kern, Getty Images
New Line's next spinoff from The Conjuring franchise is keeping things in the family — at least on the real-world side of things. Taissa Farmiga, sister of Conjuring star Vera Farmiga, is set to star in The Nun, based on the terrifying ghoul featured in James Wan's sequel to his blockbuster horror hit. Little is known about the upcoming spinoff, though it seems unlikely that Farmiga's role will be related to her sister's fictional take on famous paranormal investigator Lorraine Warren.
Per Deadline, Taissa Farmiga — no stranger to genre with her roles in American Horror Story, The Final Girls and In a Valley of Violence — is the first star to sign on for The Nun, New Line's next spinoff from The Conjuring. Corin Hardy, director of The Hallows (and formerly attached to the long-long-long-developing reboot of The Crow), will helm The Nun from a screenplay by James Wan and Gary Dauberman.
The Nun is the second spinoff in the series and follows the success of Annabelle, the 2014 film based on the creepy doll from the first Conjuring movie, taken from the case files of real-life paranormal researchers Ed and Lorraine Warren — portrayed in the series by Vera Farmiga and Patrick Wilson. A sequel to Annabelle, titled Annabelle: Creation, is set to hit theaters on August 11.
As the title suggests, the new spinoff will feature the spooky corpse paint-wearing nun from The Conjuring 2, which revealed the ghoul to be a powerful demon known as Valak. Plot details are currently unknown, but New Line has scheduled The Nun for a July 13, 2018 release (yes, Friday the 13th, because of course).
More From WBZN Old Town Maine