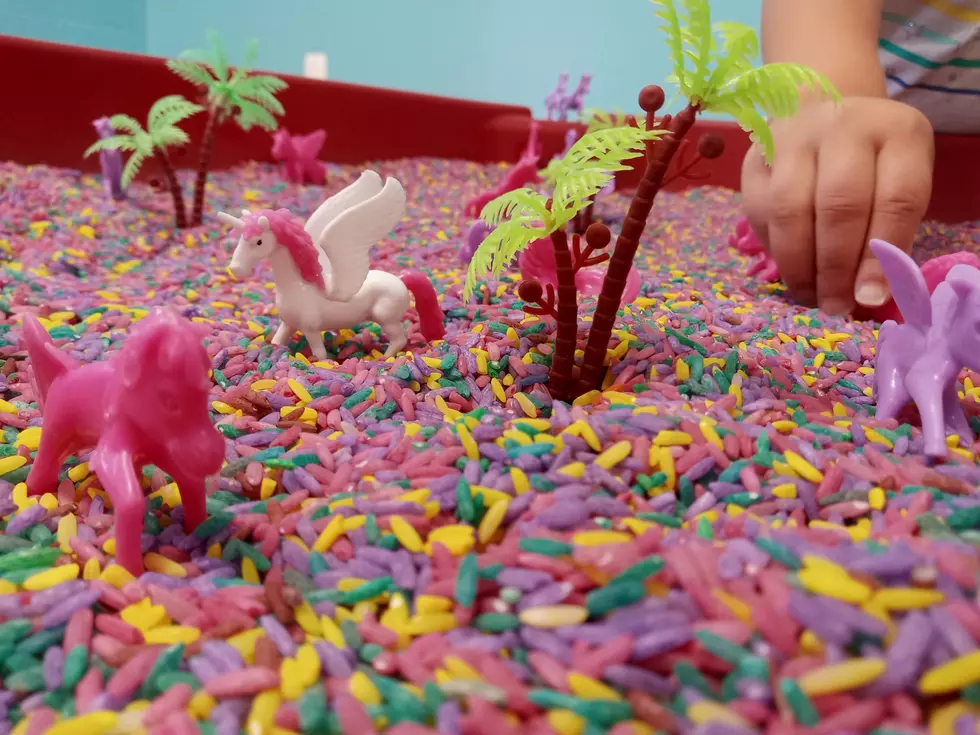 Sensory Play-Place Celebrates First Year In Business By Offering Mobile Messes
Unicorns, Messology Maine Facebook Page
At this time last year, Messology Maine was getting ready to open its doors for the first time. A play place designed for adults and children with sensory issues, Messology Maine set up shop at the far end of the Brewer City Center, at 391 North Main Street.
As it says on their Facebook Page:
"Messology Maine is a place for big messes and fun sensory activities that parents want their children to experience but do not want to shop for, set up for, or clean up after."
This past March, they packed up and moved all their toys and "mess lab" to a storefront located in the Bangor Mall.
The move to the larger space gave the owner Erika Martin-Booker and her husband an opportunity to build some larger play installations, like a permanent sandbox.
They have spent their first year hosting school trips, birthday parties and epic play-dates.
They are also looking for other ways to serve the community, with new programs in the works, says Allen-Booker.
"We're also working on trying to figure out what an adults-with-disability play time would look like along with doing an event for moms kind of like a paint-and-sip or something and a teen night with glow in the dark splatter paint and fun minute to win It games. "
Now, as they're on the eve of celebrating their first year in business, Messology Maine has added one more service to its list: Mobile Messes. They're calling it the Messology Maine Mobile experience, to be exact.
"We will bring the mess to you and clean up after!! We will travel to private events, schools, and summer camps!! We can bring some of our most popular messes like messy bowling, slime, shaving cream messes, oobleck, mud kitchen, splatter paint, watermelon volcanos, and more!"
You read that right. They'll bring the supplies. The kids make the mess. And then they clean the whole thing up.
Martin-Booker says while they love their new digs in the mall, they do miss having an outdoor area to use. That's one of the reasons why they decided to branch out and offer a mobile service.
"Every Monday for the rest of the summer we are working with the Bangor Parks and rec we will be going to them and doing messes for the children at the summer camps there."
"This service right now is priced by event as it is brand new and we need to work out kinks and find out what works and what doesn't. We are excited to be able to bring slime messes, shaving cream messes, messy twister and much more to our customers along with providing our safe fun sensory play area inside the Bangor Mall for those yucky rainy days where kids just need to come play or those super hot muggy days where you just can't stand to be outside.
They may not have magic wands, but I'd say that's kind of magical for any parent out there who is just too overwhelmed by the idea of crafts and glitter!
Along with the new mobile service, Martin-Booker says that they're also going to be rolling out some new activities in July. She's also hoping to be able to get some Messology merchandise for sale in the near future.
"I'm also working on getting our retail license so that we can sell messology shirts and other merchandise such as colored rice sensory bin kits and more!"
Martin Booker says they will hopefully mark their first year with a special celebration.
"We are planning a Happy Birthday Messology Maine party for July. We are hoping to make it a donation event where all donations will go to First Step Pregnancy Resource Center, as they did with our grand opening celebration."
If you want more information, you can check out their Facebook Page or their website.
Happy Summer Vacation!
10 Bangor Playgrounds You Can Visit With Your Kids
If you're looking for a place to take your kids to run, jump and play, here are some options in the Bangor area.
12 Activities in Maine Your Kids Will Actually Want to Do This Summer
Kids enjoy a lot of things but for summertime fun, it all comes down to 5 groups; amusement/water parks, animals, sports, learning, and the beautiful outdoors. If you're looking for some serious family fun this summer, start checking these off your bucket list.
More From WBZN Old Town Maine