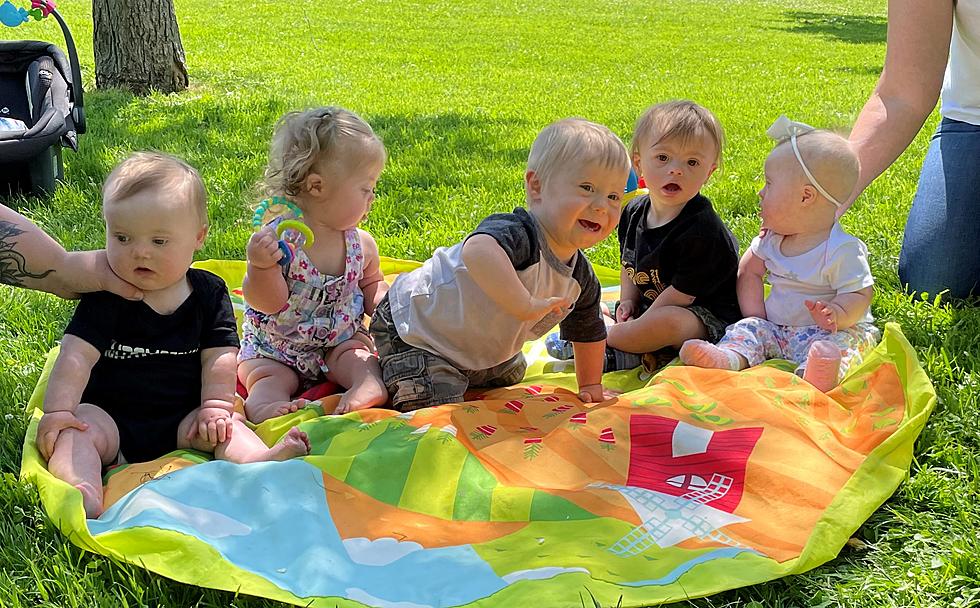 Bangor 'Buddy Walk' Planned for Families with Kids with Down Syndrome
Shelly Sargent
Being a new parent can be terrifying. And often, what makes parenting less intimidating, and at times a richer experience, is to have a good network of fellow parents who "get what you're going through" as a support system; your "tribe" if you will.
This is especially true for parents who have children who are born a little different than the rest.
Young mother, Courtney Sebastiano, was 21 when she gave birth to her son Jackson. It was at Jackson's birth that Sebastiano was told he had Down syndrome, also known as Trisomy 21. (Down syndrome is a genetic disorder wherein babies are born with an extra chromosome.)
Sebastiano said she was already overwhelmed with being a new mother, and that finding out that her son was born with Down made her feel very isolated. While her other friends were posting pictures of their kids accomplishing milestones, Sebastiano felt alone in the challenges she was facing with her son.
But then she started to meet other mothers who also had children with Down syndrome. And with that newfound support system came a new community of parents with whom Sebastiano could share the challenges and triumphs of her beautiful and unique child. The moms got together and created a Facebook group called the Eastern Maine Down Syndrome Support Group.
In talking with these other moms, Sebastiano said it was suggested that maybe these parents could create a special walk for families like theirs.
And since October is Down Syndrome Awareness Month, that's how the idea for the Bangor Buddy Walk was born; " To raise awareness and connect families who are blessed with a little extra in their lives."
The walk will be to honor children with Down syndrome, to create an opportunity for families who have kids like theirs to connect with one another and to raise money to put towards expanding future walks, so they can make it a yearly event.
The walk will take place Saturday, October 9, starting at the Bangor Waterfront.
They've put together an Facebook Event page for the Buddy Walk. 
It will span 3.21 miles, in what Sebastiano calls "at little extra 5K", a tribute to the extra chromosome her son and others were born with.
If you're interested in taking part in the Bangor Buddy Walk, you can click here to get your t-shirt and sign up. 
Sebastiano says she hopes to be able to expand the event next year to include a bounce house and some food vendors. But ultimately, she and the other moms just want to let other parents out there know they do not have to feel isolated and alone.
"The major thing is to spread awareness about Down syndrome. My wish is to help encourage people to learn about Down syndrome and to help people understand that individuals that have an extra chromosome are much more than there diagnoses and looks, and to help people realize the beauty of it!"
40 Trails Within 20 Minutes of Bangor
Here's a bucket list of areas to visit for a workout, a walk with the dog or a weekend walk with the kids. Here are 40 easy to get to, convenient locations to get out in the Bangor Area.
11 Activities in Maine Your Kids Will Actually Want to Do This Summer
Kids enjoy a lot of things but for summertime fun, it all comes down to 5 groups; amusement/water parks, animals, sports, learning, and the beautiful outdoors. If you're looking for some serious family fun this summer, start checking these off your bucket list.
More From WBZN Old Town Maine