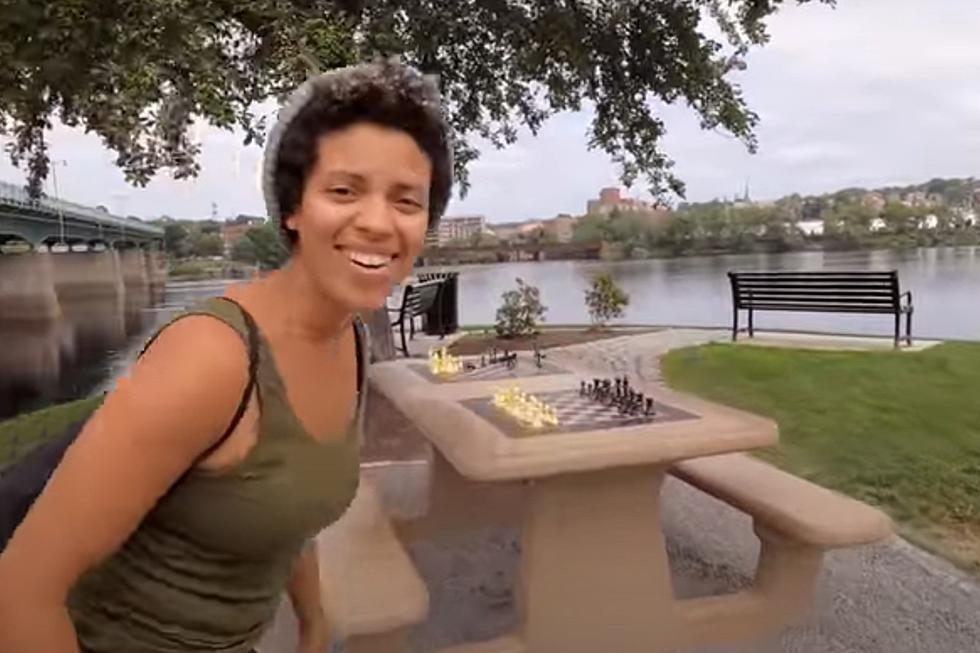 "How would you feel playing chess here with that view? That's amazing."
That's one of the highlights of the latest episode of 'Let's Play Ride and Seek', a YouTube channel featuring a couple, Abigale and Natalie, who built a water-fueled van, who are now traveling the continent and taking us along for the ride.
The remark was made visiting one of the stops at the Brewer river walk, one of many stops they made so far here in the Pine Tree State.
These YouTubers are combining the LGBTQ+ and nomad life looking for adventures and made a stop in 'Vacationland' for their latest episode. The episode starts off in Portland, travels north to the Western sites of Angel Falls and Mooselookmeguntic Lake, then heads east to the Bangor Area.
Along for their journey are their two dogs, one of which celebrated his 14th birthday in Brewer for their river walk. On the Penobscot River Brewer-side, they stopped at the chess tables overlooking the river and walked through the Children's Garden. It made for an easy walk for their old pup's birthday, who needed a little help getting down a mountain earlier in the video.
The video also features the ladies walking through the streets of Downtown Bangor where they filmed at the 'Welcome to Bangor, Maine' painted mural on Union Street, Pickering Square, and checked out a park on State Street.
The gay couple was very appreciative of all the pride stuff featured throughout the downtown area, including one of the wheat paste murals put up this year as part of the collection focusing on the theme of 'Unity.' The art almost resembles this couple and it is adorable to see them see themselves represented here in our little city.
"Bangor, Maine is like really-"
"Bangin'!"
"There are rainbows, like, everywhere. Like, they're really trying to make us feel welcome and they're doing a good job."
The visit ends with a "cheers" at 2 Feet Brewing on Columbia Street.
It's very cool to see this lovely couple stop by our home as part of their adventure. Apparently, they had some business to tend to while in town so, we'll have to stay tuned to see what's in store for next week's episode to be released next Sunday.
25 Essential Things To Do and See In Bangor Maine
Must see and must do list of all the places locals and tourists alike should visit in the Queen City.
25 Essential Things To Do In Orono
Whether you want to walk in nature, take in a movie or look at faraway galaxies, Orono has a lot to offer for fun things to do. With the help of TripAdvisor.com, here are 25 places to visit in the University town of Orono to find your local adventure.
KEEP READING: See 25 natural ways to boost your immune system
More From WBZN Old Town Maine