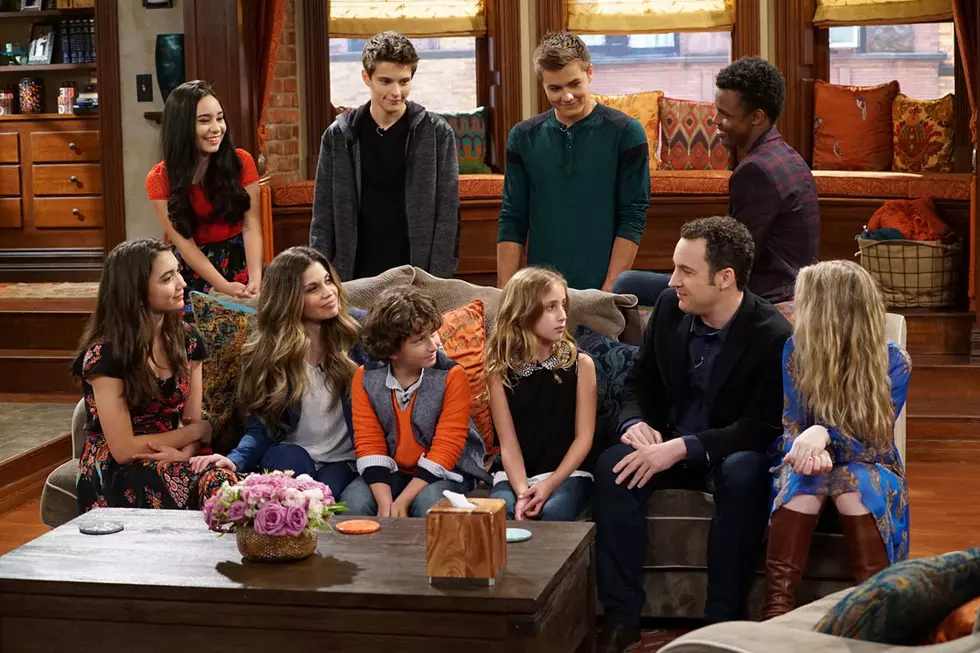 'Girl Meets World' Stars Rowan Blanchard, Sabrina Carpenter React to Cancellation
Ron Tom, ABC Television Group
The writers of the Disney Channel's Girl Meets World, a series continuation of '90s hit Boy Meets World, announced the series' cancellation on Wednesday evening (January 4), after fans had been worrying about the show's fate since July 2016. Series stars Rowan Blanchard, who plays the daughter of original Boy characters Corey and Topanga, and Sabrina Carpenter, who plays best friend Maya, paid Instagram tribute to their time on the show and the series' greater meaning.
"Being on Girl Meets World is the most significant event in my life thus far, it changed absolutely every aspect of it, and takes up most of the life I am able to remember," Blanchard wrote. "It is with this cast family I experienced mourning and heartbreak and overjoyment and long days that turned into long nights, each and every moments so painstakingly beautiful."
And because no one can cancel Blanchard's enduring awesomeness, in addition to thanking viewers and her costars, the actresses' mini-essay also spoke to what she hopes the show's three seasons mean in the long run.
"Teens determine and influence all of this in general, and I hope and think our show reflects you for how you are: brave, opinionated, audacious, devoted, dynamic, loving, nurturing and powerful. People, more than often adults who have forgotten their power, will tell you differently and I hope that is when you turn to our show, which is now your show. I will continue to fight to not be talked down to by the shows and books and movies that are aimed toward us. I am sorry that this channel is just not able to understand that (don't think for a moment this happened because of you)."
Sabrina Carpenter also wrote her own lengthy tribute alongside a group photo of the cast, saying, "To the family that was created on our set, between the cast and crew, thank you for giving us the ability to make mistakes and to grow. I felt so safe in that bay window."
The Girl Meets World writers' Twitter account shared the news after Boy Meets World star (and occasional Girl guest star) Rider Strong said the show was "over" on his Literary Disco podcast, sparking fans' concern as the show was already on the bubble.
"It is with incredible pride in our work and complete sadness that things end, that I report to this wonderful audience that our show is over," they wrote. "I just officially got the call, and would like to thank this audience for its incredible love and loyalty. Please watch our January episodes."
Girl Meets World's last episode, "Girl Meets Goodbye," airs on Friday, Jan. 20 at 6 p.m. ET on the Disney Channel. It will be, aptly, a Boy Meets World reunion featuring Rider Strong (Shawn Hunter), William Daniels (Mr. Feeny), Anthony Quinn (Mr. Turner), Will Friedle (Eric), William Russ (Alan), Betsy Randle (Amy), Lee Norris (Minkus), Danny McNulty (Harley), Lily Nicksay (Morgan #1), and Lindsay Ridgeway (Morgan #2) — in addition to, as always, Ben Savage and Danielle Fisher (Corey and Topanga Matthews). Two more episodes will air on January 6 and 13.
See Rowan Blanchard and Sabrina Carpenter's Girl Meets World goodbyes below.
Movie and TV Cast Reunions That Warm Our Hearts
More From WBZN Old Town Maine