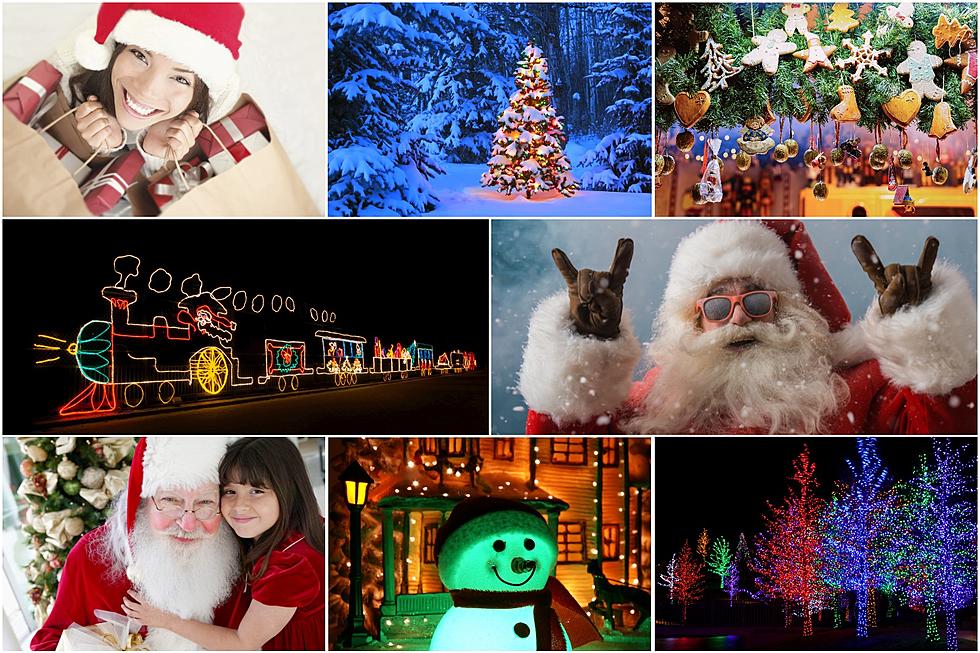 10 Fun Ways to Celebrate the Holidays this Weekend Near Bangor
ThinkStock
If you're looking for some family fun this weekend, to celebrate the holiday season, here are a few events going on in the area.
This is such a great time of year because it seems like there's always something going on. Fun family-friendly events are everywhere, as long as you know where to look for them. Of course, that's the challenge - finding them. So we wanted to help with suggestions of some activities going on this weekend.
Of course, this is Maine and we may see some 'weather' this weekend, so all events are subject to change.
The Greater Bangor Christmas Parade. 
This is not the usual Festival of Lights Parade in Bangor, but is being organized by a different set of planners, so it may look a little different than in past years. But, thanks to them, we will be able to line up on Main Street and watch the Greater Bangor Christmas Parade, which will step off this Saturday at 4 PM.
Family Holiday Extravaganza
The Old Town/Orono YMCA is hosting this multi-faceted family-friendly event. From 4:30 PM to 7 PM Saturday, kids of all ages can enjoy things like a ride on the Polar Express, drink hot cocoa, look at holiday lights, and grab some goodies. Pre-registration is required for this event and there is a small fee. Find more information on the event's Facebook page.
Brewer Eagles Club Christmas Craft Fair
Get some early holiday shopping done this Saturday at the Brewer Eagles Club. From 9:30 AM to 1:30 PM, shoppers can find a variety of local crafters and vendors displaying their products on Atlantic Avenue in Brewer.
Tree Lighting Ceremony in Glenburn
The Glenburn Parks and Rec Department will host this Christmas tree lighting at the Glenburn Evangelical Church on the Hudson Road. The fun starts at 4 PM Saturday and will include cocoa and cookies, caroling, and the lighting of their 30-foot Christmas tree.
Camping With Santa: A Detour Through Candy Cane Lane
This multi-faceted event is hosted by our friends at Harvey RVs at their facility on outer Broadway in Bangor. Saturday from noon to four, the public is invited to have their photos taken with Santa and walk through the Candy Cane Lane Trail - complete with a light show. There will be a food truck, hot cocoa station, a scavenger hunt, and even an ornament-making station. The event is free, family-friendly and dog friendly.
Belfast Area High School Festival of Trees
I love these events. It starts with walking through a room filled with beautifully decorated Christmas trees. Each tree offers an abundance of prizes to the winner of random drawings. Drop your tickets in the buckets corresponding to the trees you want to win and then cross your fingers. This festival is being held at 248 Northport Avenue in Belfast and will benefit the Belfast Area High School Class of 2022 Project Graduation. Oh, it's going on this Friday through Sunday. Find more information on the event's Facebook page.
 Christmas Party, Meet & Greet Santa in Brewer
Better Homes and Gardens Realtors are hosting this party at Jeff's Catering in Brewer Saturday, from 2 PM to 4 PM. Families can enjoy cookies and cocoa, meet Santa, and have their pictures taken by a professional photographer. The price of admission? A donation of pet food to benefit the Bangor Humane Society.
Bangor Comic & Toy Con Presents St. Nick's Christmas Bazaar
This is another chance to do some holiday shopping at St. Nick's Christmas Bazaar. Bangor Mall will be the site, with lots of vendors and interesting gift ideas on Friday and Saturday. Bring the kids because Santa will be there too.
Beth C. Wright Cancer Resource Center Festival of Lights
For the second year, the woods and gardens surrounding the Beth C. Wright Cancer Resource Center in Ellsworth will be illuminated with holiday lights. The public is invited to tour the light show on Fridays and Saturdays, between 4:30 and 7 PM. Just call the center to make reservations at 664-0339.
Festival of Stockings in Hudson
This will be similar to a Festival of Trees, except they're using stockings. Clever! The public is invited to stop by the Hudson Municipal Building, starting at 10 AM Saturday. Enter the drawings for your choice of stockings (and their contents) and you just might win. Proceeds from the Festival of Stockings will benefit the CHS Class of 2022 Project Graduation.
Gift Ideas: Maine Department of Inland Fish and Wildlife
10 Ways to Help Brighten the Holiday for Mainers in Need
Maine's charitable organizations have a variety of ways for you to help others this holiday season.
10+ Cool Gift Ideas that Will Also Benefit a Maine Non-Profit
Giving these gifts to your loved ones would also support agencies that give back every day to our communities.
More From WBZN Old Town Maine