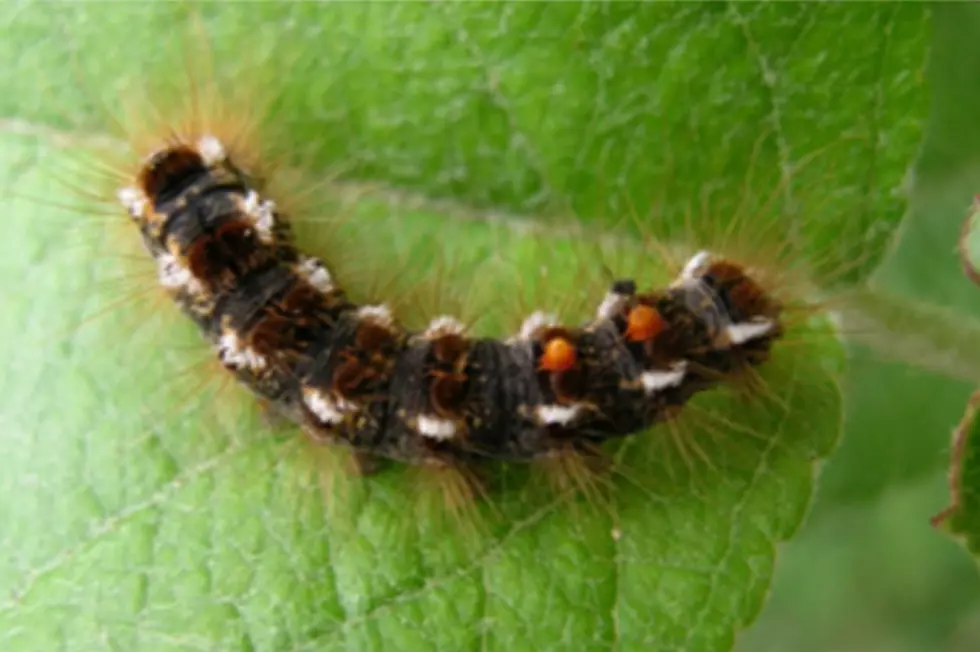 Could Maine Begin A Continent-Wide Poisonous Caterpillar Problem?
Maine CDC, Maine.gov
While Maine has suffered the problem of infestation of browntail moth caterpillars since the early 1900s, the recent explosion of their presence has become considerably worrisome here in the State of Maine. The insects carry poisonous hairs that travel invisibly in the air and cause poison-ivy-like rashes on the skin and can cause respiratory issues as well.
Not only has the population been growing in the 'usual places' where the caterpillars have existed for decades since the original infestation 100 years ago, but we are now seeing a massive expansion across the State of Maine where they are nesting.
Maine has seen the caterpillar expand to its most southern county in York and its most northern county in Aroostook just in the past year or two, all the way up and down the Penobscot River, Kennebec River, up and down the coast of Maine.
A traveling pest
Why has this presence expanded as it has? Take a look at what's got wheels.
One thing noted by the Maine CDC is that one mode of travel that has made the expansion of their activity even more expansive is the ability to travel via vehicles- like tractor-trailer trucks going long distances, tourists coming from out-of-state then leaving to go back home, and buses come from and crossing back over the national border.
A new state campaign concerned about this irritating pest
The Maine Department of Agriculture, Conservation and Forestry is getting ready for tourist season with a blaring warning sign, one that we Mainers need to be wary of as well- check your car before you go.
Visiting a State Park? Check all over your car before you go.
Spent a few hours at a Maine beach? Again, check the car.
For real, you gotta check your vehicle- from hotel to State Park, to restaurant, back to the hotel. Or, from home- to the grocery store- to the post office- to back home. Bringing caterpillars from one location to another will bring new problems from one spot to another whether it's here in the state or across state/country lines.
Here's where the biiiiiig problems lie
As you can imagine, the State of Maine is trying to avoid an even bigger problem which is bringing those caterpillars into new states or across national borders. It's getting close to that point already. The Maine CDC webpage about the Browntail Moth Caterpillar states that its presence has been found "up to 60 miles inland from the western Maine border to the New Brunswick border".
Not only could other states start getting infested with this terrible insect, which nobody wants to happen, but, guess who looks bad when this happens, the state that didn't get the problem under control.
Then, Maine becomes the state NO ONE will want to vacation in or spend their vacation money on because they don't want to take a chance on having a MISERABLE rash or respiratory issues that they heard about on the news or saw viral videos on social media about.
So, no matter if you are a resident of Maine or a visitor of Maine, please check your car this could help lessen this insect's impact on the health of the people of Maine, those visiting Maine, and, hopefully, make it so those visiting 'Vacationland' don't bring home an unwanted guest that will make you miserable.
30 Most Dangerous Sections of Road in Maine
There are plenty of sections of road that you have come across here in the State of Maine that have you gripping the steering wheel a little more than other sections. Here is the list of the Most Dangerous Roads of Maine from the past three years of crashes, injuries, and fatalities from the Maine Department of Transportation. Do you live on one of these roads?
I395 Extension March 2022 Update Photos
The Route 9 Connector project
is well underway. Here's a look at the path that has been cleared from I-395 in Brewer all the way through to Route 9 in Eddington.
University of Maine Researchers Doing Browntail Moth Study
This pilot study is determining if pheromones could be the key to disrupting the Maine pests population and help reduce the infestation across the State of Maine. Ultimately, this research could be the large scale answer to dealing with the Browntail Moth problem here in the state.
More From WBZN Old Town Maine