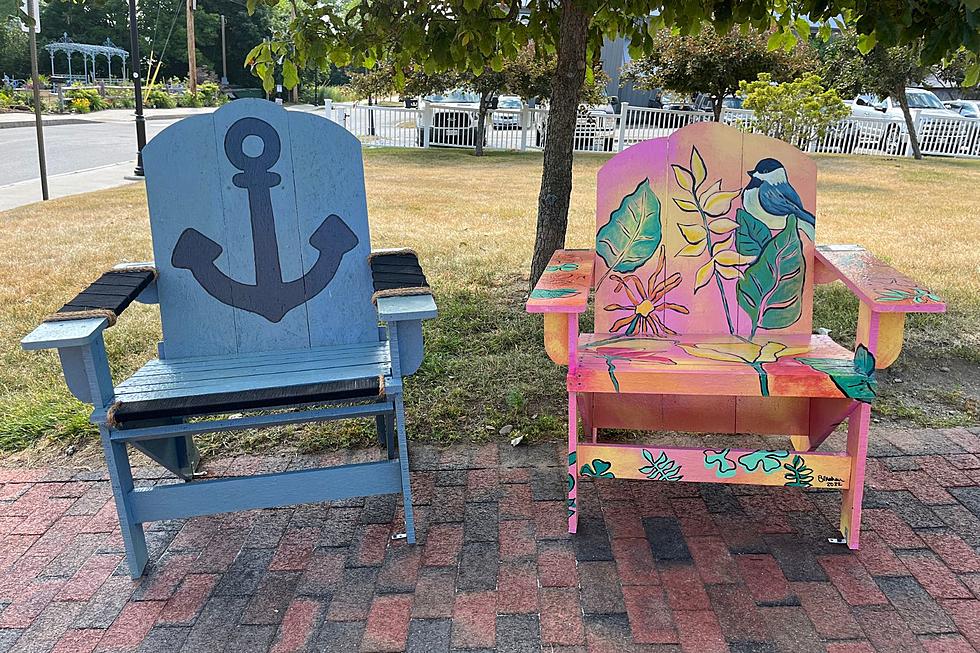 Belfast Bringing Back The Chairs This Summer & Needs Artists
Our Town Belfast
If you spent any time in downtown Belfast last summer, no doubt you saw the Adirondack chairs spread out as you walked the Main Street hill from the harbor to Post Office Square. Here is the story, and here is a sample.
Well they are coming back. Bigger and better
How many Chairs were there last year?
Last year they added 15 of the painted Adirondack style chairs throughout downtown. The chairs were artist designed and painted.
If you saw them, you will probably agree they were a welcome addition.  For the look, of course, but also for the chance to sit for a few minutes with your cold drink and take a rest break.
Now Our Town Belfast is going to add 6 more chairs.
Our Town Belfast Executive Director Amanda Cunningham says
Our Town Belfast is seeking artists and sponsors as we are adding to our Sit Down Belfast project.
If you are a Waldo County artist who would like to contribute to the project there is a $300 stipend and a chance for some pride. Here is the link to be considered.
Submissions are due by April 24th. The designs will be chosen by a panel of community judges on April 26th. Then the chairs will be painted in May and put on display in downtown Belfast in early June.
Not an artist and want to be a part of the project?
Our Town Belfast is looking for business and community sponsors for each chair to offset the cost of the chairs and cover the artist's stipends.
When you are in Belfast this summer, enjoy the art, and chance to sit for a few minutes.
WOOF: These are the most popular dog breeds in America
More From WBZN Old Town Maine