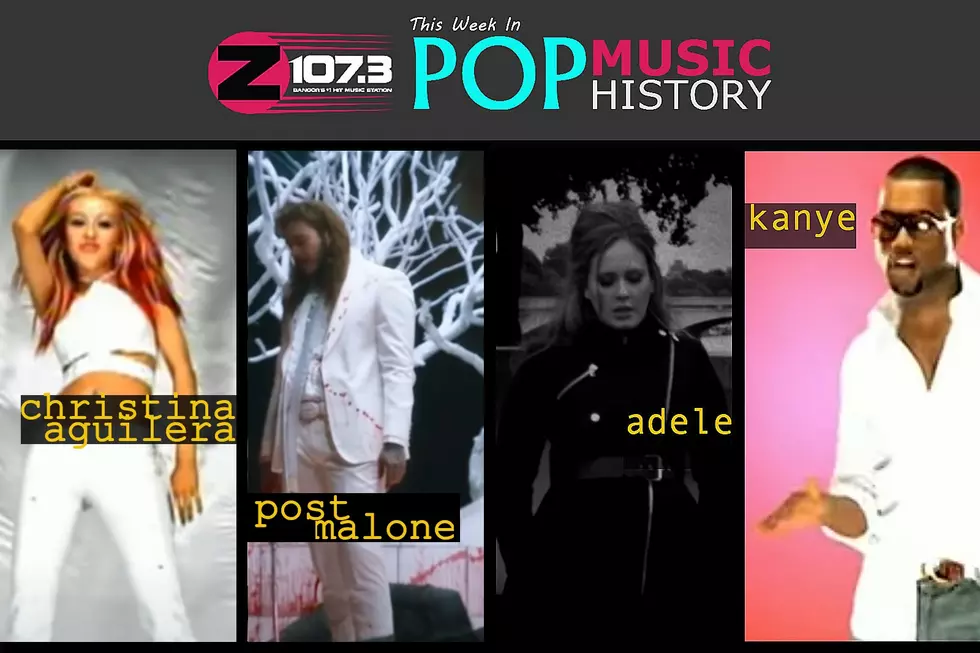 Being the Bangor station that provides you with mostly today's hottest music but also provides you with a healthy dose of yester-year's tunes with Back In the Cafe, we are providing you with a little music history of the 1990's, 2000's and this decade.Get to know a little about the artists that have shaped your musical vocabulary by taking in what has led to the music landscape of today.  Behold... Z107.3's This Week In Pop Music History!
November 1st - November 7th: See how Post Malone, Kanye West, Adele, Christina Aguilera, Monica, Meghan Trainor, and Owl City marked this week in history for pop music from the past 30 years.
R&B singer Monica is #1 on the Billboard Hot 100 with 'The First Night'.
2000 - Christina Aguilera
Xtina is #1 on the Billboard Hot 100 with 'Come On Over Baby (All I Want Is You)'.
Yeezy is #1 on the Billboard Hot 100 with 'Gold Digger'.  The song and video features the song stylings of actor and singer, Jamie Foxx.  John Legend also makes a cameo in the video.
A one hit wonder graces the top of the Billboard Hot 100: Owl City is #1 with the sickly sweet "Fireflies".
The pop charts are relieved to have the great vocal talent of British singer Adele top the Billboard Hot 100 with "Someone Like You".
Pop singer Meghan Trainor celebrates junk in the trunk with her ear worm song "All About That Bass".
Posty is #1 on the Billboard Hot 100 with 'Rockstar' which features 21 Savage.
Celebrity Kids Who Look Exactly Like Their Famous Parents
Celebrity Couples Who Secretly Got Married
More From WBZN Old Town Maine