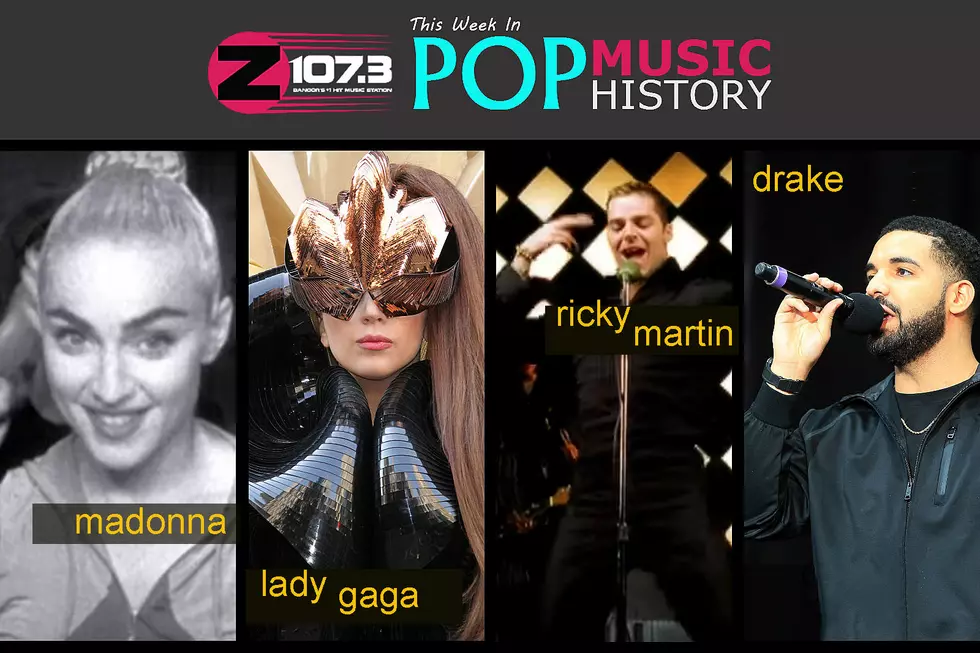 Z107.3's This Week in Pop Music History: Lady Gaga, Drake, Carrie Underwood
Photos- Madonna: Video still from Movieclips
via YouTube ;Lady Gaga: Rob Kim/Getty Images ; Ricky Martin: Video still from RickyMartin
via YouTube; Drake: Vaughn Ridley/Getty Images
Being the Bangor station that provides you with mostly today's hottest music but also provides you with a healthy dose of yester-year's tunes with Back In the Cafe, we are providing you with a little music history of the 1990's, 2000's and this decade.Get to know a little about the artists that have shaped your musical vocabulary by taking in what has led to the music landscape of today.  Behold... Z107.3's This Week In Pop Music History!
May 17th - May 23rd: See how Drake, Madonna, Shawn Mendes, Ricky Martin, Carrie Underwood and Weezer marked this week in history for pop music from the past 30 years.
After a limited release in major cities (starting with Los Angeles), Madonna's concert documentary Truth or Dare opens in theaters.
Latin hottie, Ricky Martin, is #1 Hot 100 on Billboard with 'Livin' La Vida Loca'.
One of American Idols most successful stars, Carrie Underwood, is days away from winning Season 4 of American Idol.
The band's video for their song 'Pork and Beans' debuts.
Lady Gaga appears on The Simpsons, where she tries to help Lisa find her inner monster in the episode 'Lisa Goes Gaga.'
Drake receives nine nominations for the 2016 BET Awards and walking away with three awards for 'Best Group', 'Best Male Hip Hop Artist' and 'Best Collaboration'.
'If I Can't Have You' is new to the Billboard Hot 100 and earns the second best spot behind the #1 'Old Town Road' by Lil Nas X featuring Billy Ray Cyrus.
More From WBZN Old Town Maine