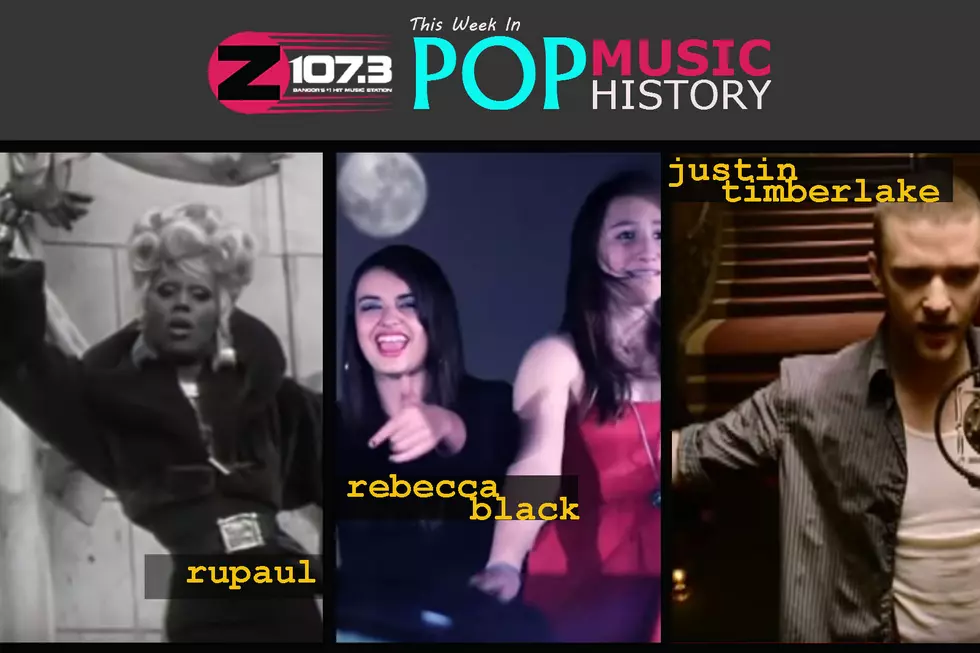 Z107.3's This Week in Pop Music History: JT, Adele, Whitney, OutKast, and More [VIDEOS]
Rupaul: Video Still from Telegenics Via YouTube; Rebecca Black: Video still from Rebecca Black via YouTube; Justin Timberlake: Video Still from Justin Timberlake via YouTube
Being the Bangor station that provides you with mostly today's hottest music but also provides you with a healthy dose of yester-year's tunes with Back In the Cafe, we are providing you with a little music history of the 1990's, 2000's and this decade.
Get to know a little about the artists that have shaped your musical vocabulary by taking in what has led to the music landscape of today. Behold... Z107.3's This Week In Pop Music History!
February 9th - February 15th: See how Adele, Rupaul, OutKast, Daft Punk, Justin Timberlake, Rebecca Black and Whitney Houston marked this week in history for pop music from the past 30 years.
Drag queen extraordinairre, Rupaul, becomes the first drag queen to make the Hot 100 with "Supermodel (You Better Work)" which enters the charts this week in 1993.
"Hey Ya" ends it's ninth and final week at #1 when another OutKast song "They Way You Move" takes over #1 in the Billboard Hot 100.
The enigmatic French duo make their first televised appearance on the 50th Grammy Awards and perform with Kanye West.
JT wins a Grammy for Best Male Pop Vocal Performance with "What Goes Around... Comes Around."
The world is overjoyed when teenage singing sensation Rebecca Black uploads "Friday" to YouTube.  And the Z Morning Show has never been the same :)
The modern singing legend, Whitney Houston, dies in Los Angeles, hours before a pre-Grammy party performance.
The 2017 Grammy Awards open with a performance by Adele of 'Hello', which wins for Song of the Year and Record of the Year.
More From WBZN Old Town Maine