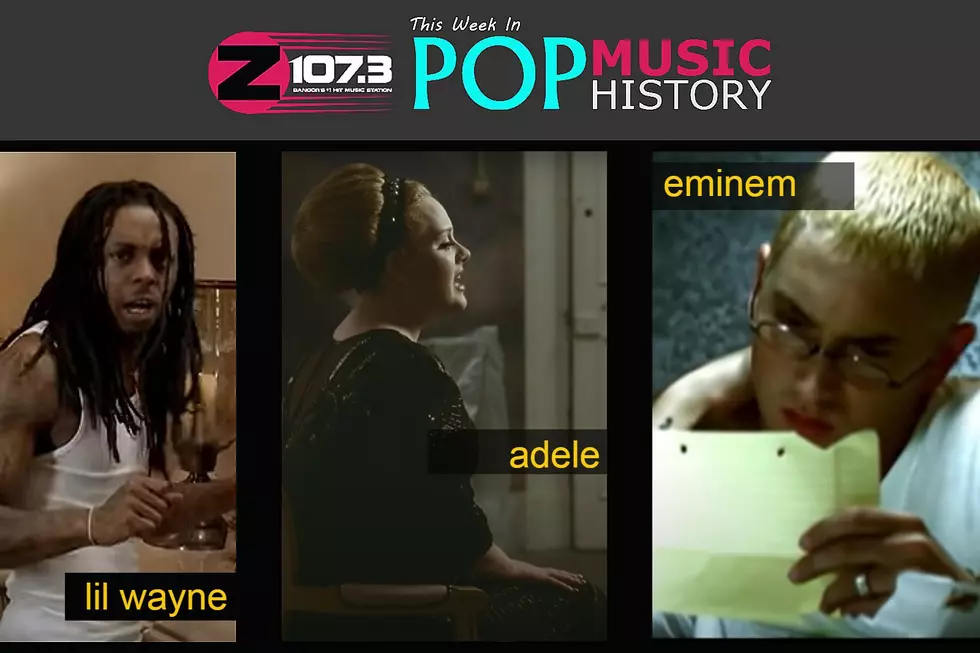 Z107.3's This Week In Pop Music History: Eminem, Adele, and More [Watch]
Lil Wayne: video still from Lil Wayne via YouTube; Adele: video still from Adele via YouTube; Eminem: Video still from EminemMusic via YouTube
Being the Bangor station that provides you with mostly today's hottest music but also provides you with a healthy dose of yester-year's tunes with Back In the Cafe, we are providing you with a little music history of the 1990's, 2000's and this decade.Get to know a little about the artists that have shaped your musical vocabulary by taking in what has led to the music landscape of today.  Behold... Z107.3's This Week In Pop Music History!
June 7th - June 13th: See how Justin Bieber, Adele, Eminem, Fountains of Wayne, Montell Jordan, and Lil Wayne marked this week in history for pop music from the past 30 years.
'This Is How We Do It' hits it at number on the Billboard Hot 100.  The single stays there for 12 weeks.
Detroit rapper Marshall Mathers is #1 in the U.S. with 'The Marshall Mathers LP' which includes the songs 'Stan' and 'The Real Slim Shady'.  It's number one for 8 weeks.
2003 - Fountains of Wayne
The band that was on hiatus for 4 years release their new album called Welcome Interstate Manager and the world becomes very familiar with Stacy's Mom.  Stacy's everywhere are now and forever asked if there mom has it going on.
This Bangor Waterfront performer and rap star releases his album Tha Carter III which includes Lil Wayne's most successful single in his career, so far, 'Lollipop'.
'Rolling In the Deep' continues it's number streak.  It spends 21 weeks at #1.
Despacito reins the charts with Luis Fonsi and Daddy Yankee.  The songs stays number one and breaks records for 19 weeks.
More From WBZN Old Town Maine