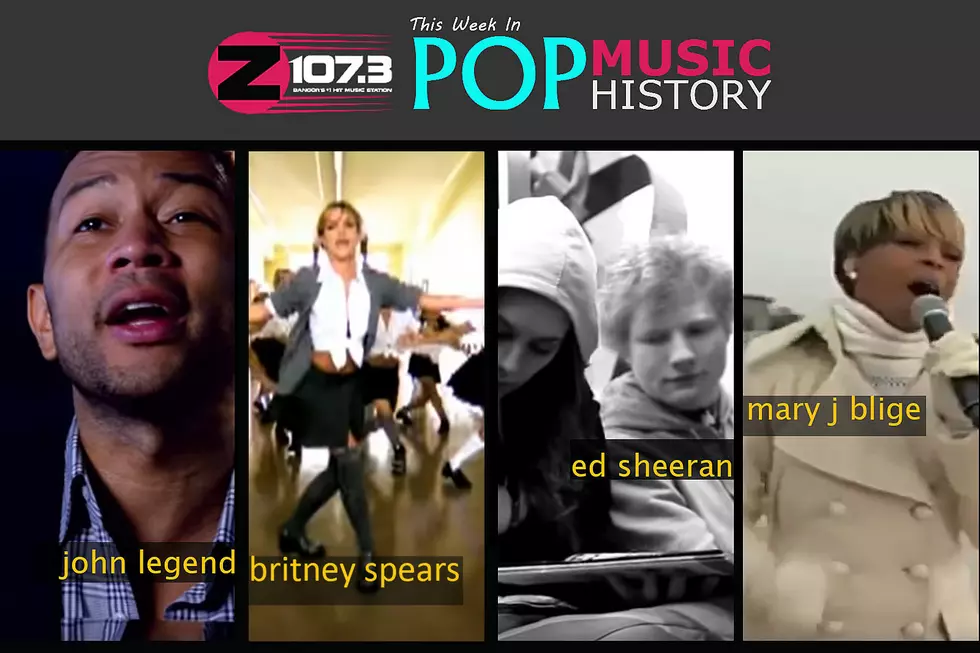 Z107.3's This Week in Pop Music History: Ed Sheeran, Britney Spears, John Legend and more [VIDEOS]
John Legend: Video still from thinkcommon via You Tube; Britney Spears: Video still from Britney Spears via You Tube; Ed Sheeran: Video still from Ed Sheeran via You Tube; Mary J. Blige: Video still from Jackie Glowing via You Tube
Being the Bangor station that provides you with mostly today's hottest music but also provides you with a healthy dose of yester-year's tunes with Back In the Cafe, we are providing you with a little music history of the 1990's, 2000's and this decade.
Get to know a little about the artists that have shaped your musical vocabulary by taking in what has led to the music landscape of today. Behold... Z107.3's This Week In Pop Music History!
January 12th - January 18th: See how Ed Sheeran, Britney Spears, John Legend, Mary J. Blige, Green Day, the Counting Crows, and Clay Aiken marked this week in history for pop music from the past 30 years.
1994 - The Counting Crows
This week in 1994, 90's rock band the Counting Crows appeared on Saturday Night Live performing their songs "Mr. Jones" and "Round Here".
Britney releases her first album "...Baby One More Time."
The pop punk band pledges royalties from the sales of their #1 Billboard Modern Rock Track "Boulevard of Broken Dreams" from iTunes throughout the year of 2005 to go towards the relief efforts of the South Asian tsunami.
The former American Idol finalist makes his Broadway debut in New York City in Monty Python's "Spamalot".
Mary J. Blige, along with Beyonce, will.i.am, John Legend, Shakira and Usher and many more, perform in Washington D.C. to celebrate the inauguration of Barack Obama as the next U.S. President.
To celebrate Martin Luther King Day and honor King's march that he led in 1965 in Montgomery, Alabama, singer John Legend and Common perform "Glory" in Selma, Alabama.
The Ginga Ninja is #1 on the Billboard Hot 100 with 'Perfect'.