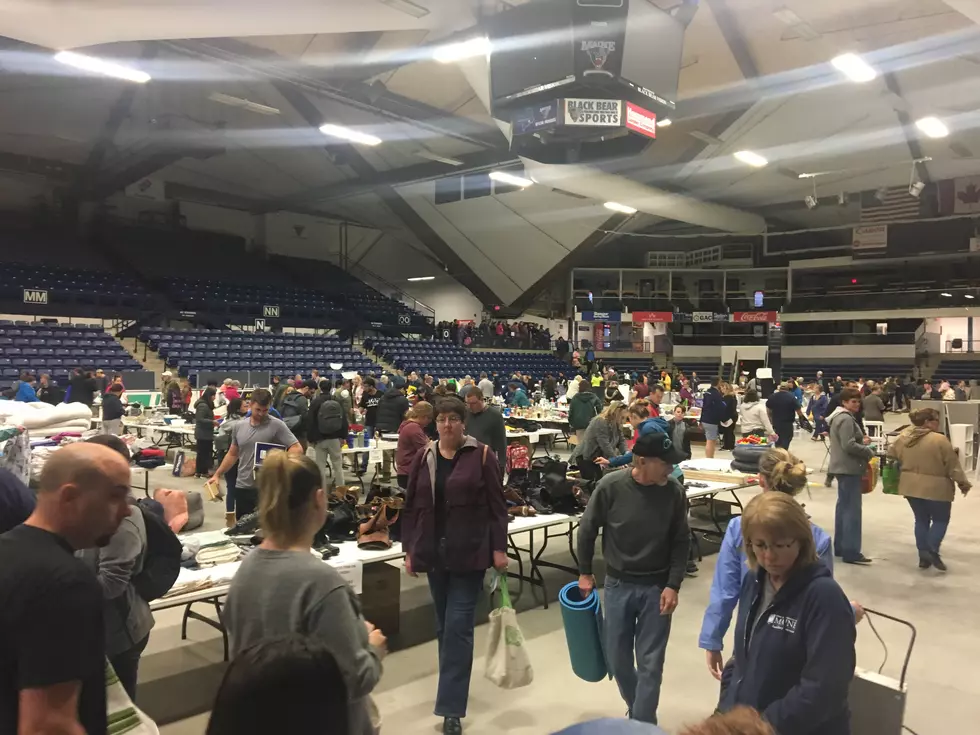 UMaine Offers A Sneak Peek Of What's Up For Grabs At Their 'Clean Sweep Sale' [VIDEO]
Clean Sweep 8, Cori Skall
Last month, we let you know that the highly anticipated "Clean Sweep Sale" would be taking place at the University of Maine in Orono's Alfond Arena this weekend.
Well, the time has finally come.
Thursday, folks with the UMaine Bodwell Center (they're the ones who run the sale and do all the hard work to organize and price all the stuff the students have left behind) offered a little sneak peek of what would be up for grabs this weekend.
They put together this video, and just look at all this stuff!
As you can see from the video, they've got it all! Small kitchen appliances, fans (those would be good to stock up with this weekend calling for a hot and humid forecast) books, furniture, and more. All clothes are on sale for $5 a bag. So if you know someone who's just starting out (or starting over) and they need to outfit their place, make sure you tell them about this sale.
Know someone with a truck or have one yourself?  You'll probably want to bring that.
They have plenty of volunteers on hand to help you locate or lift things to the car, once you've decided on what want.
The Clean Sweep Sale kicked off Friday morning at the Alfond Arean and runs till 5 PM this afternoon. It will pick back up again at 8 AM Saturday and run till 1 PM.
Peek Inside This Mysterious Maine Farmhouse For Sale That Includes A Jail Cell
One's imagination could run wild thinking about what took place within this house sometime in the past. Maybe it was nothing, but maybe it was actually something.
Nevertheless, this once very beautiful and now very overgrown 1860's vintage American farmhouse at
10 Waldoboro Road
is for sale and listed at $169,900 on Zillow by Cates Real Estate. It contains 5 bedrooms and 2 bathrooms over 1,165 square feet and sits on 6 acres of land.
Buy This Maine Island Off Washington County & Leave Your Worries Behind
Wow, check it out. An entire small and very secluded Maine island for sale in the middle of Wohoa Bay off the coast of Addison in Washington County.
This 540 square foot cabin and island at 0 Wohoa Bay Drive, yes, every place needs an address, is listed for sale at $339,000 on
ZIllow.com
by Bold Coast Properties. It's MLS# 1498464 within Maine Listings if you'd like to go elsewhere for even more information.
More From WBZN Old Town Maine