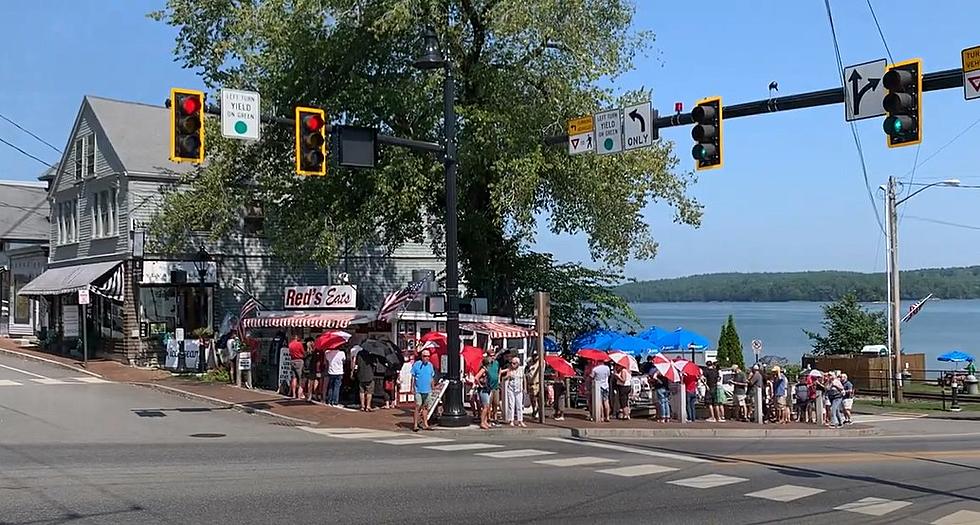 ROAD TRIP WORTHY: Red's Eats In Wiscasset Will Open On April 17th
Wally Ho AIJ Travels YouTube
If you are looking for the ultimate outdoor dining experience in Maine, this is worth hoping in the car and taking a drive for!
Back in the day, when I lived and worked in Bath, I always made it a point to head over to the iconic Red's Eats, which is nestled right at the heart of Maine Street, in Wiscasset. Even now, if I am in that part of Maine, I make it a point to grab something delicious to eat there. Word to the wise, have plenty of spare time, they sometimes have a line of customers that will test your patience. It's worth it.
A family run business, the self proclaimed "Home of Maine's #1 Lobster Roll" Red's Eats has been serving up killer food since 1938, they do a whole lot more than lobster rolls. In fact, they have over 70 other fresh selections on the menu, including a red snapper hot dog that will make you weak in the knees
They are celebrating their 85th year of operation, and will be open for the 2023 season. Hours will be Monday-Sunday, from 11:30am-5:00pm. After April school vacation, they will be Closed on Mondays & Tuesdays, but open Wednesday-Sunday, from 11:30am-5:00pm
Voted Maine's #1 Lobster Roll on several lists, they were also inducted to TripAdvisor's Hall Of Fame. And Red's will be featured on a Maine themed episode on the upcoming season of the Netflix show "Somebody Feed Phil", where Phil Rosenthal, the creator of the classic sitcom, "Everybody Loves Raymond" travels the globe in search of the best food to chow down on.
The warm weather is coming back, so when you and your family, or friends hit the open road to explore Maine, make sure you stop by and check out this legendary dining spot!
The Best Restaurants in Downeast Maine for Lobster
So when your hungry out-of-state relatives or friends come to our great state, where do you take them for a mouth-watering lobster dinner?
The answer to that often asked question will be top of mind for a lot of Mainers this season, as thousands of tourists, relatives, and friends drive hundreds if not thousands of miles to take in the sights and eat what our state is most famous for, lobster.
Whether it's a lobster salad, in a hot dog roll, a broiled tail, thrown into a pot of boiling sea water, or god forbid, made into a lobster poutine, people near and far crave it, and as soon as they make it into this neck of the woods it'll be what they have for dinner that night.
While each of us already have a few favorite snack bars, take-outs, and restaurants in mind, it would be wrong of this author to pass along those personal suggestions. So, we're going to
rely on the reviews
of TripAdvisor to point our visitors in the right directions. We've focused on the Ellsworth and Mount Desert Island area, and here is what we found as we count our way up to the #1 most recommended place for lobster Downeast.
More From WBZN Old Town Maine