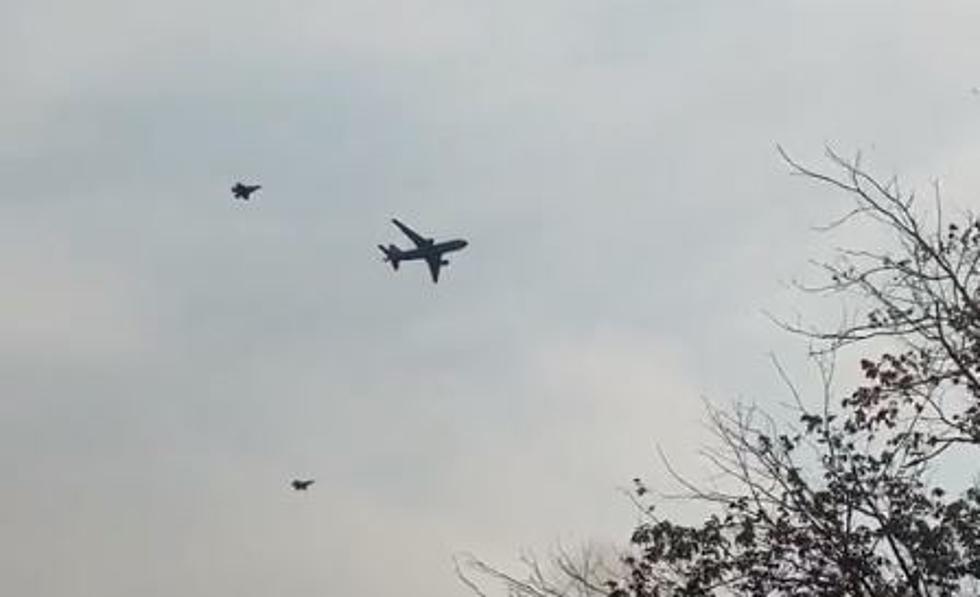 Patriots' Game Flyover Startles Some Massachusetts Residents Following 9/11
@DavidWade
Maybe it wasn't the perfect time for a flyover.
Yes, the nation had just finished paying respects to those lost to the attacks on September 11, and then the following day what looked to the average Joe as a couple of fighter planes chasing down a commercial jet airliner appeared in the sky over Foxborough and the surrounding towns.
Apparently, a few people found the sight very concerning.
When the three military aircraft eventually flew over Gillette Stadium in Foxborough, Massachusetts, they then traveled to Portsmouth, New Hampshire, and landed at Pease Air National Guard Base. The three planes were part of the opening ceremonies during the first game of the season for the New England Patriots as they were getting set to take on the Miami Dolphins.
Some found the formation of the three-plane flyover in very bad taste which immediately followed the 20th anniversary of the attacks on the twin towers of the World Trade Center, the Pentagon, and Flight 93 which crashed into a field just outside of Shanksville, Pennsylvania.
Here Are 17 Things In Maine That Will Bite You
Here in Maine, there are plenty of critters that can take a bite out of you if they do desire.
$3.5 Million Bar Harbor Estate For Sale Includes An Amazing Pool
The stuff that dreams are made of!
Wow, look at this huge solar-heated saltwater swimming pool, which is part of this $3.5 million dollar estate for sale located on the shore of Salsbury Cove in Bar Harbor. There's certainly enough room in it for all of your family and friends, and then some! Just imagine the pool parties that you could hold here. Where's that volleyball?
The property built in 2009 is located at 65 Shore Acres Road and consists of the main house and a couple of really nice seasonal guesthouses on 2.64 acres right on the shore. All total we're talking 6 bedrooms and 5 bathrooms and a total of 5,826 square feet. Pretty amazing, and that's what your guests are sure to say when they stop by to visit or to spend a few fun-filled and relaxing days by the ocean in Bar Harbor.
Take A Look Inside The Least Expensive Home For Sale In Maine
Take a peek inside and out of this very slammin' and radical property, and if you find it to be totally off the hook, then hook up with the realtor for the lowdown.
More From WBZN Old Town Maine