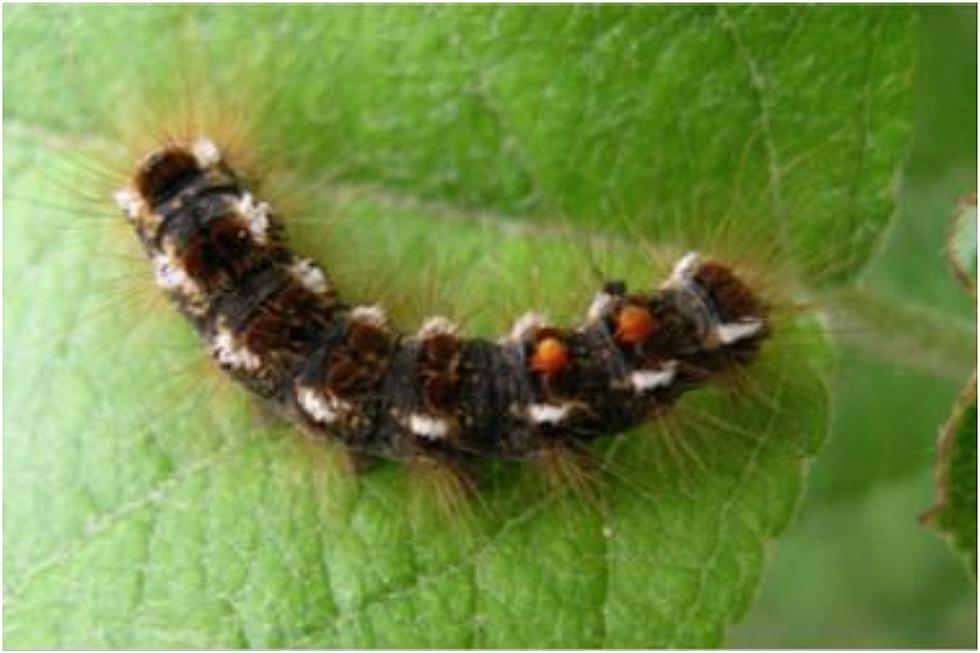 Lookout for the Dastardly Browntail Caterpillars, Mainers! They're Coming Out Now.
maine.gov
It's been mighty quiet on the Browntail Moth front here in the State of Maine. But, do not rest easy. The poisonous hairs of the dastardly Browntail Moth Caterpillar should be coming soon, if not around the yard already.
For the past few months, a statewide campaign called 'Knock Out Browntail' has been put out there for the public of Maine to find and clip the Browntail Moth Caterpillar nests that appear in the naked winter trees. From oaks to apple and more, the Browntail Moth Caterpillars' nests have been sitting dormant all winter long, hiding the many little caterpillars. Now, as time presses closer to late April, we will soon see the emergence of our multi-legged, double red-spotted foe.
Now is the time when we should start seeing the Browntail Moth Caterpillar emerge from their tightly wrapped webs. The Maine CDC's information has the caterpillar form of the bug being active now until late June. That means when you are outside and have seen their presence before, know that they may be around and it may be best to suit up so you don't get rashes or respiratory problems.
The Browntail's presence has been growing more and more in recent years in the State of Maine. Where they've been staying put on coastal regions of the State for over a hundred years, this invasive pest has started making strides in encompassing larger swaths of land in all directions- south into York county, traveling up the Penobscot River and even being found at the Crown of Maine in the County.
Fair warning to you, Mainer. The season has begun. Be on the lookout and best of luck to you during this next Browntail caterpillar season.
University of Maine Researchers Doing Browntail Moth Study
This pilot study is determining if pheromones could be the key to disrupting the Maine pests population and help reduce the infestation across the State of Maine. Ultimately, this research could be the large scale answer to dealing with the Browntail Moth problem here in the state.
20 of the Scariest Maine Animals to be Watching you from the Outside
The image was more cute and comedic than anything. However, it did inspire this list of the 20 scariest animals a Mainer would not want to see peaking into their house.
Warning, this list is quite frightening.
Texas Baker's Amazingly Realistic Animal Cakes
Check out Dusty Sinclair's amazing cakes, below!
More From WBZN Old Town Maine