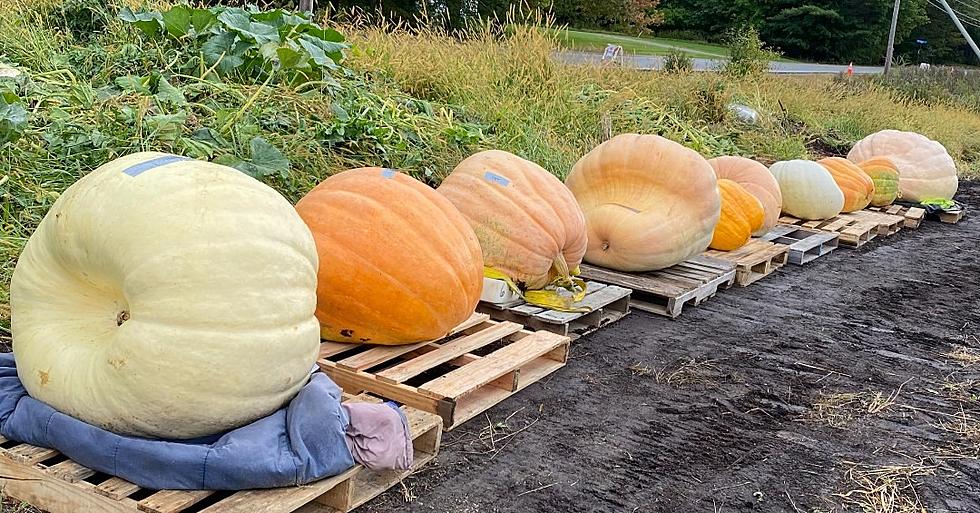 Jefferson Man Sets State Record By Growing One Gigantic Gourd
Claire Sommer, Damariscotta Pumpkinfest
If you're up for a road trip to a very unique and very Maine celebration, pack up the kids and head to Damariscotta this weekend, for the 2021 Damariscotta Pumpkinfest & Regatta.
According to their website, mainepumpkinfest.com:
"Damariscotta Pumpkinfest & Regatta™  is a uniquely spirited event that provides education to young and old, and also an economic boost to this rural, coastal community. Our intent is to expand annually, as has been done since the first two pumpkin boats raced one another in 2007. There's no limit to where imagination can take this "Only in Maine!" festival."
The big draw each year, of course, is the big pumpkins! And the celebration, for the growers, starts the weekend before Pumpkinfest, at the Pumpkin Weigh-Off.
This year's Weigh-Off took place last weekend (October 2nd and 3rd) at Pinkham Plantation in Damariscotta. Not only are there massive bragging rights on the line for the grower with the biggest pumpkin, but there's also a pretty hefty $2,500 cash prize for placing first. If you somehow manage to set a Maine State Record, you can add an extra $1,000 to that.
And that's just what Jefferson Pumpkin grower, Edwin Pierpont did. He took the top spot this year, and his pumpkin set the state record as the first pumpkin weighing in at over a ton!
The Damariscotta Pumpkinfest Facebook Page had these as the Top 5 Largest Pumpkins this year:
"ADULT GIANT PUMPKIN
1. Edwin Pierpont (Jefferson, ME) - 2,121.5 lbs NEW MAINE STATE RECORD and FIRST MAINE TON GIANT PUMPKIN
2. Scott St Laurent (Lyman, ME) - 1,959.0 lbs
3. Elroy Morgan (Charleston, ME) - 1,870.5 lbs
4. Richard Powell (Nobleboro, ME) - 1,503.5 lbs
5. Charlie & Morningstar Lopresti (Buxton, ME) - 1,465.5 lbs"
The next step of the journey for these giant gourds is a trip to downtown Damariscotta, during a Giant Pumpkin Deployment this Thursday, as they take their places around the town. From there, talented artists will decorate each Pumpkin on Friday, just in time for the influx of people expected for the holiday weekend.
The little town of Damariscotta sees anywhere from between 10,000 and 15,000 people each year during the Pumpkinfest and Regatta weekend, as folks from all over come to check out the giant pumpkins. And while they will have a bit of a scaled-back celebration this year (all other events have been canceled due to the pandemic) there will still be plenty of pumpkins for folks to take in while they're in town.
Public relations person with the Pumpkinfest, Claire Sommer, says "We're so excited about the return of Giant Pumpkins on Main St from Oct 9-19... So grateful for the incredible support from our business community, locals, and visitors."
Here Are 13 Guinness World Records That Were Set In Maine
World's Biggest Things in Maine
More From WBZN Old Town Maine