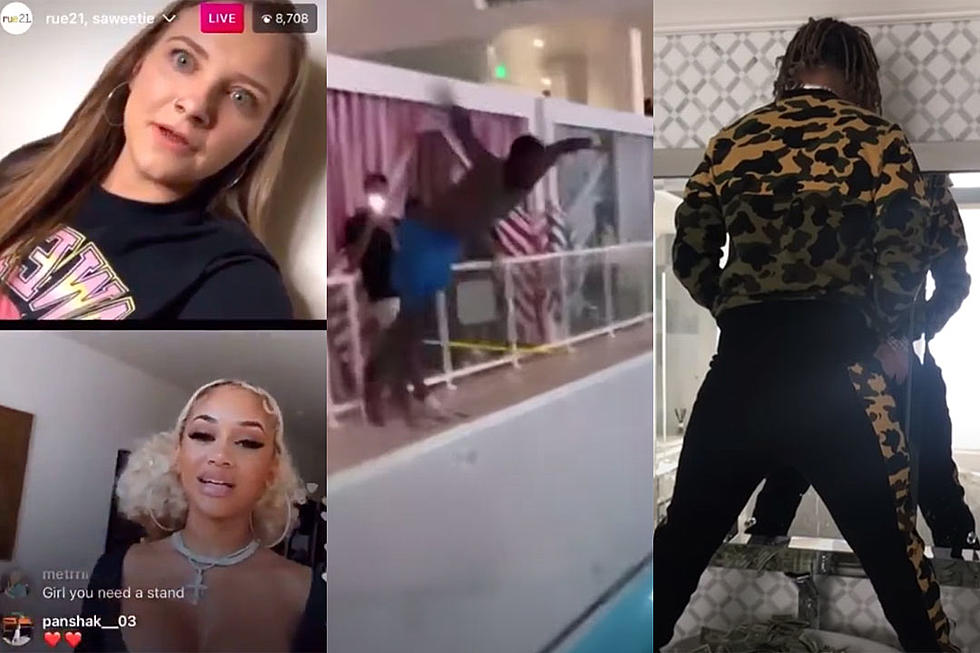 These Uncomfortable Hip-Hop Moments Will Make You Cringe
saweetie / kentuckyceo / lilpump via Instagram (3)
The realm of hip-hop doesn't have immunity when it comes to embarrassment. With technology and rap music advancing at the same speed, more cringeworthy moments have been captured over the last two decades via phones, cameras, voice recorders and anything else that you can find in the app store on your iPhone or in the electronics section of Walmart.
Jumping right into a few timely examples, Saweetie went on Instagram Live with Rue21 a few months ago. On the topic of her debut album, the "Tap In" creator was asked who her favorite music artist of all time was, to which she replied that she'd been in her Donna Summer bag. The interviewer followed up by asking Saweetie if she'd like to collaborate with the disco legend and the California native replied that she'd love to. The chances of that are slim considering how Donna Summer has been dead for almost a decade now. The moment was uncomfortable for both her and fans alike.
Awkward moments don't always come by way of an entire production in an interview. Sometimes they can arise casually and in a funnier light, as is the case with Meek Mill. Back to the swimming pool—this time without fries—Meek tapped into his inner Michael Phelps last week by attempting to dive into a big body of agua at the DreamWorks Water Park in New Jersey. The painful-looking belly flop caused Meek to get cooked by social media. Similar to when his Roc Nation head honcho Jay-Z got caught mid-air a few years ago.
Those two samples barely scratch the surface. Proven throughout the course of history, these moments are bound to occur, especially with such a big spotlight on some of the game's most popular artists. So with that in mind, XXL takes a look back at 20 uncomfortable hip-hop moments that will make you cringe, laugh or both. Check out the full list below.—Kemet High
Meek Mill Clowned for Diving Into Pool

Diving isn't Meek Mill's strong suit. Last week, the Dream Chasers Record founder celebrated his artist Vory's 24th birthday by renting out a water park. As part of the fun, Meek tried to flex his diving skills, but the moment resulted in laughs all around. The Philly rapper's landing looked less graceful and more like a bellyflop with an arched back. A friend who was filming the moment wrote "@meekmill I gotta teach u how to dive" along with a crying laughing emoji. While the moment was all in fun, watching that flop into the water is super cringe.

Saweetie Has a Donna Summer Mixup

A mixup happened early this summer when Saweetie did an interview with a rep from Rue21 in celebration of the rapper's new partnership with the brand. During their chat, Saweetie revealed the late singer Donna Summer as one of the artists of all time that she adores. However, when asked if she ever thought about collaborating with Summer at some point, Saweetie replied with, "I'd love to." Donna Summer passed away in 2012. As a result, the internet went in on both the interviewer and Saweetie for not realizing Summer was dead.

Most times when Lil Pump does just about anything, it's a move to grab attention. From smashing a TV to his support of Donald Trump, he knows how to grab headlines. In 2018, the South Florida-bred rapper did just that when he threw a bunch of cash into a sink and began peeing on it. "Yeah, bitch, I'm takin' a piss on these racks," he said. While there's no reason why Pump would do such a thing, the uncomfortable factor all around is level 10.

Rolling Loud Crowd Refuses to Chant DaBaby's Name

DaBaby's 2021 Rolling Loud set got pretty awkward when he held the mic up and told the crowd to chant his name. However, out of the 75,000-plus attendees, only a mere fraction of that number participated in the call for action. Perhaps this cringey moment was a result of Baby's homophobic comments during that same Miami performance or because he brought out Tory Lanez, who's accused of shooting Megan Thee Stallion. Either way, the people were quiet.—K.H.

Ace Hood's Watch Falls Apart During Interview

The red carpet is a perfect environment for flexing and drip-checking before an awards show. Back in 2013 at the BET Awards in Los Angeles, Ace Hood stepped up into the pre-show limelight for an interview. A few seconds into his chat with Bow Wow and Rev Run's daughter Angela Simmons, his gold rollie fell apart, dropping right on the ground. Ace tried to screw it back on and smile through the embarrassment, but the camera zoom made it hard to look past the jewelry collapse.—K.H.

A$AP Rocky Steps Into the Weirdest Interview of All Time

Interviewing a star can be nerve-racking for seasoned pros at times, so imagine throwing a festivalgoer into the fire. A prime example can be traced back to 2012 at a music festival in Chicago when a woman who claims to have won the MTV Ultimate Rockstar Dream Vacation competition got the chance to interview A$AP Rocky. In just under two minutes of the edited clip, she possesses an unbearable amount of awkwardness. Rocky plays it cool though, accepting her gift of a plate with his face on it, before acknowledging the elephant in the room by outright admitting, "You definitely have a weird vibe to you." Indeed.—K.H.

DJ Khaled Booed Off Stage

DJ Khaled believes his 2017 set was sabotaged at Electric Daisy Carnival in Las Vegas. The platinum-selling music orchestrator was initially booked to perform for an hour, though he only made it through 20 minutes before the crowd booed him away by chanting for Dutch DJ and producer duo Yellow Claw. The sound tables were apparently finicky, preventing everything from going smoothly. Ultimately, the rare moment of Khaled going out sad was chalked up to technical difficulties. Talk about second-hand embarrassment.—K.H.

Drake Curved by Rihanna When He Tries to Kiss Her

At this point, it's obvious that Drake's love for Rihanna will never fade. At the 2016 MTV Video Music Awards in New York, Drizzy took his admiration to the main stage, presenting Rih with the Video Vanguard Award. The Canadian megastar leaned in to kiss her as she opted mid-moment for a hug instead. Determined to get his wet one in though, Drake tried again a few minutes later, to which she seemed notably taken back that he came back for more. Just call it the curve heard around the world.—K.H.

Smokepurpp Delivers an Underwhelming Freestyle

Spitting fire outside of the booth isn't as easy as it seems. As is the case with Smokepurpp, who got ate up for his freestyle performance for Tim Westwood TV in 2019. The 40-minute freestyle, delivered over beats like Blueface's "Bleed It," Drake and Lil Baby's "Yes Indeed," XXXTentaction's "Moonlight" and more, has a plethora of what fans deemed to be "questionable moments" in it, crammed with the usual bars about drugs, women and even Fortnite. Smokepurpp struggled out loud, eventually chalking his underwhelming performance up to the potent weed he inhaled beforehand. Blame it on the bud.—K.H.

Young Buck Cries While Speaking With 50 Cent

Everyone has a moment when they cry, although many of those open wound times aren't captured and sent to the internet for a few laughs. The rap super villain also known as 50 Cent aired out his former G-Unit artist Young Buck and exposed Buck's most down-bad moment to the world. The taped phone call, reportedly recorded in 2008, finds Buck pleading with Fif to remain in G-Unit. The emo interaction got even deeper when the lack of finances came up. Some fans who decided to pick side got a kick out of this, but others felt sick to their stomachs witnessing such a strong cry for help.—K.H.

Lil Mama Interrupts Jay-Z and Alicia Keys' Performance

From fellow celebrities at the venue to viewers at home, Lil Mama crashing Jay-Z and Alicia Keys' performance of their New York City anthem "Empire State of Mind" at the 2009 MTV Video Music Awards was truly a "WTF" moment. Toward the end of thier performance, Lil Mama walked onstage and stood beside Hov and Alicia in a B-girl stance. Jay even appeared to brush her away as she walked past him. It was clear neither he nor Alicia were pleased.

Following the show and the subsequent backlash for going onstage uninvited, Lil Mama released a statement. "I did not mean any disrespect." When it comes to awards show moments, this is one of the cringeist. She also tried to apologize for her actions, but that fell on deaf ears. "I reached out in private to create an opportunity for communication and clarity," Lil Mama told a fan earlier this year when the fan began criticizing the rapper about the moment. Apparently she had not "heard back from either party yet." They might want to forget it.

Blueface Throws Money at the Homeless

Whenever a rapper is seen filming themselves in the middle of doing an altruistic act, they already lose cool points from the public. Case in point: Blueface. In 2019, the rapper was seen throwing money to homeless men and women in Los Angeles' Skid Row area while he stood atop a vehicle. The men and women began running around to try to capture the cash as it flew through the air. The West Coast-bred rapper faced harsh critcism online for what some people considered to be dehumanizing and humilating the homeless. He may have been doing a good deed, but handing out the cash in a more respectful manner seems like the better route.

Jay-Z Roasted for How He Dives Into the Ocean

Eight years ago, Jay-Z's infamous dive became meme fodder for years to come. It all started in 2013, when The Daily Mail published paparazzi shots of the Brooklyn rapper and Beyoncé on vacation in Stromboli, Italy. The photos captured Jay-Z awkwardly diving from the yacht into the ocean. The images of the Roc Nation founder grimacing with his hands outstretched turned into one of the most popular memes in hip-hop history. From jumping out of a spaceship to trying to catch a football on the field, social media savvy people put Hov in every situation imagineable. What was supposed to be a private moment shared between the couple resulted in an awkward dive seen around the world.

Kanye West Says Slavery Is a Choice

Kanye West's controversial remarks dropped left and right in 2018, right before his Ye album arrived. Whether it was all part of his album rollout or not, he made an outlandish claim that "slavery was a choice" during an interview at TMZ.  "When you hear about slavery for 400 years, for 400 years?! That sounds like a choice," Kanye said. "Like, you was there for 400 years and it was all of y'all?" The G.O.O.D. Music leader's comments earned him serious backlash from his peers and fans alike. Shocked and bewildered was an understatement.

Lil Durk's Underwhelming Pitch at Baseball Game

In early August, Lil Durk showed some hometown pride by throwing the first pitch at a Chicago Cubs game. The Chi-Town native stood at the mound with two of his children, Angelo and Bella, behind him, readying himself to throw the pitch. When it came time to go off, Lil Durk threw the baseball toward the Cubs mascot. Instead of throwing at the mascot, the rhymer went way left, causing the person in the bear cub costume to go diving for the ball. It's no secret Durkio is skilled at basketball, but baseball is another story.

Iggy Azalea Flamed for Her Freestyle

Iggy Azalea went on the Sway in the Morning in 2013, and dropped off a few bars during her interview. When Sway asked her to freestyle, she waved off the beat and went a cappella, spitting some lyrics from a previously recorded track called "New Bitch." Iggy became the butt of thousands of jokes once the internet got wind of her lackluster performance. People went to Twitter mostly to meme the moment and question why she even had a spot in hip-hop. The backlash just kept on pouring in. No mercy.—K.H.

Bhad Bhabie Compares Herself to Tarzan

Bhad Bhabie has found herself in the public eye time and again for cultural appropriation accusations and being called out for "trying to be Black" and wanting to be "mixed." The 18-year-old rapper experienced such claims thrown her way on social media last year, which caused her to make a wild comparison. During an Instagram Live session, Bhad Bhabie compared herself to the Disney character Tarzan, which is also the title of the film based on a child raised in an African jungle by apes.

"And then another thing I'd like to say is, y'all say that I try to be Black because I...and maybe a reason in me trying to be Black is cause I grew up in the hood. Tarzan, right? The story of Tarzan," she said in a screen-recording of the livestream, which cut off prior to diving into the comparison of her and Tarzan. She got cooked on Twitter and IG for making the analogy in poor taste. Talk about uncomfortable.

A$AP Ferg Bashed for "Forthcoming" Tweet

A$AP Ferg has dealt with a cringey snafu that led to him being the butt of jokes on Twitter in 2015. The Harlem rhymer was excited to announce his new album, Always Strive and Prosper, which was reported on various news sites and shared by journalists, including Michell C. Clark. He shared a tweet that read, ".@ASAPferg announces the name of his forthcoming album," with a link to the article. Ferg mistakenly thought Clark was referring to the new project as the rapper's fourth release by using the word "forthcoming," to which he wrote, "@MichellClark second." Clark responded, "@ASAPferg sorry if there is an inaccuracy somewhere, something we need to fix?" The shocker came when Ferg still insisted Clark was wrong: "@MichelleCClark u said fourth coming album it's only the second." Yikes.

asap ferg forthcoming tweet

michelleclark via Twitter

asap ferg forthcoming tweet

asapferg via Twitter

PnB Rock Urinates on Hotel Floor

There's nothing more cringe than someone urinating on a hotel room floor that countless people use on a regular basis. PnB Rock chose to do such an act as a form of retaliation after being kicked out of a hotel for smoking weed in 2018. In a video clip the Philadelphia rapper posted to his Instagram account, he's seen peeing on the floor of the hotel near the door as well as the corner of the room. "This is what you do when they kick you out the hotel for smoking weed," he said. "Fuck this hotel." He also decided to spit on the mirror in the bathroom. Besides the eyebrow-raising moment, destroying the property likely earned him a one-way ticket to a hefty fine.

50 Cent's Lackluster Pitch at Baseball Game

Rapping is 50 Cent's prime talent, so having a dismal first pitch at a New York Mets game shouldn't really be a surprise since baseball isn't his forte. Tell that to the internet though. In 2014, Fif threw the ceremonial first pitch during a Mets-Pittsburgh Pirates game, and the end result was a wide throw to the left, missing the pitcher completely. The Queens MC went viral for his bad pitch, which had Twitter in a frenzy of laughs via tweets. 50 fired back on Instagram with a video post of the moment and a caption that read, "I'm a hustler not a Damn ball player. LMAO #smsaudio #animalambition." At least he knows what he's good at.
More From WBZN Old Town Maine