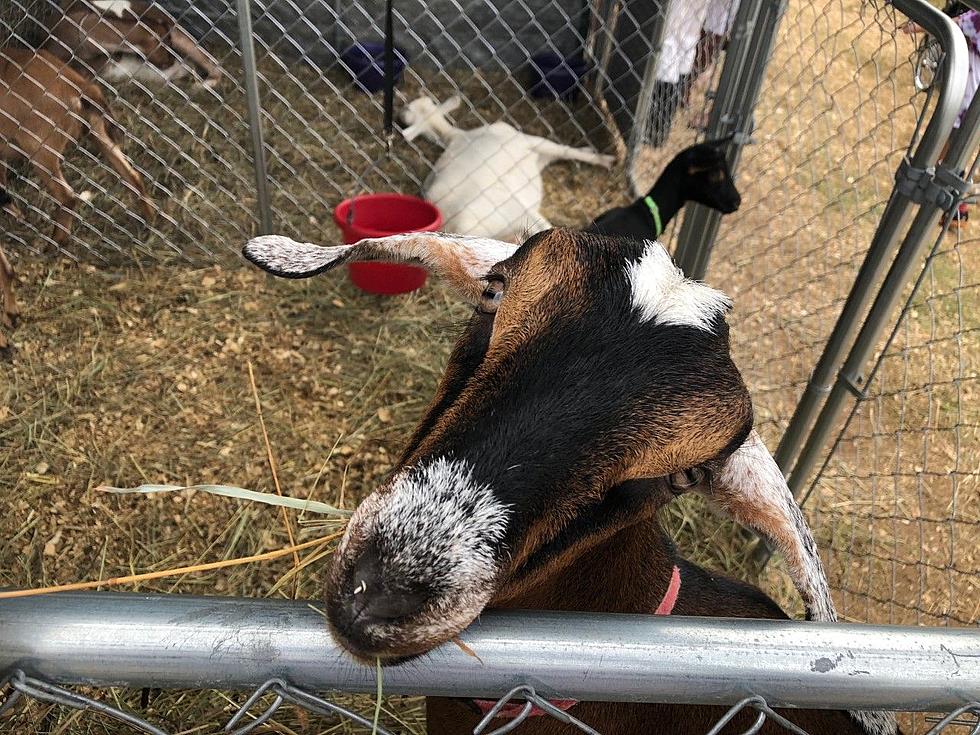 Coming In April, You Can Go On Awesome Hikes With Goats In Frankfort
DJ Fred
Not gonna lie, I love me some goats.
Yup, it's true. I'm tall, tattooed, bald... I may even look slightly "tough" (I'm not), and I absolutely adore baby goats. I will literally stop what I'm doing if I see a goat video come across my feed on Facebook or Instagram. Little goats, even full-grown ones too, are about as cute as cute gets. It's like a cuteness overload, and I love it.
In the last few years, various activities with goats have become quite popular. You can feed them Christmas trees, you can go hang with the little baby goats and watch them do baby goat things, you name it. Well, thanks to Lally Broch Farm in Frankfort, there's another thing we can add to our list of fun things to do with goats.
Now you can actually hike through the woods with them.
The first hikes are in the last week of April. You can do a Friday hike or a Saturday hike. And on the Saturday hike, you can add on an optional class to make soaps, presumably out of goat's milk. But the real star here is obviously going to be the sweet, cuddly goats.
If you go to Lally Broch Farm's Facebook page, you can scope the events, choose a date from the many they have listed, and do some hiking with the goats. The first one is going to be on Friday, April 22. They look to be doing them every weekend. It's a 2.5-hour hike with the little bleaters and looks awesome.
In addition, you'll get to see all the other animals on the farm too. Pigs, cows, chickens, etc. But you only get to hike with the goats. There are also a few physical requirements you may want to check out before you commit to a hike, as the trail can be steep in some spots. But still... hiking with goats... Amirite?!?!
EVEN THOUGH THE GOATS ARE HARMLESS, HERE ARE SOME MAINE ANIMALS THAT AREN'T SO HARMLESS... ALSO, CHECK OUT SOME FAMOUS HAUNTED PLACES IN MAINE...
Here Are 17 Things In Maine That Will Bite You
Here in Maine, there are plenty of critters that can take a bite out of you if they do desire.
30 Haunted Places in Maine
Most of the locations on the list share a little about what has been claimed as paranormal happenings for these locations, which can include seeing apparitions, hearing strange noises, or maybe even spookier experiences involving unexplained conditions of vehicles, shaking beds, or flying dishes. Here are 30 haunted places in Maine.
41 Maine AF Tattoos
Check out these pieces done by tattoo artists from all through the 207 and beyond. Ink on lifelong Mainers and those who have moved around and wanted to take a piece of Vacationland with them.
More From WBZN Old Town Maine