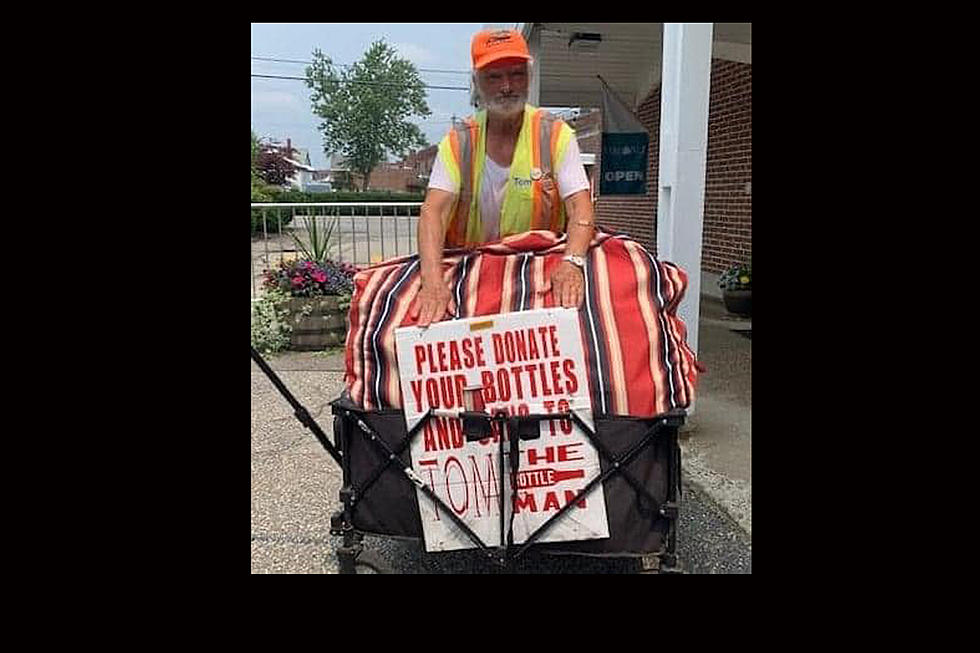 Cops Want To Know: Who Ripped Off Maine's Beloved Tom the Bottle Man?
Brunswick, Maine Police Department
You just have to wonder: Who would rip off Tom the Bottle Man?
It seems that every city and town across Maine has a person that everyone is familiar with.  A certain person who has been there for almost forever, or so it seems.  Maybe it's a man who washes the windows of businesses on Main Street or pushes a lawnmower throughout the neighborhood from one house to the other mowing lawns to make $.
In Brunswick, that person is Tom the Bottle Man.
Tom the Bottle Man has been around the block, literally thousands of times looking for returnable bottles and cans that he can cash in to put food on the table for both he and his wife.
A few years back the entire Brunswick community came together when it was discovered that Tom had low blood pressure, and needed both a pacemaker and a stay in the hospital.  Community and business owners collected hundreds of dollars for the cause, and Shelby Rossignol, owner of Rossignol's Hair Shoppe, told WGME at the time, "Tom is a very sweet quiet man, very little words, very soft-spoken."
So today, the Brunswick community was surprised when the police department there posted to Facebook that someone had stolen the large and colorful canvas bags that Tom the Bottle Man uses to collect his bottles.
"If you see anyone else with these bags or see the bags around please notify Brunswick Police 207-721-4301. Tom works hard day in and day out. He needs his bags back PLEASE", the Facebook post states.
In just a few hours the post had been shared hundreds of times.
We sure hope that Tom the Bottle Man gets his canvas bags back soon and in one piece, as they seem to be an important part of his bottle collecting apparatus.
If not, we're more than positive that the community will rally for Tom once again.
Peek Inside This Mysterious Maine Farmhouse For Sale That Includes A Jail Cell
One's imagination could run wild thinking about what took place within this house sometime in the past. Maybe it was nothing, but maybe it was actually something.
Nevertheless, this once very beautiful and now very overgrown 1860's vintage American farmhouse at
10 Waldoboro Road
is for sale and listed at $169,900 on Zillow by Cates Real Estate. It contains 5 bedrooms and 2 bathrooms over 1,165 square feet and sits on 6 acres of land.
A Photo Tour Of The Most Current, Cheapest House For Sale In Maine
Maine's cheapest house for sale is a bargain!
As of this writing, the lowest-priced house currently on the market in Maine is a 3 bedroom, 1 bath home with a two-car garage at
410 Main Street
in Van Buren that's listed by NextHome Discover on
Zillow
for the bargain-basement price of $24,900.
This Brooklin Estate Is Currently The Most Expensive Place For Sale In Maine
Wow, check out the most expensive home currently for sale in Maine.
It's called Boldwater, and it's located at
103 Dodges Wharf Road
in the quaint town of Brooklin in Hancock County. This ocean-front estate is currently listed on
Zillow
by Coldwell Banker Realty for a cool $9,000,000, and it includes the main house with 6 bedrooms, 6 full and 3 half bathrooms, within 14,375 square feet.
More From WBZN Old Town Maine