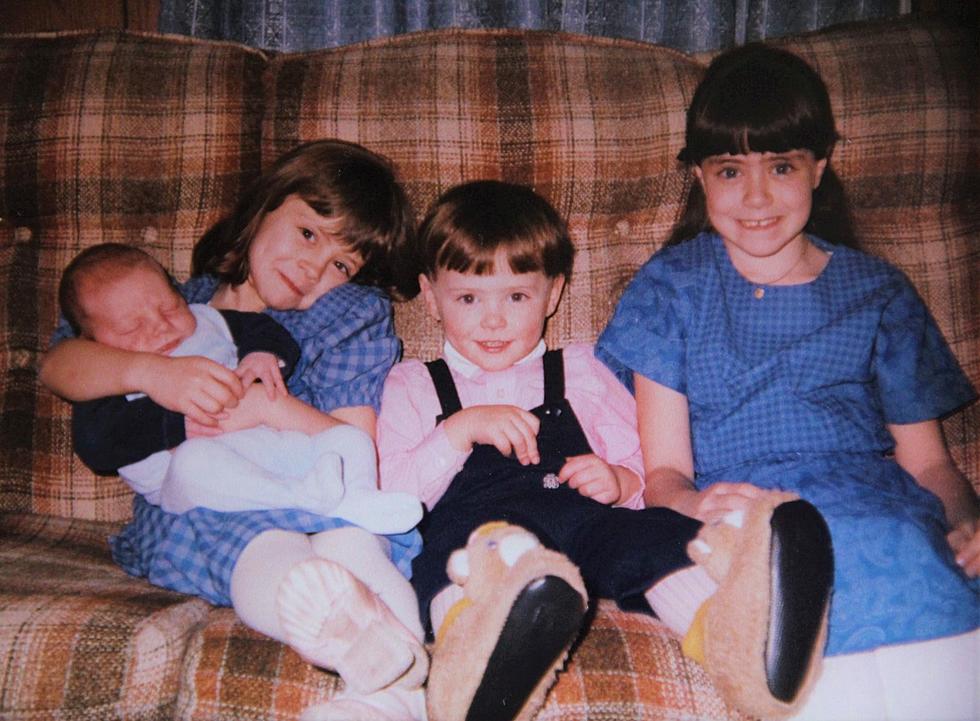 Celebrating Siblings: Growing Up With Built-In Friends & Enemies
Cori and her sibs, in the very beginning.
No, we're not a circus act!
As a kid, I remember people often remarking to my mom (sometimes in astonishment and at times disgust) about how many kids she had. Having large families had started to become less of the norm, so folks kind of regarded our larger family (there were only 4 kids, so it wasn't even that large a number) as something of a side-show. And I am sure, to some, it might have looked like something out of a circus when my mom's minivan would pull up out front, and the doors would open and all these kids would spill out.
But I don't think we, as siblings, ever thought too much about it. Even when other kids would make remarks about having all those "extra" kids in the house.
My two years as an only child:
I had two blissful years as an only child, where my parents doted on me, and I could do no wrong. It was awesome. But that period was short-lived. 2 years later, my sister Natalie was born.
It took a while for me to warm up to her.
At first, I have to admit, I was mad. My mom left in the middle of the night. Then showed up a couple of days later with this baby. Natalie was a beautiful baby. And so good. She was everything I had not been as a baby. And it was very evident to my 2-year-old mind that I had been replaced. I would always make her sleep by the door, so if monsters happened to come into our room, they'd get her first.
But as time went on, I became a fan. She really was pretty great, and it was fun to have someone to share everything with. She was a built-in friend, who understood the dynamics of our life and became a partner-in-crime as well as my best and most trusted confidant..when we weren't trying to kill each other.
And then there were 3...
Our brother Pat was born 2 years after Natalie. Finally, a son. My parents were once again distracted by that fun novelty. He was all boy, through and through: covered in dirt, loud, always tagging along and wrecking stuff. He was also fiercely loyal and protective of us. He became an acceptable 3rd wheel. When he was a teenager, he used to ask me to cut his hair for him. I may or may not have told him (in an effort to get him to clean up the mess) that if he stepped on the cut hairs that were on the floor, they would find their way into his bloodstream and kill him. He got me back, later, at Cold Stream Pond, by releasing the back tie of my bikini in the middle of the beach.
If we ever have to pair off in a square dance, we'll each have a partner. 
I was 6 when my mom brought my youngest brother, Dan, home from the hospital. I can still vividly remember coming home from school, to find her laying on the couch watching "Santa Barbara". There was this little wicker basket on the floor next to her, and in it was this chubby little baby. By this time, I wasn't even phased by another baby. It had become "old hat" as they say. Dan was adorable and effortlessly funny as a baby. He did his best to keep up with the craziness and chaos that is being part of a large family. He will tell anyone who will listen that he got "the best of the genes" because he came last. We let him believe that, to a point.
For some weird reason, I always like that there were 4 of us, the two boys and the 2 girls. If we were ever forced into a situation where we had to square dance, we'd each have a partner.
It's different now, but also the same.
Like most siblings out there, we've had our fair share of fights. We have the scars and stories to prove it. If you get all four of us together in one room, we all tend to remember the stories just a little bit differently. And be sure, if the 4 Skall kids are in one place together, we're usually trying to out-do one another in the joke department, as making each other laugh is still our favorite past-time.
My sister and I have continued to grow closer, especially now that we're both "moms to many" as I like to say, she of 3 boys, and I have four of my own.
And my brothers...they went from being these annoying little pests in childhood, that would find countless ways to embarrass us at every turn, to being wonderful dads themselves, who still do their best to try to embarrass us at every turn.
To give you an idea of just what I'm talking about here's an example of my "grown-up" brothers behaving like total children. I'm sure there are those out there who can relate.

If you're lucky enough to have siblings you get along with, don't take that or them for granted. The 4 of us have a FaceTime call we pop on and off of, depending on our availability, where we check in on one another, have our kids hop on and say hello to their cousins or just send each other stupid videos and memes if we feel inclined. The years have separated us physically, as we all live spread out over the country, but no distance can break the bond of family in our case.
Happy Siblings Day.
Buy Your Own Family Compound with 9 Residences in Gardiner Maine for $5.5M
In one of the most unique real estate opportunities in Maine, you could own your very own village in Gardiner. 9 residences, and multiple barns and outbuildings including a church.
For many, this is truly a dream come true! And quite a steal at $5.5M.
Maine's Family Time Dine & Play is The Perfect Fun Escape
More From WBZN Old Town Maine