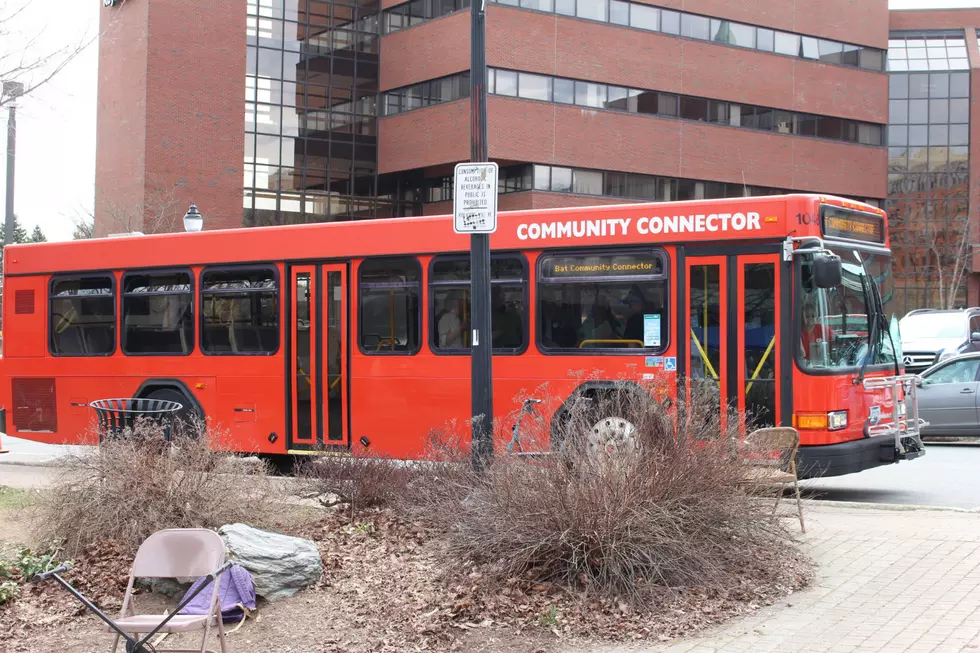 Bangor's Community Connector To Change Drop Off/Pick Up Temporarily Next Week
Cindy Campbell, Townsquare Media
Last week we told you about all the progress being made at the site of the new Downtown Transit Hub in Pickering Square. 
As you can imagine, with such a large project, there's bound to be some work that will need to be completed that will require an adjustment to the way things are typically done.
One such adjustment will need to be made next week, as crews work to wire up the new construction.
According to a message posted on the City Of Bangor Maine Facebook Page, the spot where folks get picked up and dropped off will change temporarily so that the next steps can be taken to update the new transit hub.
Starting with the first run of the day, at 6 AM Monday morning (April 4th) and going through the last run of the day at 6 PM on Friday evening (April 8th) Community Connector Buses will line up along Water Street, instead of their usual spot in front of the Parking Garage at Pickering Square in Bangor.
"This temporary location change is to allow electrical work to be completed that is associated with the Bangor Transit Center construction project.
The bus ticket machine located in front of the parking garage will be accessible during this temporary change.
All parking spots along the south side (Key Bank side) of Water Street will be closed during this time to allow the busses to park."
City Officials also advise those who use Broad or Water Streets regularly to be aware of the scheduled changes next week and to keep an eye out for passengers.
Another change coming soon will be the end of the mandatory masking requirement on the Connector Buses.
According to the
City of Bangor's Website
, the "Executive Order on Promoting Covid-19 Safety in Domestic and International Travel" will expire on April 18th.
Until that time, however, all passengers will still have to mask up before boarding the bus.
"Passengers MUST wear masks that completely cover BOTH the MOUTH and NOSE while awaiting, boarding, disembarking buses or vans. PASSENGERS REFUSING TO COMPLY WILL BE DENIED SERVICE. Passengers will board through the front of the bus, and exit using the rear door."
Top Ten Worst Bangor Intersections for Car Crashes
With a whole lot of help from the Maine Department of Transportation, we thought we'd dig up the facts and figures of intersection car crashes within the City of Bangor between 2019 and now.
These Are The Most Fun Street Names In the Bangor Area
A bunch of Bangor area streets and roads that are just darned fun to say out loud.
More From WBZN Old Town Maine