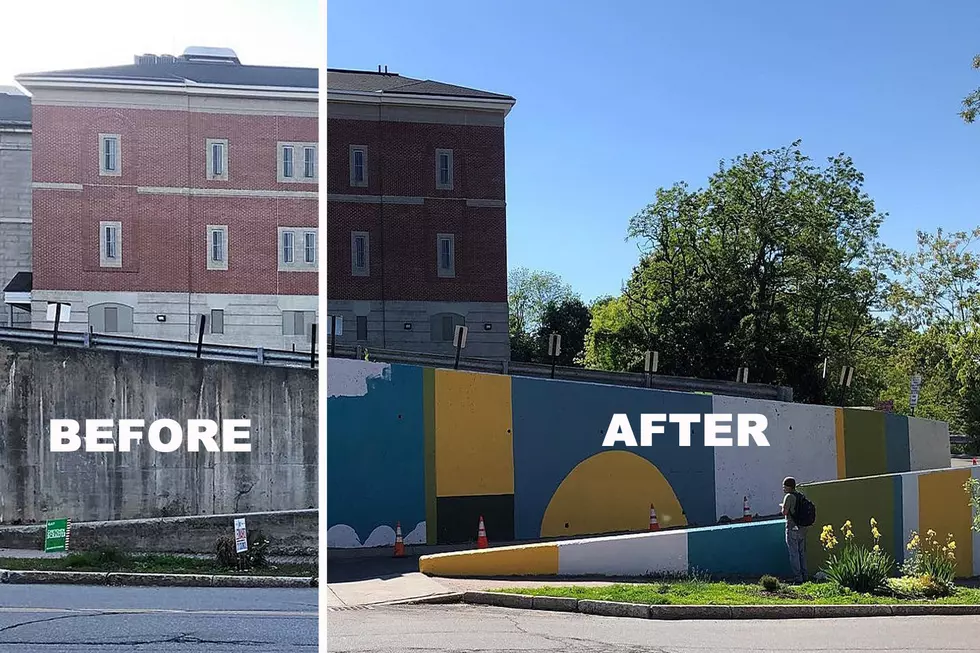 New Mural to Help Beautify Downtown Bangor and Beyond
Courtesy Downtown Beautiful Bangor
Nothing like a walk in nature to break up the day. Who doesn't feel better after even a few minutes out in nature filling up the lungs with fresh air?
If you live or work in or near downtown Bangor, that stress relief is close by.
And now has an added bonus.
The walk is The Kenduskeag Stream Trail.
And the added bonus is now there is more nature. Thanks to a grant from the Maine Arts Commission, and sponsorship from The Rock and Art Shop, Artists Annette Dodd from Bangor, and Peter Walls from Stockton Springs have spent the past year working on a public art project.
The Kenduskeag Stream Trail Mural.
You'll see various wildlife in the land, air and water over the two-mile trail. Natural beauty.
Blends right in and it is just steps from downtown Bangor.
Here is a before photo.
And now?
If the name Annette Dodd sounds familiar, she is a member of the Bangor beautification committee and promises a future project that will be of interest to all locals and visitors to Bangor.
The Downtown Bangor Beautification Committee is not only doing murals and art throughout the city, but they are the ones responsible for Adopt A Garden, seasonal lights, the wheat paste murals, flower boxes and picking up litter, sprucing up sidewalks and streets, and other simple projects that make a huge difference in the city. Not to mention creating a sense of pride.
Peter Walls has an Art Gallery in Stockton Springs, and over the winter created the 3-D critters you'll see on the wall.
Time for a walk? Let's go.
This Bangor Artist Proves That Nature Is The Equivalent to Church
Hunter J. Law shows us what Maine's Wildlife looks like through an entirely different lens. His depiction of the creatures and unique style will take you to a place of raw appreciation.
More From WBZN Old Town Maine