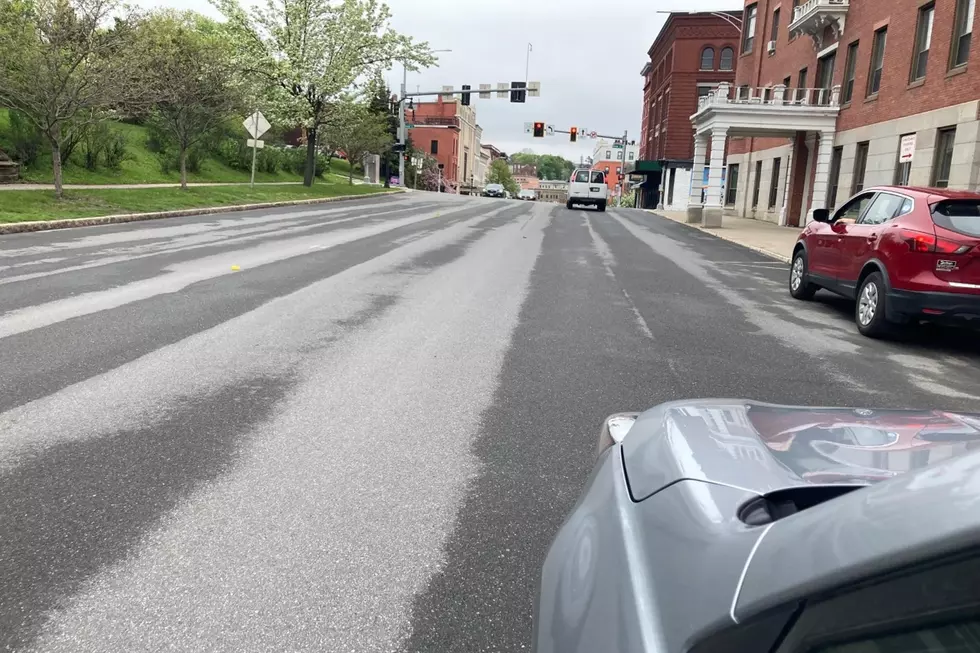 Bangor Getting Ready to Paint Lane Indicating Lines on Streets
Scott Miller
First comes potholes.  Then come repairs.  Next comes new pavement.  And then, and only then comes new paint.
Painted lines on the roadway.  So, we can stay in our lanes.  Or at least some of us can.
Tis the season. The weather has advanced enough into spring that some roads that have been patiently waiting for lane painting have to wait no longer.
I'm no paver, or pavement expert.  But that H on the road is in preparation for the painting.  And we can all figure it out.  The H means a stop in the painting.  And the yellow indicates the color to divide lanes that are for traffic in different directions.
White would indicate a designation to separate traffic into 2 lanes moving in the same direction.
Pop Quiz.
What is this?
If you guessed 2 lanes of traffic, and I'm in the 3rd lane where this photo was taken, and there are no lane markings...correct. This was taken in Bangor on Stillwater, just past the interstate off ramp, and before the entrance to Bangor Mall.
Paint to indicate the actual lanes of traffic will be a welcome addition, and it looks like it's coming soon.
That is Main Street approaching Union Street.  You can see where the painted lines are going to soon be. If not, you can imagine them.
Some of the other Bangor areas that are going to get paint to show us which lane we're in include Stillwater from the Interstate to Hogan Road.
Main Street before Union and State Street.
Oak Street from York to Hancock. Remember this is 4 lanes.  3 lanes going towards the bridge to Brewer and one lane from the bridge going toward Broadway.  Confusing to some, when there are no painted lane lines.
Love us some yellow and some white paint.
And for those that wonder what streets in Bangor are on the plan to get new pavement, here's the link.
Drive carefully.
10 Tips to Allow Cars and Motorcycles to Safely Coexist
It's possible for cars, trucks, and motorcycles to safely share the road, but it takes mindfulness and cooperation on everyone's part. Remember these 10 tips before heading out on your next journey.
Maine Savings Amphitheater 2022 Concert Line-Up
Here is who is coming in concert in Bangor along the waterfront this summer.
More From WBZN Old Town Maine