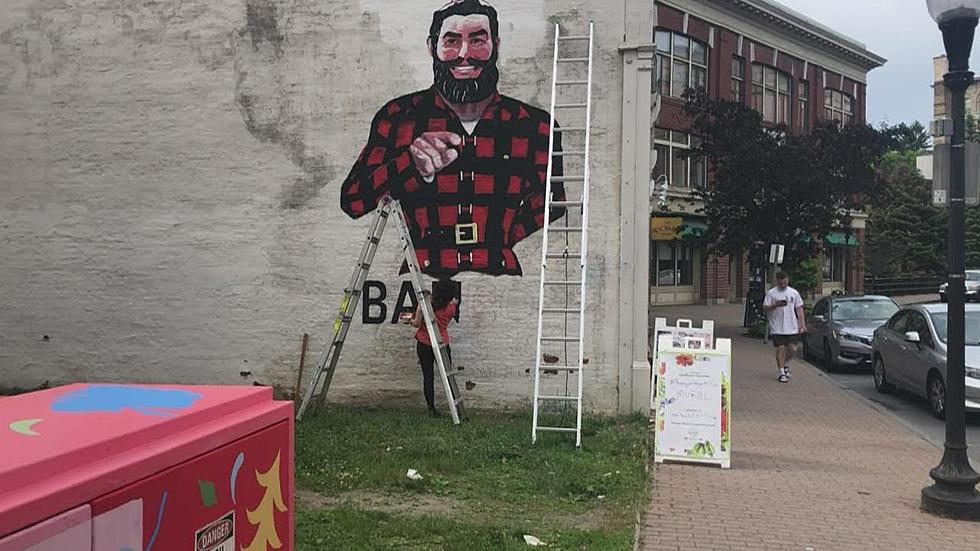 Alternative Text Ideas for Bangor's Newly Painted Paul Bunyan Mural
News Center Maine
Downtown Bangor has a new mural up and it is getting some buzz. We love our Paul Bunyan statue here in the Queen City. Here's tall, dark and handsome and the new mural in Downtown reflects our beloved Paul Bunyan in mural form.
Well done to the designer Heather Magee and painter Annette Sohns-Dodd.
However, what else could this poster say after 'Bangor wants you'? Here's some ideas in case the City of Bangor jumps on this brilliant idea for a campaign for the city or even for certain places in the city.
Here's what we came up with.
Bangor wants you...
"Bangor wants you... to remember that we were on top of the world in 1860 with our lumber industry. Yeah. I know that's a long time ago. Yeah, those days are long gone. DID YOU HEAR ME?! LUMBER CAPITAL OF THE WORLD! THAT'S A BIG DEAL. You are so unappreciative.... LUMBER!"
"Bangor wants you... to say Stephen King to me one more time and I'll find a sewer hole to stuff YOU into."
"Bangor wants you... to know if you see the bicycle guy with the chihuahua on his shoulder at a concert on the waterfront that that's a sign of good luck... or a terrible accident waiting to happen."
"Bangor wants you... to admit that you always look at 'The Tavern' every time you wait at the red light to drive out of the Downtown area. Every time."
"Bangor wants you... to not listen to the locals when they suggest parking in the lowest part of the Downtown parking garage, riverside when it's February to April."
Here's some for specific locations throughout Bangor, if more murals are placed throughout the city:
Bangor Mall area: "Bangor wants you... to stop complaining about the mall parking lot. We get it. It's a mess. We are aware. Oh, look, no one's in line at Chik-Fil-A! <runs away>"
Union Street Airport Mall: "Bangor wants you... to really have a mindful trip to the DMV instead of be distracted by a mall filled with businesses. That's a trendy word now, right? Mindfulness. Yeah, we'll go with that."
Broadway: "Bangor wants you... to either get through every light all the through or STOP. AT. EVERY. SINGLE. SET. OF. LIGHTS. ALL. THE. WAY. TO. BREWER. THEN. THROUGH. BREWER. TOO.
Hammond Street: "Bangor wants you... to just keep driving. Nothing to see here."
Kenduskeag Stream in Downtown: "Bangor wants you... to stop tossing your shopping carts in the stream. Why do you even have a shopping cart in Downtown? And, it's a Hannaford cart?! That's, like, miles away! Which one did this even come from? Damn, that's actually really impressive."
Hancock Street: "Bangor wants you... to remember when this street was fully open to pass through. Just hold onto that memory... get the serotonins going... feels good, doesn't it? Okay, now move along, go up that frost-heave of a mess side street and get outta my face."
Stillwater Park: "Bangor wants you... hey, there's nobody here."
On Chamberlain Bridge, Facing Brewer: "Bangor wants you... to bask in my glory... oh, wait, is that Mason's? Those brussel sprouts, dude!  What is going on with those!? Why ARE they so good?!"
Dirty Dave's: "Bangor wants you... to know it's pronounced BANG-GORE not BANGER."
40 Trails Within 20 Minutes of Bangor
Here's a bucket list of areas to visit for a workout, a walk with the dog or a weekend walk with the kids. Here are 40 easy to get to, convenient locations to get out in the Bangor Area.
Maine Fair Schedule 2021
2021 will see the reopening of many events, including our annual fairs. Here's the list of this year's fair schedule and what to look forward to with each one.
40 Years of Common Ground Country Fair Poster Art
Iconic imagery that represents the agricultural community of Maine, here are the winning designs that have represented the Common Ground Country Fair for the past four decades.
Winerie's of Maine
More From WBZN Old Town Maine