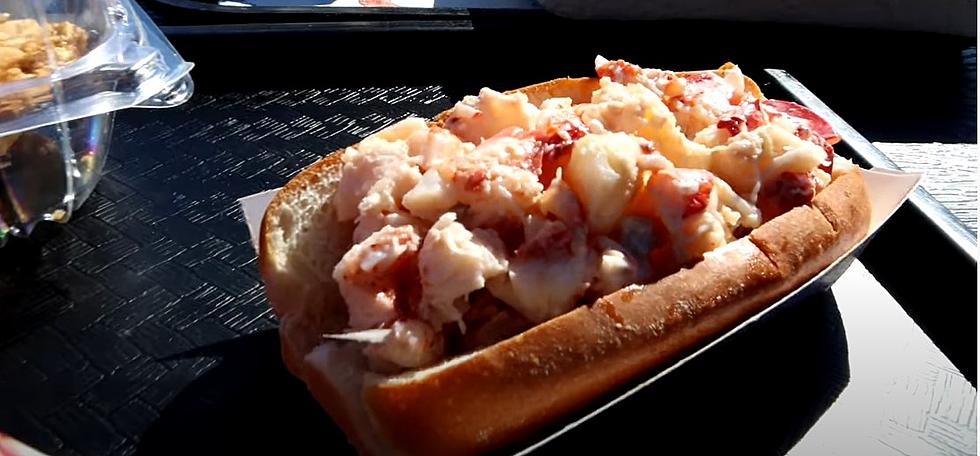 A Vermont Resident Wants To Know Who Has Bangor's Best Lobster Rolls
Adam And Madalyn YouTube
Always good to be prepared before you come to Maine!
If I decide to travel anywhere that I have never been, I like to do a little homework on fun places to visit, and of course, good food to eat! On Reddit, a user wanted to know who serves up the best lobster rolls in the Bangor area, and people weighed in with their thoughts.
Upset_Incident_5989
Eagles Nest
78FANGIRL
Smallest restaurant known to man, it's perched on the edge of the Penobscot River in Brewer. Great food.
yupuhoh
This is the way. Order a captains platter and get your camera ready
tehmightyengineer
I'm givin' 'er all she's got capt'n!
This is the answer. McLaughlin's as a close second.
Admirable_Trifle_164
Deals and seafood… I dunno, man 7
yupuhoh
You obv have never had a seafood platter at eagles nest. It comes out on a pizza pan ffs lol
intent107135048
You just missed Governor's annual $10 lobster roll day.
sadbodrunner
McDonald's
Rvtravel420
I saw 30 dollar rolls on average
Emotional_Belt
Eagles nest is great. You can get it to go and take it to the park nearby or sit on the river walk
In a separate Reddit post, someone raved about the lobster rolls at Mountains Market, in fabulous, Dover-Foxcroft
busback
Looks tasty! High roller has a lobster roll for $36 right now, and while it is wicked tasty, I'd rather buy a couple whole lobsters and cook them at home for the same price
busback
You could get two decent size lobbies for $36, probably enough meat for 3-4 lobster rolls (depending on the size of your rolls and what type of meat from the lobster you use in the rolls too)
stockfun77
Awesome. Thanks! Love Maine!
needfortweedIII
I go to High Roller for the burgers. Only tourists buy lobster rolls in Portland.
RingsOnHerF1ng3rs
I worked at a place where it was 23$ . It was so embarrassing I hated when people ordered it just bec all it said was "market price " and I didn't know how to be like "ok just so u know it's expensive af and doesn't come with a side"
ScatheX1022
Bethel lifelong Mainer
Noted, I'll pass it along to my mama who loves lobster rolls but refuses to pay the outrageous prices (and I don't blame her)
We did get 4 lobsters from a friend with a few traps/recreational license though so I can't complain. They were amazing.
smokinLobstah
A bit surprised at some of the responses here regarding price.
Retail right now around Bucksport is $8-$9/lb. So wholesale much lower. And yeah, you can make a decend roll with a 1lber.
As for the conflict of "...all the same ocean" and "...keep your money local", these are entirely two different things.
I lived on the Gulf Coast of Fl for 4yrs. Every Publix has a lobster tank, and frequently, especially during winter months, bugs were cheaper down there than up here. One funny thing down there...bugs had two colored bands, blue and red. The diff?...one was a U.S. lobster, the other was Canadian, which I though was hilarious.
BlackDogTrees
Hell yeah, representing Picataquis County!
Nomad Rush
Cheapest decent lobstah roll I've seen this summer.
jasonhitsthings
If a lobster roll is that cheap in the current market, it's usually foreign frozen lobster... The tell-tale sign is there's never any tail meat. Always knuckle and claw. There's nothing wrong with that per se, but you couldn't even buy the amount of lobster in that roll for $15 wholesale.
MSSCIGuy
Mountains Market sells live lobster from a large tank. I believe they make the lobster rolls on-site from their own stock.
Yourbubblestink
You can have them I think the whole bug is disgusting
About a year ago, we conducted a poll of the best places to grab one in Eastern Maine, we got hundreds of votes. Any of these places will give you an excellent lobster roll experience when you visit the Pine Tree State. Happy eating!
#10 - Warren's Waterfront Restaurant, Bucksport
#9 - There's A Treat Take-Out, Deer Isle
#8 - Jones Lobster Company, Holden
#7 - Young's Lobster Pound, Belfast
#6 - Bagaduce Lunch, Penobscot
#5 - Friar's Brew House, Bucksport
#4 - Crosby's Drive-In, Bucksport
#3 - Eagle's Nest, Brewer
#2 - Carrier's Mainly Lobster, Bucksport
#1 - The Lobster Buoy, Bangor
Where to Find The 10 Best Lobster Rolls in Maine
More From WBZN Old Town Maine