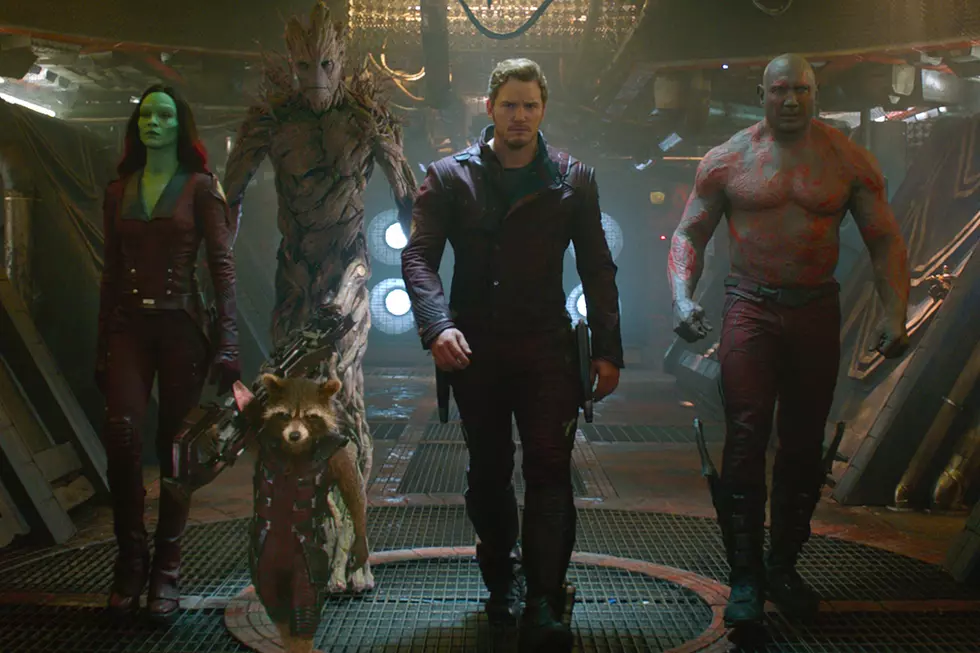 'Guardians of the Galaxy 2′ Will Be the First Film to Shoot With 8K Camera
Marvel
As Star Wars: The Force Awakens shot some scenes with an IMAX camera and Quentin Tarantino shot an entire movie on 65mm with Ultra Panavision lenses, clearly Hollywood is looking at ways other than just upcoverting to 3D to entice audiences to go to the movies. Not that you need any more of a reason to see Marvel's upcoming Guardians of the Galaxy, Vol. 2, but that sequel will now be the first film to be shot with an 8K camera.
The news comes from RED Digital Cinema who report their upcoming WEAPON 8K camera would be used by director James Gunn on the upcoming Guardians of the Galaxy sequel. That's all well and good, but what is this new camera and what does it mean? Says, RED:
WEAPON 8K captures 8K at 75 frames per second (fps), 6K at 100 fps, or 4K at 150 fps with REDCODE® RAW; and its wide dynamic range produces cinema-quality images rich with natural color. Additionally, WEAPON 8K features interchangeable lens mounts, an intelligent OLPF system, and in-camera 3D-LUT outputs.
OK, that sounds great, but what is the point of shooting in 8K when 4K is the maximum we can see in both theaters and on new Ultra HD TV sets? Good question. We're not entirely sure, but the consensus answer amongst camera aficionados is that even if you can't really see 8K, you can feel 8K. Theoretically shooting in 8K will give you a sharper image and richer colors than standard 4K. In the Guardians of the Galaxy world, that could be a very cool thing.
Whether all of Guardians of the Galaxy, Vol. 2 or just select scenes will be shot with this new 8K camera remains to be seen. Now we just wait for word that Zack Snyder is going to shoot Justice League in 1 BILLION K.
More From WBZN Old Town Maine