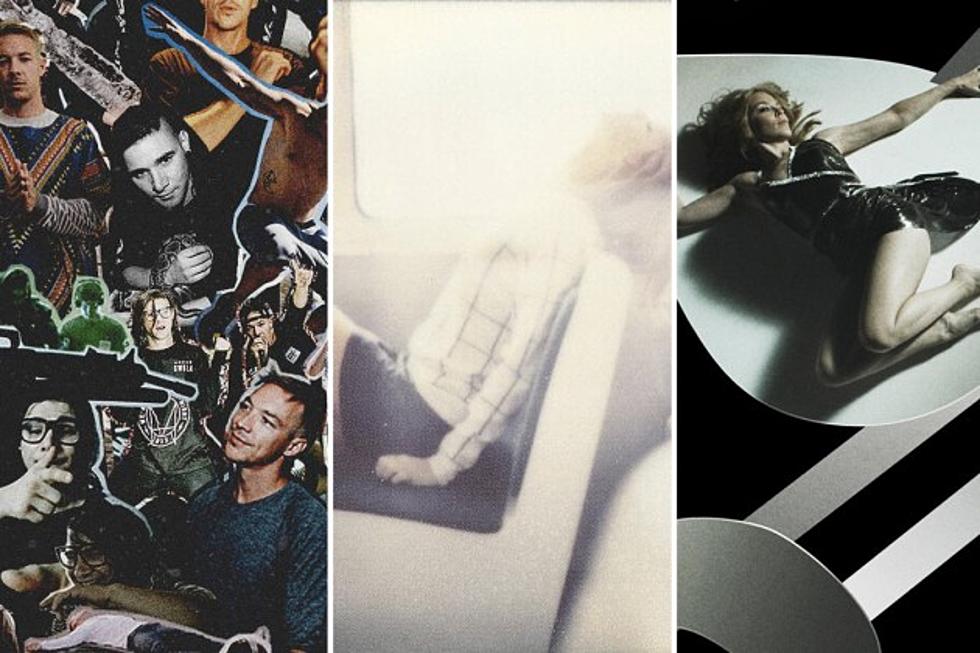 The Best Songs Of 2015 (So Far!)
Mad Decent, Republic, RCA
The year-end retrospective list has become music journalism tradition come every December (or late November for some of the increasingly trigger-happy publications out there), but we thought we'd take a midyear breather to take a look back and appreciate all of the goods we've been given this year so far, from January to June.
Songs! There are already so many of them. And so many of them are very good!
After we counted down some of our favorite records of 2015 (so far!) yesterday, the PopCrush editors have now selected some of their favorite bops to be released this year, from Taylor Swift's sleek 1989 offering to sweet soulfulness from Jazmine Sullivan an unexpectedly somber dance floor outing between Diplo, Skrillex and Justin Bieber.
Didn't see a song you loved on our list? Let us know in the comments!
8

Joey Bada$$, "Teach Me (feat. Kiesza)"

Released January 7, 2015

Joey Bada$$ and Kiesza both found success in the recent '90s revival, but in completely different ways: The lyrics and production on the rapper's 2015 studio album debut are steeped in nostalgia, while Kiezsa's breakout hit "Hideaway" harkened back to the house-tinged dance pop of 1993. "Teach Me," a bonus track from Joey's B4.Da.$$ (pronounced "before da money," for those who need translation) is where the two artists' '90s Venn diagram circles overlap: It's a sunny, feel-good tune that compares life to both a tango and a spicy, finely mixed salsa. It's lighter-than-air production full of (mostly) wholesome euphemisms that lends itself to repeated listens. — Samantha Vincenty

7

Ariana Grande, "One Last Time"

Released February 10, 2015

Never has a song depicting desperation in its weakest, most pitiful incarnation doubled so successfully as an uptempo dance-pop track as Ariana Grande's "One Last Time." Her Mariah-lite vocals are at their breathy finest here, showcasing a rare sense of controlled chaos that lends itself to the track's innate sense of neediness. There's a kind of maturity in admitting to vulnerability, especially when it's as universal as the feeling being presented in "One Last Time." Most non-robots have that one person who will always be 'It' for them, that all-encompassing person — the singular one whose past transgressions are willingly ignored if only for the chance of spending one last moment in time together. Of course, there is no satisfaction in one last goodbye, because too much is never enough, but that longing will always be there. "One Last Time" captures that acutely, in all its painful universality. — Ali Szubiak

6

Jazmine Sullivan, "Masterpiece (Mona Lisa)"

Released January 13, 2015

The Anthony Bell-produced "Masterpiece (Mona Lisa)" is the highlight of Sullivan's Reality Show, and serves as the R&B highflier's go-to pick for show closer. While the thumping "Dumb," the album's lead single, could start a fire in a second flat, "Masterpiece" is a slower burn, and amounts to a booming, minutes-long crescendo that finds Sullivan crying "I'll share my picture with the world / Not afraid to let it show anymore." If this is her work of art, she's ready for the Guggenheim's prime billing. — Matthew Donnelly

5

Years & Years, "King"

Released February 27, 2015

The Years & Years boys are (rightfully) on their way to crossover superstardom in 2015, and they've only continued to improve with each passing release over the past year. "King" feels like the forward-thinking electronic troupe's most self-realized production to date, punctuated by bright flares of Pet Shop Boys-leaning synths and an utterly explosive chorus that allows frontman Olly Alexander to showcase his unparalleled chops. (He's undoubtedly got one of the most distinctive pop voices in recent memory.) Also, that Ryan Heffington choreographed video — the same man behind Sia's massively viral "Chandelier" — gives the already winning earworm a whole lot of helping hands. — Bradley Stern

4

Giorgio Moroder, "Right Here, Right Now (feat. Kylie Minogue)"

Released January 20, 2015

Giorgio Moroder and Kylie Minogue have roughly 75 years of successful music experience between them, so is it any surprise that they know how to make a perfect piece of disco pop together? "Right Here, Right Now" is from Moroder's forthcoming album, Deja Vu — his first in 30 years, and he (literally) hasn't missed a beat. — Samantha Vincenty

3

Taylor Swift, "Style"

Released February 9, 2015

It's hard to pick a definitive track off Taylor Swift's mega-successful foray into the pop world, the indelible 1989, but if ever a song exists on this thankless planet that so perfectly captures a mood, a boy, a very moody boy — it's "Style." The '80s might have thrown up all over 1989, but it's at its most sophisticated (and most dangerous) here. With slick guitars heavy on the funk and vocals that are equal parts cautious and yearning, "Style" is, arguably, Swift's sexiest track yet. And considering the subject matter, we're not surprised. No archetype of the Metaphorical Mistake is as widely felt as the "James Dean daydream," so aptly coined in "Style." We get it: "Long hair slicked back, white T-shirt"? We've let that exact guy take us home way too many times. — Ali Szubiak

2

Brandon Flowers, "Can't Deny My Love"

Released March 24, 2015

The lead single off of Flowers' sophomore solo album, The Desired Effect, listens like a recitation of Jane Eyre over the latest voice-modulation software: It's a classic love story told across a modern synth-pop landscape, and with a beat tailor-made by drummer Darren Beckett, you'd be hard-pressed to lose your page. "You can run to the hillside / And you can close your eyes / But you're not gonna, not gonna deny / No you're not gonna, not gonna deny my love," Flowers pleads as intensity mounts. Who are we to disagree? — Matthew Donnelly

1

Jack Ü, "Where Are Ü Now (feat. Justin Bieber)"

Released February 27, 2015

Diplo has done his fair share of collaborating as of late, from salvaging MØ's awkward Saturday Night Live debut with the infinitely cooler "Lean On" alongside DJ Snake to crafting #unapologetic #rebelheart goodness with the Queen Of Pop herself, Madonna. But its his work with fellow beatsmith Skrillex for their side project, Jack Ü, that has provided some of the year's best productions yet.

Justin Bieber, on the other hand, has spent the majority of the year stripping down to his undies for Calvin Klein and embarking on a national apology press tour in this brave new post-egging, post-Jelena world. (That Comedy Central roast!) Yet the greatest thing he's done for his career in 2015 is "Where Are Ü Now," an unexpected team-up with the Diplo-Skrillex DJ duo.

The collaboration neither navigates too much into Diplo and Skrillex's noisy dance floor dominion nor veers directly into Bieber's safe R&B-pop radio lane. Instead, the trio come together to deliver a haunting production that feels refreshingly unique for all parties involved. The crooner's vocals stutter and stretch around strange, space-age pulsations as he breaks down alone, like a sad robot boy lost in an electronic haze. There's no need to be a Belieber to appreciate this heartbreaking gem — although it just might be the song to win over more than a few new fans.

"I need you the most..." Gulp. — Bradley Stern
More From WBZN Old Town Maine