Miley Cyrus + Liam Hemsworth Breakup Rumors Heat Up as She Unfollows Him on Twitter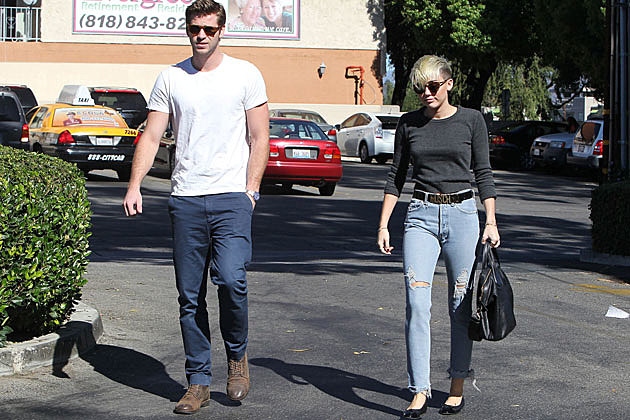 In a sign of both the times and of a split, Miley Cyrus has unfollowed Liam Hemsworth on Twitter. That's about as big a breakup signal as any.
Not only has Cyrus unfollowed the Aussie hunk, but so has her entire family, including mom Tish and dad Billy Ray. Ruh roh!
To be fair, Hemsworth only ever actually tweeted once to say hi — the account is handled by the actor's handlers to promote his projects, not to really interact or overshare like his occasionally overly-open fiancee.
The news hits at a convenient time for Cyrus, as her breakup ballad 'Wrecking Ball' is poised to hit No. 1, marking her first song to top the Hot 100. Rumors has it the pair have been on the rocks for months, acting like "strangers" at Hemsworth's 'Paranoia' premiere last month.
Sources say Cyrus and Hemsworth have grown apart in the past few months despite both living in her Toluca Lake, Calif. home. Aside from being embarrassed at the attention Cyrus received after her 2013 MTV Video Music Awards performance, Hemsworth is rumored to be sexting January Jones, with whom he was accused of cheating on Cyrus earlier this year. (Jones' rep denies the allegations.)
"They're just weeks away from calling it off permanently," a source told Us Weekly. "Liam feels very distant emotionally from Miley these days."

Source:
Miley Cyrus + Liam Hemsworth Breakup Rumors Heat Up as She Unfollows Him on Twitter