The Director Behind Miley Cyrus' 'We Can't Stop' Video Explains Its Bizarre Imagery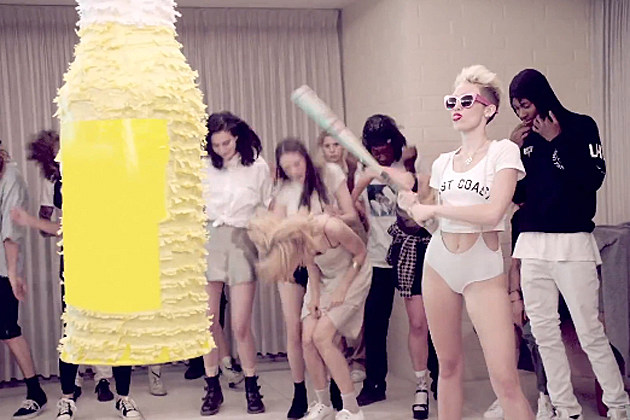 Anyone who's seen Miley Cyrus' video for 'We Can't Stop' was probably at least a little baffled by it. From the grill to the twerking to the French fry skull, there's a lot going on and most of it makes no sense.
Thankfully, the clip's director is shedding some light on all of that for us.
Director Diane Martel, who linked up with Cyrus through their mutual pal Pharrell Williams, told Celebuzz, "I think the indirect message is to be free. I enjoy the idea that an American pop icon can have surreal imagery in her video. Miley has a very open mind and, like the lovely kids born with the internet as their companion, she's got a wealth of references to play with," she continued. "We spoke at first about intimacy between friends, but I think the video is more about her intimacy with her audience. She's very playful and silly in the video. She's not self serious and boorish like so many singers."
As for the message Cyrus is trying to convey? It's not necessarily about being ratchet, but that does play a role. "She's into living freely and being expressive," Martel said. "It's a great time for her and she's enjoying her life. She is not a kid who is obsessed with her career in a way that precludes having normal friendships and normal fun."
Normal fun? With French fry skulls and all the African American women sectioned off to one room to twerk? And more important, what was in those pinatas?
"They are giant blunts [in the pinata]," Martel said. As for the rest? "Miley found a photo online of the French fry skull and sent it to me. It was a beautiful French fry skull. We were inspired by it and recreated it our own way. After we filmed we found out that it was created by a fine artist named Christopher Chiappa. The taxidermy was something Miley mentioned early on, and my fabulous art director, Georgia Walker, found in a smarmy prop shop," Martel continued. "The lyric with the multiple taxidermy deer image is very touching. It almost makes us cry when we see that shot. The doll is a weird reference to a Helmet Newton photo. I worked on the idea with a friend, Aramis Isreal, who is a creative director and has worked on a lot of successful ads. We gathered a lot of blogged images and worked them into the shot list. The bread was my idea, bread/cash, etc."
And that bizarre finger chopping scene? Martel explained, "And I have a background in performance art, so a lot of the stuff came from the corners of my mind. The cut off fingers came about when we were on location scouting in the kitchen and I said, 'Oh someone has to cut off their fingers.' I grew up on Devo and John Waters, so that might inform some of this stuff."
As for what Martel thinks of Cyrus? "I loved the whole shoot, I cant wait to work with her again. She is the s— … She's a very, very funny smart girl. Look out world!"

Source:
The Director Behind Miley Cyrus' 'We Can't Stop' Video Explains Its Bizarre Imagery